New Cheap Mobility Scooters Available on Finance in the UK
You can buy brand new cheap mobility scooters online with free shipping or from our huge showroom. Save on costs by paying monthly on finance to spread the payment of your new mobility scooter over a set period. We provide a reliable service and will fully set up and demonstrate your mobility scooter when you receive it, as well as offer ongoing maintenance and repair services as necessary.
A mobility scooter will assist you when you have problems moving easily or live with the effects of a disability, so they are an important thing to own for a higher quality of life. However, there is no need to believe that there is not a cheaper choice that can help your day-to-day life without incurring a large initial cost.
We are experts in providing cheap mobility scooters to older adults and people with a disability, we do so by providing competitive pricing and regular sales and offering extensive finance options. To explore new mobility scooters and cheap financing options please contact us to discuss further. You can also visit our fantastic showroom and try out cheap mobility scooters for yourself.
How we provide cheap mobility scooter options
We understand the need for affordable mobility scooters for people who require them. As a result, we are innovators of a wide variety of clever techniques that help us to offer you cheap mobility scooters that are new but do not have the price tag you may see from other mobility scooter providers in the UK.
To keep costs cheaper and more accessible for older adults or people living with a disability we offer the following cost-cutting measures to our customers:
Regular sales: We consistently markdown stock of various mobility scooter types, providing you with a significant discount when you buy. Sales are not available on all of our products all of the time, but we work very hard to make sure the mobility scooters we offer have large and regular discounts.
Financing options: A new mobility scooter can be a considerable expense for many people. To allow for this financial impact to be offset and not occur in one chunk, we offer some of the best financing options

in the UK. We can work with you to arrange an acceptable finance plan for your scooter.

VAT exemption: Using a VAT exemption

means you can further reduce costs. People with a disability or chronic illness can buy eligible items at 0% VAT, which helps you to save money for your purchase. This VAT exemption also extends to building work for improving accessibility and other equipment, too.
With regular sales, we can markdown items and enable people to buy cheap mobility scooters without sacrificing on the quality of their new scooter. The discounts we apply to our on sale items can be quite significant, typical discounts can range from several hundred to over a thousand pounds.
Our finance options also create an opportunity to spread the costs of what is usually a significant purchase. You can make use of pay monthly options to spread the cost over 12, 24, 36 or 48 months. It is also possible to arrange finance options for your mobility scooter with a deposit that is as little as 10% of your scooter's value.
The VAT exemption and subsequent saving on costs is a positive and deserving scheme that helps people living with a disability and older adults purchase equipment including wheelchairs, scooters and other mobility products. If you qualify you can also purchase many other of our mobility products without VAT.
What are some examples of cheap mobility scooters?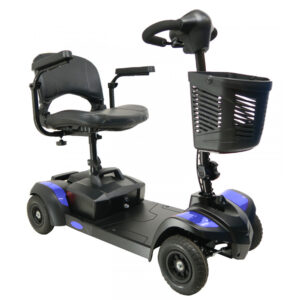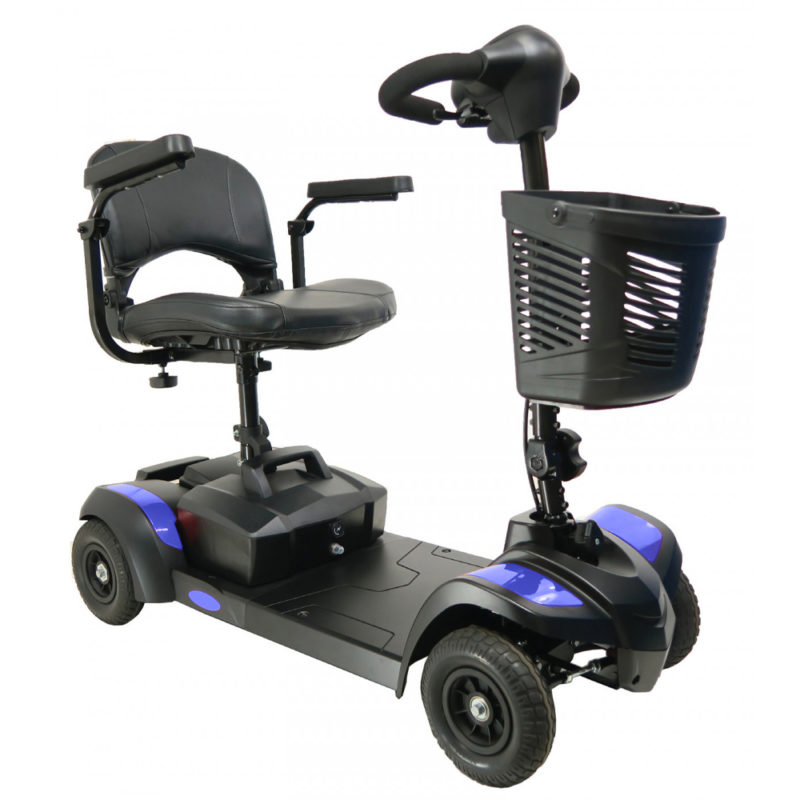 There is a range of prices available, depending on your budget, and certain types of mobility scooter are cheaper than others. For example, a mobility scooter with extensive functionality, such as our off-road mobility scooters, is usually more expensive than our transportable mobility scooters.
However, in each of the categories of mobility scooter that we stock we endeavour to provide you with the cheapest options and will make use of sales when we can to further reduce prices.
Some examples of cheap mobility scooters of different categories include the following:
Transportable mobility scooters
The extensive range of transportable mobility scooters we have in stock includes many very affordable options. Your new transportable mobility scooter will have fewer parts and manufacturing requirements, thereby reducing the overall cost.
However, some of the cheapest options for our transportable mobility scooters include the following:
Drive Adventurer Mobility Scooter

: A scooter with a removable battery box. This mobility scooter has comfortable and safe controls that are helpful for people living with arthritis.

Rascal Ultralite 480 Mobility Scooter

: If you are looking for a new scooter that is easy to disassemble, in just 30 seconds, this is the mobility scooter for you. It is very easy to take apart and store in a car or other area.
4-6 MPH mobility scooters
If you are looking for a faster mobility scooter, then the 4-6 MPH range of mobility scooters we stock can be a practical choice. The 4-6 MPH mobility scooters use more sophisticated parts and so are a bit more expensive.
Nonetheless, cheaper choices of our 4-6 MPH mobility scooters include the following:
Rascal 388S Mobility Scooter

: A dependable and cheap option that commonly lasts over a decade. With a 20 mile range and excellent ground clearance, this is a fantastic pavement scooter.

Shoprider Sovereign 4 Mobility Scooter

: As one of the world's best selling scooters, it is reliable and robust. The pneumatic tyres of this scooter provide a very smooth riding experience.
8 MPH mobility scooters
The range of 8 MPH mobility scooters we stock provide higher speed and greater level of mobility, with a durable and sturdy design. Models of mobility scooter in this range are larger and have a lot of power.
There are still cheap mobility scooters within this range, and they include the following:
Drive Tornado Mobility Scooter

: This scooter has real gusto and a sleek, modern appearance. It is comfortable and has sprung front suspension with large wheels and pneumatic tyres.

Sunrise S425 Mobility Scooter

: The S425 is fully legal for road use, as well as pavements. It has great suspension and is highly manoeuvrable, with a battery that will last up to 26 miles for extensive range.
Off-road mobility scooters
While our off-road mobility scooters are suitable for a wide variety of terrains, and so are slightly higher in price, there are many options for people looking to get the benefits of an off-road scooter at a lower cost.
The cheaper models of mobility scooter suitable for off-road use include the following:
TGA Vita X Mobility Scooter

: A model that is suitable for both on and off-road use, this scooter will handle many terrains with its chunky tyres. The high torque 900 W motor of this scooter can ably handle gravel and hills.

Pride Ranger 2.0 Mobility Scooter

: This is a great off-road scooter with lots of features including front and rear suspension. This mobility scooter is suitable for very heavy off-road conditions.
Green electric vehicles
We stock a fabulous selection of green electric vehicles, for a more environmental approach to mobility that does not skimp on functionality or style. These scooters are available with 3 or 4 wheel options.
The cheaper green electric vehicles we stock include the following:
GP, Unique 500

: This dazzling design looks like a classic Lambretta or Vespa scooter, but it also packs a punch with a 500 W motor. This particular mobility scooter also has all-round suspension for a very comfortable ride.

GP, Unique 4

: A 4-wheeled variant, with a distinctive vintage design and a motor upgradeable to 800 W. This green electric vehicle has features including dual hand brakes, rearview mirrors and a plush padded seat.
Our customer service commitments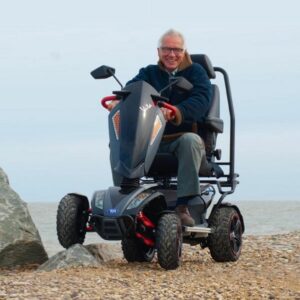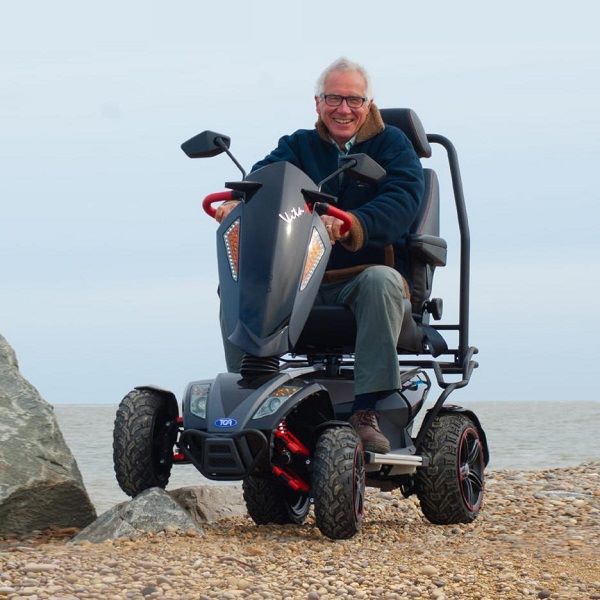 We are a family-run company and have over 20 years of experience. It is a point of pride to offer a friendly and ethical service, which means we recognise the need to create innovative ways of making cheap mobility scooters a viable option for many circumstances.
We will deliver extensive customer service, with mobility equipment experts on hand to deliver any instructions or information for your mobility scooter or the accessories we sell. We also offer free home visits, so you can arrange a no-obligation site survey or home product demonstration for any new products you wish to try.
Our years of experience and expertise enable us to pick the best range of stock and offer you a huge range of options in the South East of the UK. Our service includes full delivery and demonstration of your mobility scooter, so you will be completely set and ready to go.
If you decide to upgrade or exchange your mobility scooter, we can offer you excellent options. This flexibility can also help keep total costs as low as possible, and give you the latest mobility scooter technology that you require. We also offer lifelong aftercare on products bought through us. 
Cheap mobility scooters with a range of finance options
Mobility scooters need to be accessible for older adults and people living with disabilities. We provide regular sales, finance options and inform or help people access VAT exemption schemes to help reduce costs.
As a dependable and responsible company, we provide a high level of quality in our products and pair it with a very high level of service. We are sure that your experience with us will exceed your expectations, whatever mobility scooter or other equipment you buy.
You can get a cheap high-quality mobility scooter by buying with us. To start the process make sure you buy online or contact us for more information. You can also visit our showroom to see our cheap mobility scooters in person.