Mobility Scooter Accessories
We stock a wide range of mobility scooter accessories, including shelters, baskets, walking stick holders and ponchos. Our products are available to buy online and you can also view many accessories in our huge showroom. We only choose the highest quality products in our entire range of mobility scooter accessories and can provide you with a full demonstration or guidance on using them.
Mobility scooter accessories for better functionality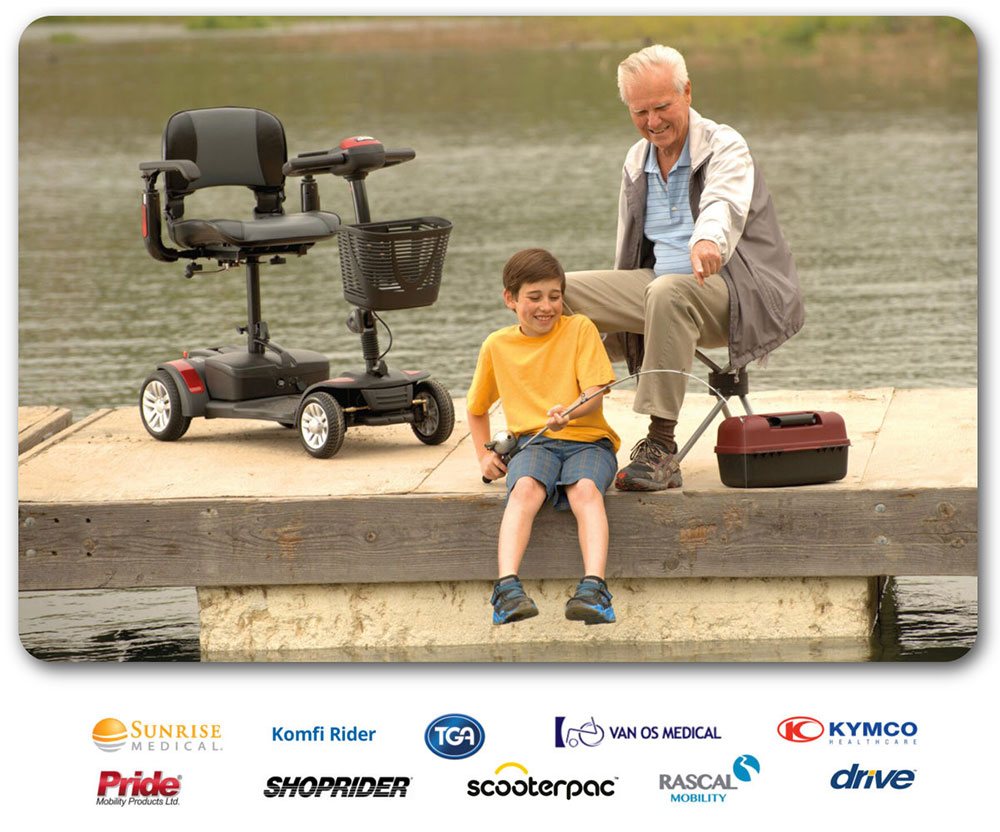 Buying mobile scooter accessories will give you a range of benefits, depending on the type of accessory you buy. Popular and useful accessories include several fully waterproof ponchos, capes and hand control covers. Using mobility scooter accessories that are fully-waterproof increases your ability to carry out day-to-day tasks in different forms of weather. Other popular accessories provide extra storage.
Our high-quality products come with a professional service, our team understands and appreciates your needs and can help you select the best products or provide answers to any questions you may have. You can come and visit us in our large showroom, buy online or contact us for more details.
Whether you use your mobile scooter primarily as a travel scooter for daily tasks or have a folding mobility scooter that you stow in a car boot many accessories can boost functionality. You will benefit because accessories enable you to use your scooter more practically.
The main types of mobility scooter accessories that we stock will help you to use your mobility scooter in poor weather conditions. However, several other accessories will help you to carry items much more easily. You can also find mobility scooter accessories that will make the storage of your mobile scooter easier.
Here we will explore some of the main types of accessories that we sell and their associated benefits:
Fully-waterproof scooter accessories for better convenience
If you are browsing for a new scooter for the first time, or are buying accessories as part of a plan to upgrade, many of the essential accessories you will need are those that will help with weather-proofing yourself or your scooter.
You might feel content to risk the chances of rain and carry an umbrella on your mobility scooter, but you may find it cumbersome to use while riding and it is quite easy to forget or lose. 
We stock a range of accessories that will keep you and your mobility scooter dry and protect against adverse environmental conditions including the following:
Fully-waterproof and weatherproof mobility scooter accessories will help protect you and your scooter from the elements, which will prolong its lifespan and give you greater freedom and flexibility when you ride. You can also not worry about storing or using your scooter in any sort of weather conditions.
Mobility scooter accessories and attachments for storage and transport
You can benefit from a wide range of storage options for your mobility scooter when you buy your mobility scooter accessories with us. There are many storage accessories suitable for a variety of needs. Some items can generally be a little bit harder to store while riding and may come loose or be inaccessible.
By using storage attachments for your mobility scooter you can take things like walking sticks, crutches and many other items with ease. Using these mobility scooter accessories will let you ride with items safely and conveniently and transport them without hassle.
We provide a series of scooter accessories to help you store various items including the following:
Scooter bags with crutch or stick storage: There are a range of scooter bags that will let you store whatever items you please, but the Scooter Bag With Crutch/Stick Holder

that we offer provides a versatile opportunity to store crutches and walking sticks at the same time. You get the best of both worlds, dynamic storage in the bag with external zipped pockets and dedicated storage with the crutch or walking stick holder.

Sturdy metal stick holders: If you do not desire the storage space of a bag or have an existing bag you can choose our durable Metal Crutch / Stick Holder

. It is very handy and has a universal attachment, so you can store your easily-attachable walking stick or crutch very conveniently no matter what mobile scooter model you own. This stick holder is one of our most discreet scooter accessories and has an extremely sleek look.

Personal oxygen cylinder storage: If you require the use of a personal oxygen cylinder we have a great mobile scooter accessory for just that purpose. The Oxygen Cylinder Carry Bag For Scooters

that we stock is a wheelchair and scooter-specific design for a medical-grade oxygen cylinder, it also has an ancillary pouch for an oxygen mask. Using this accessory you will have quick and easy access to your oxygen and a fully-protected cylinder.
Mobility scooter accessories that help you keep your personal items safely stored can keep your possessions readily accessible and allow you to transport them easily. You can use subtle accessory products such as walking stick holders for an unobtrusive look. Scooter accessories for medical equipment can also help you look after your health better.
Mobility scooter accessories to complement your lifestyle

The mobility scooter accessories we provide will enhance the use that you get out of your scooter. An appropriate mobile scooter that is suitable for your needs, in combination with the appropriate accessories, makes it possible to pursue all aspects of daily life more effectively.
If you are looking to sustain using your scooter in poor weather conditions, you can have a great benefit from our scooter accessories that provide you and your scooter with effective cover. Should you require safe and convenient storage solutions for a variety of items then the scooter accessories we offer that give you the ability to reliably and accessibly access your things will give you an advantage.
Our service comes with expert knowledge, and we are happy to demonstrate products if you are unsure about how to use them. Feel free to buy online, visit our showroom or contact us for more information. A member of our friendly team will be happy to help.