Mobility Scooters
Visit our Showroom for the best range of Folding, Transportable, 4-6mph, 8mph and Off Road mobility scooters in the South East at the very best prices. Our showroom advisors at Orange Badge have been fully trained by all the major electric mobility scooter manufacturers, enabling them to give you advice that's truly impartial and ensure you get the perfect scooter for your specific requirements.
View our range of Mobility Scooters
Pay monthly and get your mobility scooters at an affordable price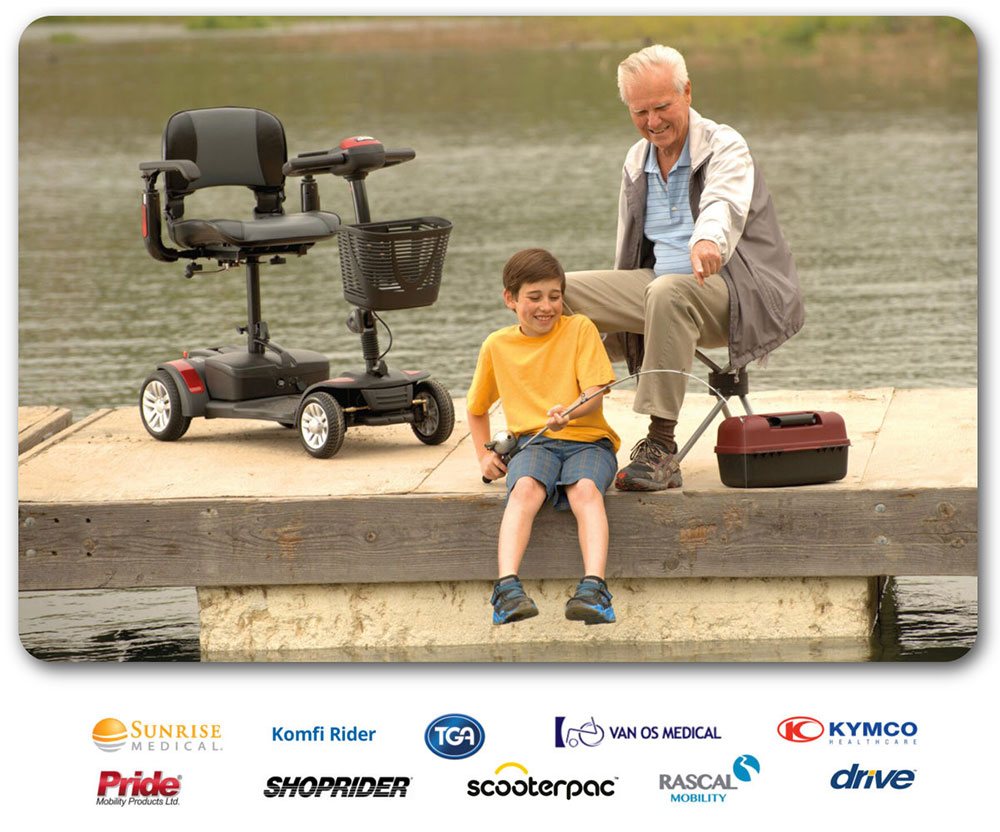 You can buy your mobility scooters on finance and pay monthly. Buying your scooter on finance gives you a flexible way to pay a low price each month. A payment plan means you can still enjoy the benefits that the range of mobility scooters we have for sale will give you without having to worry about a large upfront cost.
If you want to buy mobility scooter accessories, we also stock various items that can enhance the functionality of your scooter, such as our mobility scooter cape, which keeps you warm and dry in wet weather and protects the scooter too.
We can also offer you a mobility scooter with roof options, these enclosed mobility scooter designs cover the rider and provide fantastic levels of comfort. A popular choice is the Scooterpac, Cabin Car Mk2 Plus.
Why mobility scooters are a solid asset and you should buy

The higher levels of freedom and convenience that your new mobility scooter will give you makes it a wise investment to make. It can be difficult to find the right choice, but we can help you find the best mobility scooter to suit your needs.
Buying with us means you will get some the best prices in the UK and the option of flexible pay monthly plans. Other reasons you should buy your mobility scooters with us, outright or on finance, include the following:
The best mobility scooter stock in the region
We stock the biggest range of scooters in the South East at the very best prices, and you can depend on our team of fully trained, authorised and regulated engineers to support them.
We offer a full range of electric mobility scooters, so we can help you pick the best mobility scooter depending on your needs. We stock the following types of mobility scooter in our showroom:
Mobility scooters, rather than powered wheelchairs, are probably the right choice if you can travel relatively independently, get on and off the scooter on your own, and can comfortably use a steering column or tiller.
The best level of service with pay monthly options
To make sure you purchase your perfect scooter, you can test-drive dozens of models from many different manufacturers. Our impartial and fully trained showroom staff will be on-hand to answer any questions or queries you may have, and ensure your test drive experience is safe and enjoyable.
We provide some extra levels of service, which gives you the best experience whether you want a scooter or simply want to buy mobility scooter accessories. These extras include the following:
Free demonstration in your home: Our showroom is the best place to browse our range, but if you can't get to our showroom and need a free home demonstration, we will come to you.
Friendly impartial advice before you buy: Our experienced team can determine the best mobility scooter for your situation. If you're not sure what type of scooter best suits your needs, we can explain the advantages of each.
Storage solutions for your scooter: Choosing the right storage options is tricky, but we can show you the best ones for your specific scooter. We can provide shelters and covers if there isn't convenient storage for your scooter.
Free delivery options: We always offer a fast and free delivery service. Fast and free delivery ensures that you receive your scooter as soon as possible and can start enjoying the benefits of higher mobility.
Initial setup: Not sure how you will start with your scooter? There's no need to worry because we will provide you with an initial setup from one of our trained engineers to make sure you're all ready to go.
Flexibility with a pay monthly plan: The flexibility of a monthly payment plan is a big perk of choosing us, and we offer monthly terms on finance plans for all of our scooters.
Free insurance for the first 3 months: When you buy your mobility scooter with us you will receive 3 months of insurance for free. Free insurance will be available on almost all of our scooters.
Extended warranty: Do you want to make sure you've got that extra bit of cover while using your scooter? No problem, we have extended warranties available for a range of choice.
Breakdown call-out: If you have an issue with a breakdown your best bet is to shop with us. We have an exclusive offer for you, which is a preferential quick breakdown call-out for our customers.
Express delivery options: If you need your scooter quickly, you will find our express delivery service appealing. We offer a free express delivery option that is available upon request.
The benefits of buying with us are an excellent price, flexible pay monthly payment plans and a speedy, professional service. You will enjoy higher mobility and a very professional level of service that will make you completely ready to start using your scooter.
The very best aftersales care in the industry

Call or visit our large showroom near Lewes in East Sussex for details or answers to any questions. We will provide information and advice to you after buying with us and have a team of experts who can help.
We can also arrange home visits in Sussex and the South East and offer a full maintenance and call out service on every scooter we sell. Our aftersales services mean you will always be using a scooter that is fully authorised and regulated.
Pay monthly mobility scooters with a good price and professional service
It's very important when choosing a scooter that the company you are purchasing your scooter from is manufacturer-trained and familiar with the product. Many companies in the industry simply send your scooter away for repair or even worse indicate that it's unrepairable and sell you another.
We do it differently; our own fully trained staff look after it all, from initial demonstration right through to aftersales care, ensuring continuity of service and a friendly, familiar face at your door whenever you need us. Make sure you visit our showroom or contact us to learn more.