Mobility Scooters
Visit our Showroom for the best range of Folding, Transportable, 4-6mph, 8mph and Off Road mobility scooters in the South East at the very best prices. Our showroom advisors at Orange Badge have been fully trained by all the major electric mobility scooter manufacturers, enabling them to give you advice that's truly impartial and ensure you get the perfect scooter for your specific requirements.
View our range of Mobility Scooters
Why Choose Orange Badge for Your New Mobility Scooters?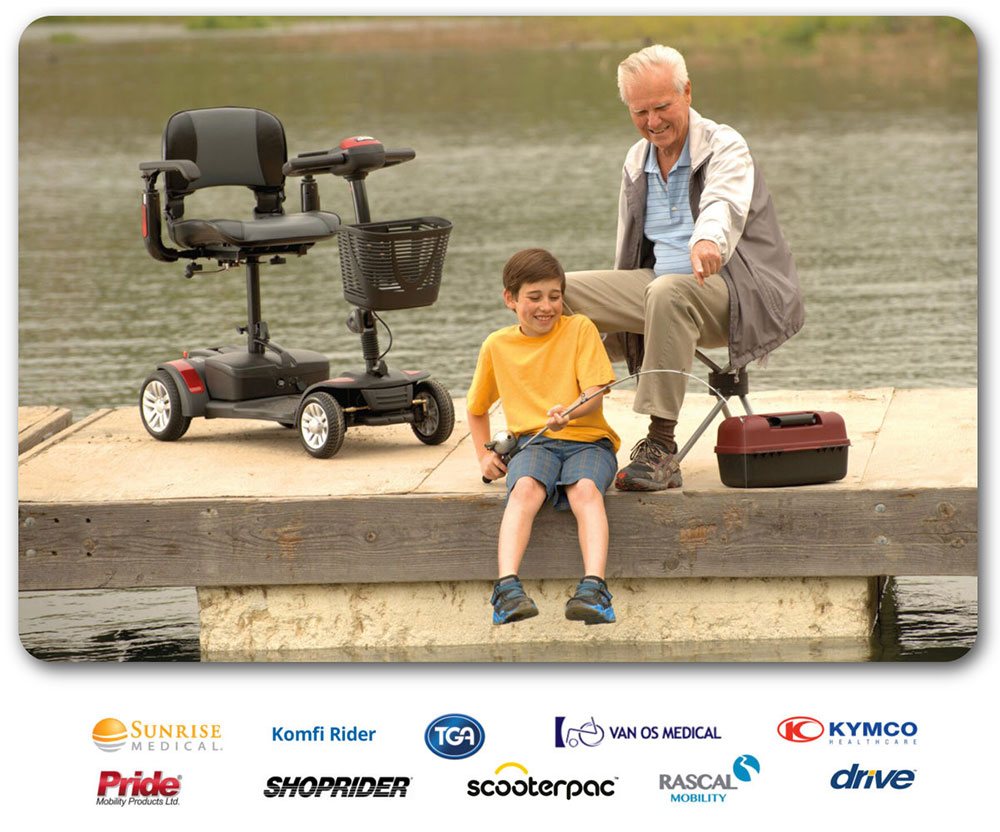 We offer an astounding range of mobility scooters for sale, with a big selection of designs that are suitable for people of any level of mobility. Our products include the best and most reliable brands and we offer cost-effective prices. If you are wondering where to buy a mobility scooter with high-quality aftercare, we are the only solution as we provide continued support for the entire lifecycle of our products. You can easily get an electric scooter that is perfectly suited to your needs.
Mobility scooters are an important investment for many older adults, people living with disabilities and others with mobility requirements but their costs can be prohibitive in some cases. However, we provide flexible finance plans – so you can get the best scooter brands without spending a large amount of money at one time. 
We offer exceptional levels of service including free delivery and demonstration of your products and guaranteed aftercare and servicing plans. You can buy online today or visit our amazing showroom to try out our selection of mobility scooters. Feel free to get in touch if you have any questions or would like further information.
Our Mobility Scooter Range

We recognise that people have many different mobility needs, so our scooter range features many types of design. 
You can choose from our handpicked selection of scooters depending on the functionality you require – with many options for long-distances, high maximum speed limits and designs that can quickly reach a full charge.
Portable scooters are also available, which can easily fit into a standard size car boot. The types of mobility scooter that we offer include the following:
Folding Mobility Scooters
A folding mobility scooter is one of the best designs for people who are new to mobility equipment, especially if you drive or know people who do. Simple folding mechanisms will allow the user to easily put their mobility scooter into a small space.
You can easily put a folding mobility scooter into a car boot, and many have automatic folding features for completely hassle-free use. The Rascal Smilie and Smilie Auto Mobility Scooter is a good example of a folding mobility scooter with options for both automatic and manual folding.
Lightweight Mobility Scooters
Our range of lightweight mobility scooters is ideal if you are looking for disability scooters that are easy to store or disassemble. By using lightweight materials such as aluminium and stripping back unnecessary engine components you can get a highly portable scooter with a good speed.
They are not a type of scooters with the highest top speeds or suitability for particularly rugged terrain, but lightweight design can give you peace of mind for most regular activities. We have designs that use three wheels too, so you can get a lighter scooter that is still heavy-duty – such as the Pride iRide Mobility Scooter. 
Transportable Mobility Scooters
Selecting from our range of transportable mobility scooters will give you easy storage to transport shopping, different walking aids and other goods. With sturdy baskets, compartments, holders and heavy-duty frames, it is simple to transport yourself along with any personal effects you might have.Many transportable mobility scooters are also very lightweight, so you can transport the scooter itself quite easily too. Smaller scooters are suitable for travel, and can easily fit into a car, onto a coach, ferry, train or in other forms of transport. A good transportable scooter is the TGA Minimo Autofold Mobility Scooter.
Fast Mobility Scooters
If you are looking for a scooter with a high top speed we have many 4-6MPH and 8MPH designs for sale. These powerful scooters are suitable for longer trips and many will meet the legal requirements for road use as they qualify as what the government refer to as a 'class 3 invalid carriage'.
Class 3 scooters cannot exceed 8 MPH, but you will enjoy a greater amount of speed and power with utmost safety. Most faster mobility scooter brands have bulky frames, so they are more difficult to store or transport. The ScooterPac Cabin Car MK2 Plus is a good example of a fast scooter with a full covering.
Off-road Mobility Scooters
You can enjoy the benefits of complete mobility by choosing an off-road scooter. Whether you are navigating rocky, sandy or grassy terrain these mobility scooters will be able to handle use on multiple types of off-road ground. Of course, off-road scooters are perfectly functional on a normal street surface too.
Off-road scooters are quite heavy-duty but let you carry out a broad range of activities such as navigating beaches or country footpaths. Off-road designs are also useful if you have a garden or live in a rural area. A great off-road mobility scooter is the TGA Breeze S4 Mobility Scooter, which has full action suspension.

Benefits of Our Service
The impressive range of scooters we offer for sale means that there is a mobility scooter available to buy for almost every need. Whatever level of mobility you require, our team can help you to find an excellent solution. You can also choose from our green electric vehicles and a broad range of useful accessories.
The perks of using our services, whether you buy online or from our showroom, including the following:
Free UK delivery and demonstration.

24-hour customer support and free home visits.

Help from a professional team with over 20 years of experience.

Flexible finance plans.

Full-guarantees and lifelong product support.
Our services earn us positive reviews on leading independent trade sites, feel free to browse them for more information. One happy person says the following:
"I cannot recommend this company highly enough! From ordering right through to delivery they have been friendly and efficient. The bed we ordered is top quality too. Ordering over the phone was easy and they were very helpful giving advice on which item would suit us best. Delivery team were very polite, tidy and careful when moving such a large piece of furniture around her house for us. So, so pleased with this service. THANK YOU!" – Miss. H.
We offer access to the best brands at the best prices, and regularly add new mobility scooter designs to our range. When the time comes to upgrade or replace your scooter we will provide generous exchange options to help keep prices as low as possible. Our aftercare services are unparalleled in the industry.
Buy Mobility Scooters Online or in Our Showroom
You will get the best products paired with exceptional service, so we offer tremendous value from our mobility scooters and any other mobility equipment we supply. Our expert team is ready when you need them for any support.
All of our mobility scooter designs are handpicked with the highest standards of quality in mind. Everything that we offer for sale delivers total peace of mind and a reliable, long-lasting result. Get in touch today to learn more and to buy.