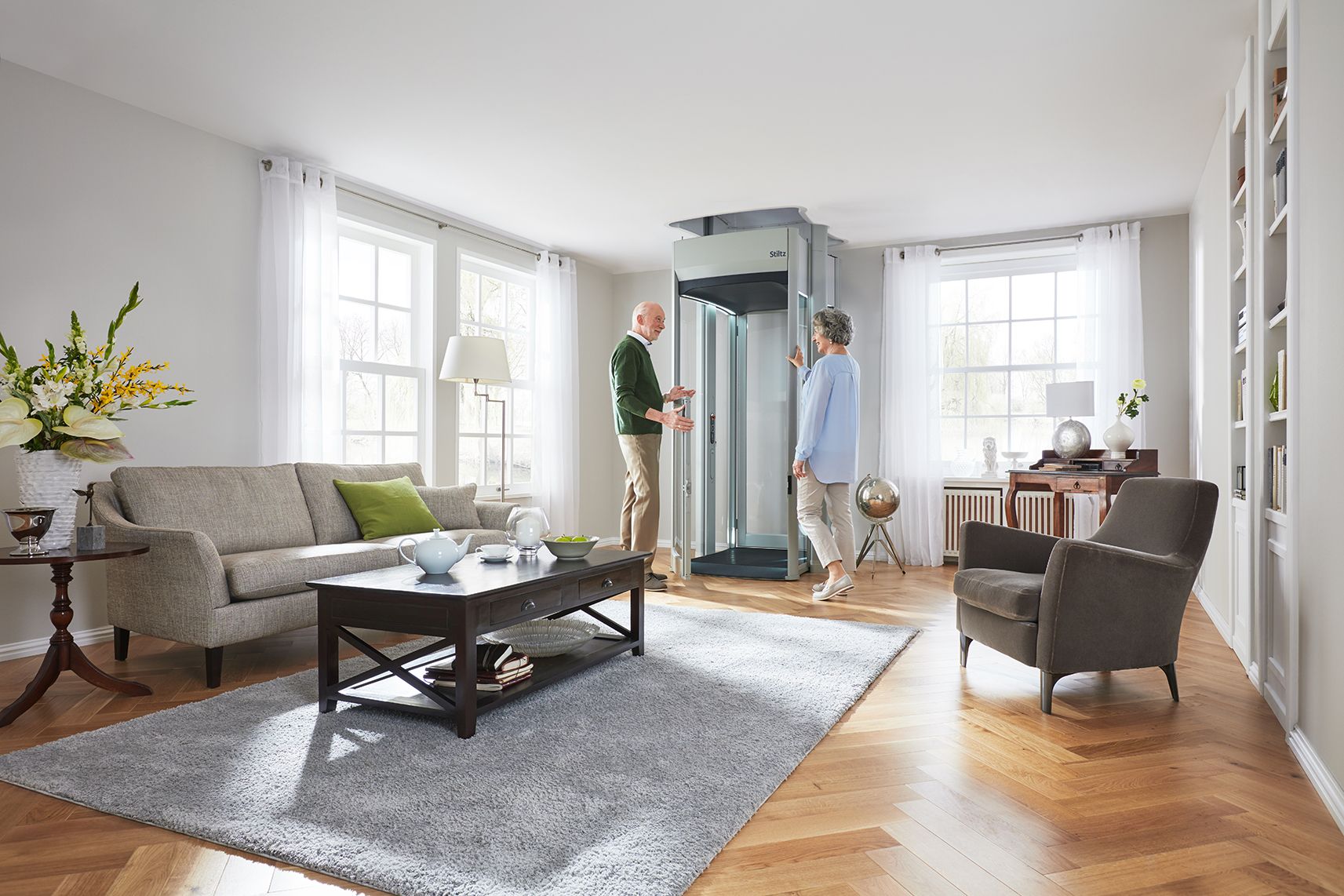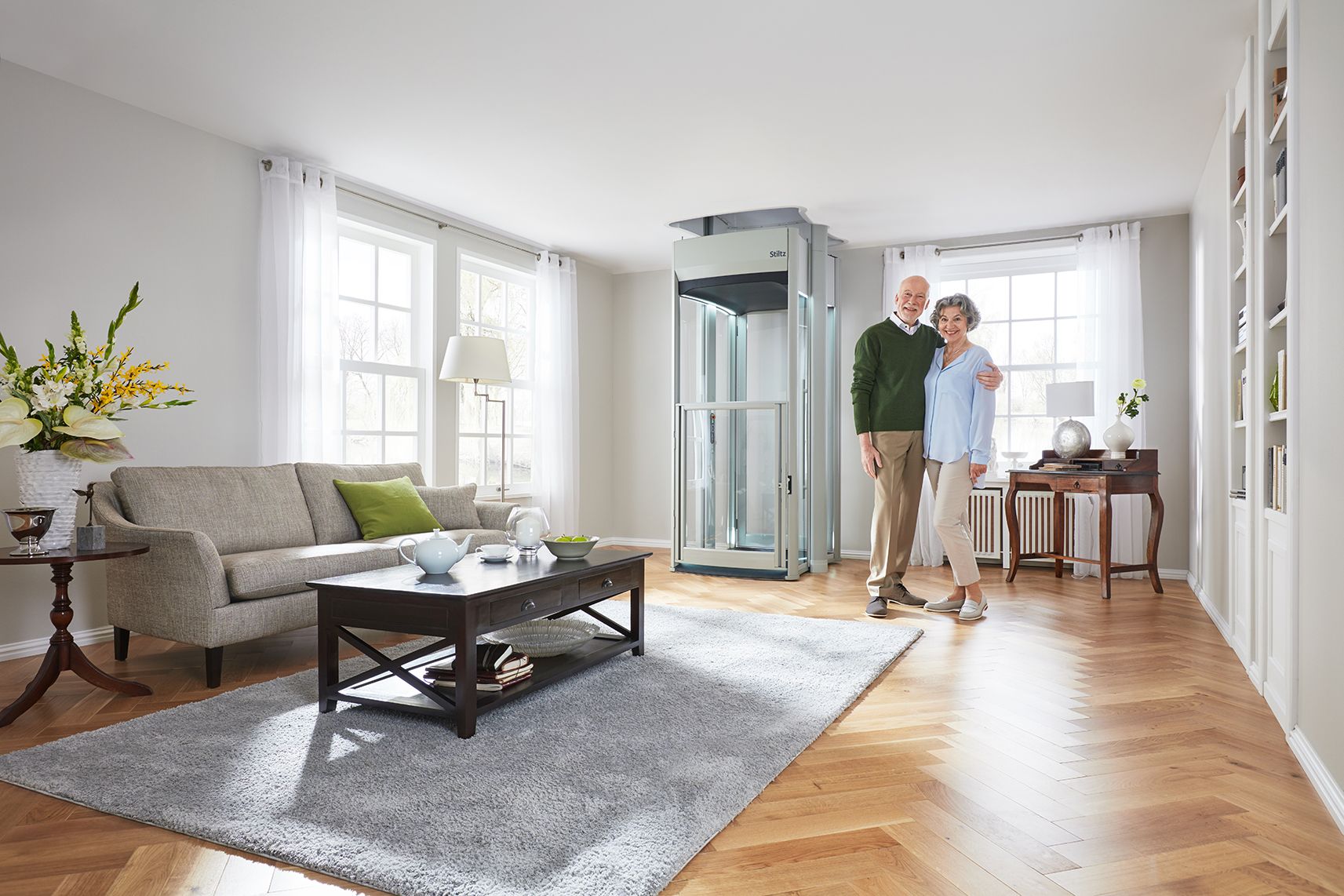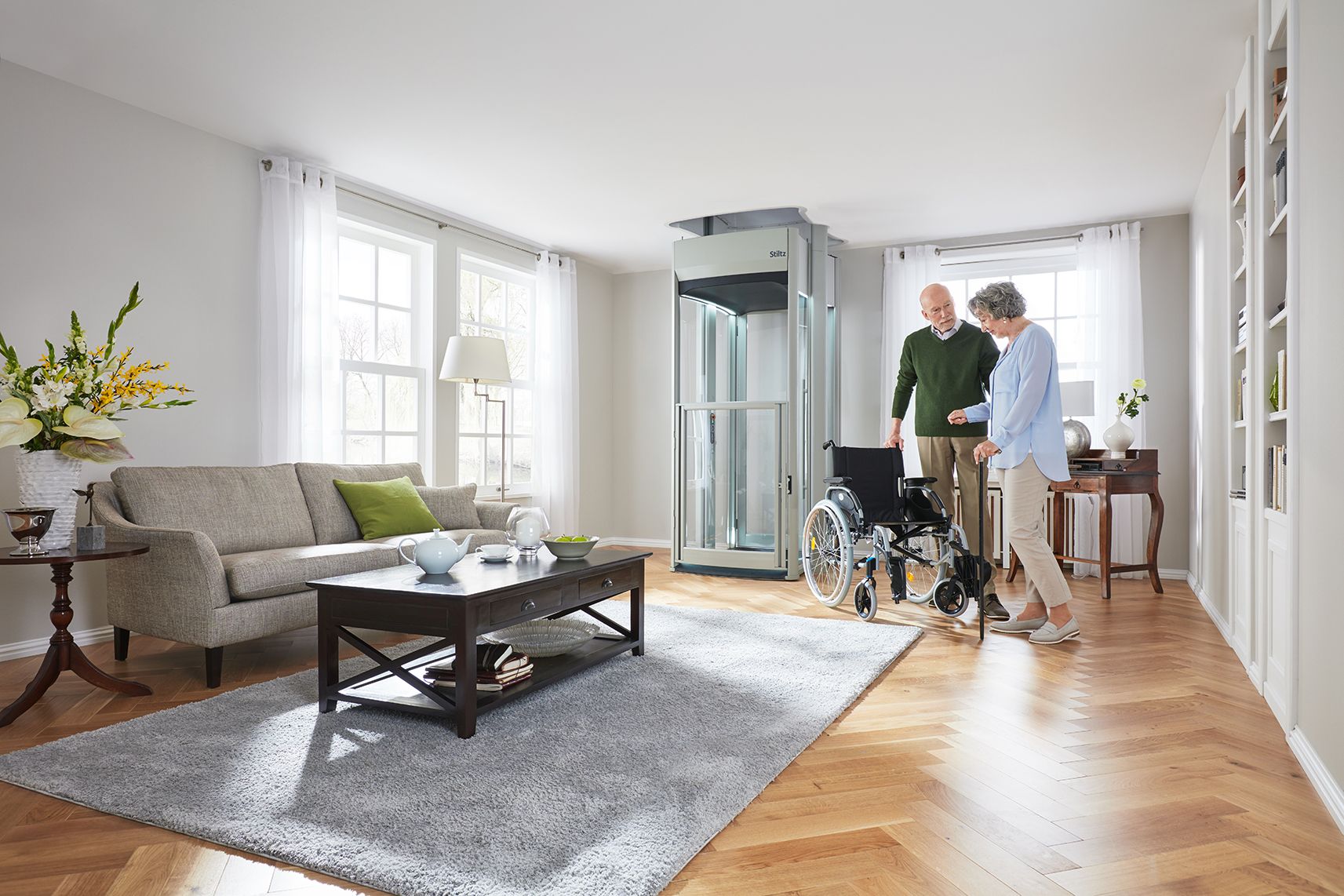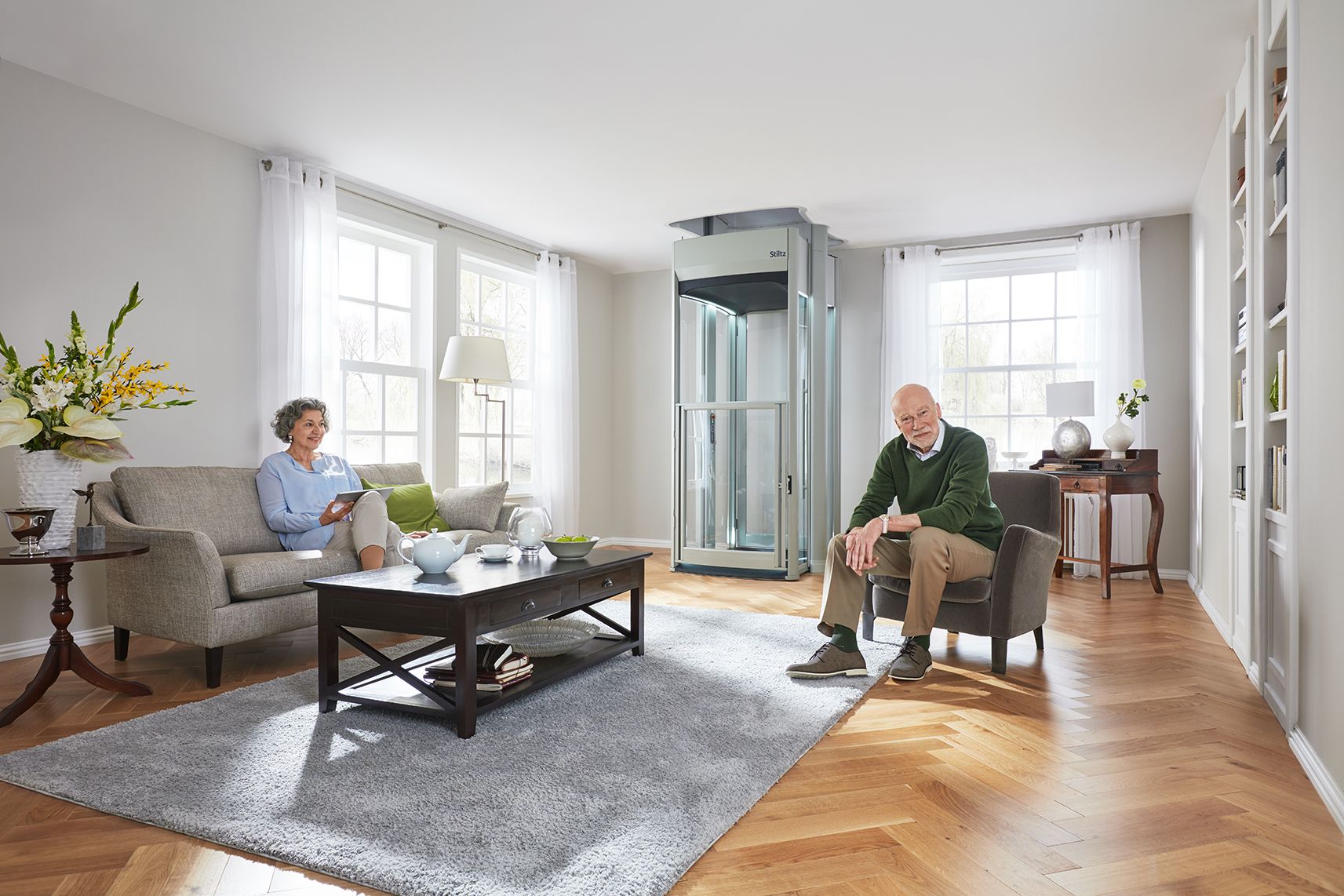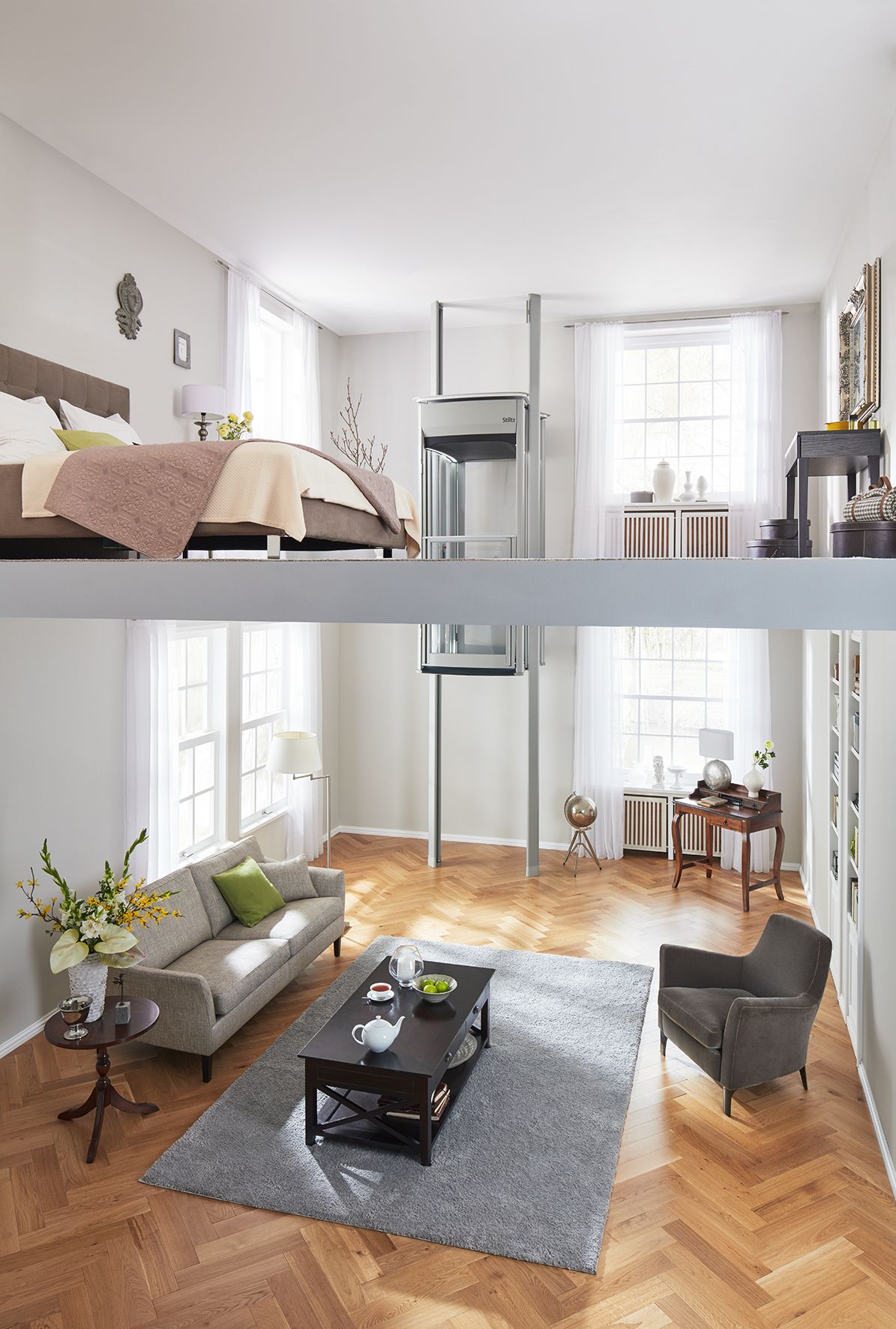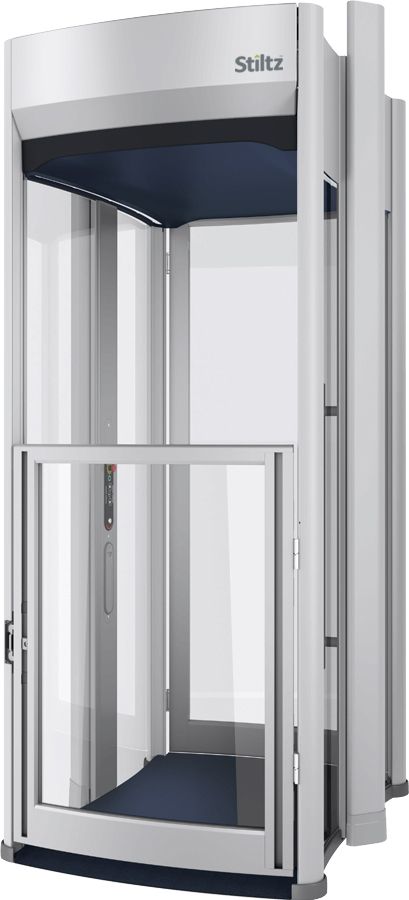 Stiltz, Trio Home Lift
Please enquire for a site survey to request a quote.

If you have mobility problems, staying safe at home and remaining self-reliant can be difficult. So, with one of the absolute best products on the market, here at Southern Stairlifts – we're excited to bring you the perfect solution. The Stiltz Trio Home Lift collection offers you safe, easy access to up to three storeys in your property.
Importantly, It's been designed to support the needs of wheelchair users, as well as those who rely on rollators or walking frames. Alternatively, it can carry up to three people at once.
The team here cannot wait to talk to you about the Trio. Why not book your FREE at-home survey today?
Your Home, for Longer – with Innovation and Expertise
As fully accredited dealers for this superb range of through-floor domestic lifts, the Southern Stairlifts team has in-depth knowledge not only of the technology that powers these wonderful products, but also of the truly amazing benefits they can bring you.
A safer experience at home, renewed independence, enhanced wellbeing. Above all, access to more of your property, for a fuller more enjoyable life.  
So much more affordable than moving to a single-storey bungalow, or meeting the expense of care home fees, these premium home lifts are simply life-changing. Now, you can stay safer, and regain more of yourself and the person you want to be – in the place you love the most: your home.
Welcome to the Stiltz Trio Home Lift Range
The Trio Homelift range – two types of innovative, through-floor vertical lifts – completely removes and solves the stairs problem, with a brilliant alternative:
Your very own at-home lift, elevating you effortlessly from one floor to another.
No more stairs. Just ease, comfort, safety and security. And they're whisper-quiet, too.
Key Features
The larger of the two models, its more substantial interior cab space allows for flexibility and freedom:
The Trio Lift has a footprint of just 1.25 metres. Headlines! This makes it the smallest footprint of any wheelchair lift available in the UK. Where would you like yours to be? From your lounge to your bedroom, your hallway or study, this innovative home lift requires very little space – the choice is yours.
Up to three people can travel up to three floors within your home.
It accommodates a user with a standard wheelchair, rollator or walking frame.
To make access smooth and easy, the Trio + has a gently angled ramp, as well as a wider entrance and exit spaces. This broader space enables the  rails on which the lift car runs to be discreetly recessed – enriching further its streamlined look and feel.
Enjoy Even More Features:
As it has dual rail technology, the Stiltz Trio Home Lift is free-standing; in other words, it's self-supporting. So, there's no need to fix it to a wall, and NO extra weight on your floor.
Moreover, as it doesn't use hydraulics or vacuum systems, it's super-quiet. Manufactured in the UK, installation by the experienced Southern Stairlifts engineering team is hassle-free.
The Trio range simply plugs into any normal 13-amp power socket, like any other household appliance. As you'd therefore expect, it's greener and economical to use – the same as boiling a kettle.
Use your two remote controls to call and send the lift remotely. Also, you could use it to remove heavy or awkward items between floors. Handy!Which Home Lift Would YOU Prefer?
Trio +
Luxury and style all in one – the at-home, wheelchair-accessible home lift you've been waiting for. With rails carefully recessed behind the slightly wider entrance and exit, and unobtrusive, transparent sides this is high-end design to complement any type of home.
Stilz Trio ThruCar
Enter and exit your lift in the same direction, with facing doors at the front and rear of the lift. There is NO other stairlift on the market with this unique ThruCar configuration .
Safety Features as Standard
The Trio range offers an unbeatable range of safety features to offer you security and peace of mind. From powerful obstruction sensors to stop the lift, out of balance sensors, interior telephones, battery back-up systems, fail arrest mechanisms, an emergency stop button and so much more, your Trio lift offers a smooth, secure journey from one floor to another – and another.
Supports up to 39 stone, or 250kg.
Optional Extras
In-car seat – a popular, stylish option
Interior grab rail – for that extra feeling of safety and comfort
Bespoke colours and finishes – your at-home lift, your way. Choose from a selection of lift car colours, rails and interior linings
Free UK Delivery*
*on orders over £100
Free Home Visits
and demonstrations
Pay Later with PayPal
in 3 interest-free payments