Riser Recliner Chairs
We understand that a riser recliner chair is more than just an aid; its a place to relax and enjoy a cup of tea and should be a beautiful piece of furniture in it's own right. Visit our Showroom for the best choice of assisted seating in the South East.
View our range of Riser Recliner Chairs
Riser recliner Chairs made simple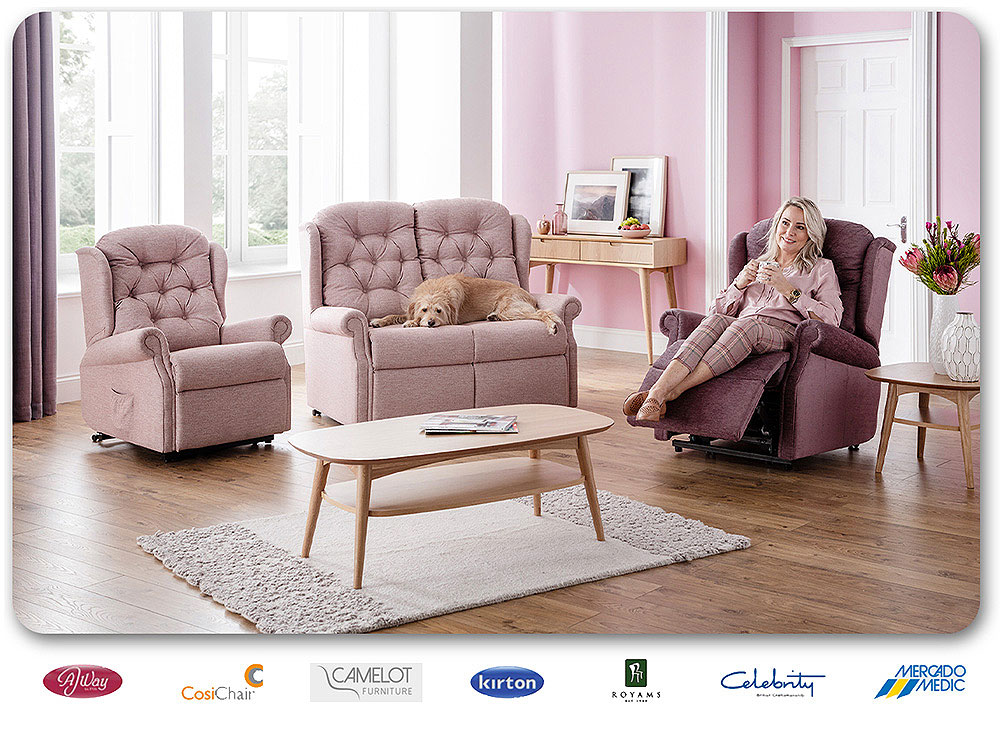 Why Choose Orange Badge for Your Riser Recliner Chairs?
Riser Recliner chairs are useful pieces of furniture for a range of people living with disabilities, older adults and other people with or without the ability to move around freely. Riser recliner chairs are available with powerful electric recliner designs, so you can find many chairs for mobility problems of all levels. We are the best solution for reliable and long-lasting products with top-class aftercare and free delivery.
Our riser recliner chairs can help you to use low and well-padded furniture in your lounge or living room with ease, and they make it simple to get into or out of a chair. Padded furniture can be difficult to use for many people but our extensive range is suitable for most mobility issues – and many are available with stylish and customisable fabrics or designs.
You can benefit from the reliable riser recliner chairs we have available for sale, which will let you enjoy a greater quality of life and peace of mind when using your furniture. If you need more than a chair there is no need to worry, assisted seating is available with a range of designs, including sofas and full furniture suites. Buy online today or get in touch with us if you have any further questions.

Our Versatile Range of Riser Recliner Chairs
Our diverse selection of chairs all share the same principle, helping the user into or out of their seated position. As mobility needs change it can become increasingly difficult to use low-level furniture, and riser recliner chairs can provide a sense of relief when you use your furniture.
The wide range of seating we provide can suit lounges, living rooms, offices or bedrooms – anywhere you require comfortable seating with easy access. The types of riser recliner chairs we provide include the following:
Riser Recliner Chairs

: If you are looking for total comfort our riser recliner chairs are the best choice. These comfortable lounge chairs are available with remote controls, as well as dual motor options for a powerful and reliable level of access. Single motor riser recliners still pack a hefty punch but come with a lower price tag, our

Duke

chair is a good example of a riser recliner that is available with different motor types.

Fireside chairs

: Sometimes you will not require the functionality of riser recliners, and their expense can be prohibitive in some cases. If you are just beginning to explore assisted seating a fireside chair can be a good option, as they offer good height, padding and sturdy arms for easy access. A good example is the

Celebrity Sandhurst Legged

chair, which has a height of 19.2 inches and is suitable for most needs in a lounge or home office.
Whether you require a mechanically-assisted chair or not there are many options in terms of finishing. All mobility chairs and other furniture are entirely customisable, meaning all assisted seating will make for an ideal addition to your current living room space and easily blend in with the existing interior design.
You can choose multiple chairs or select from a range of furniture suites, for a uniform furniture style and assisted seating options for up to 3 people. The Regent Collection is an excellent example of a furniture suite with a huge range of finishes, including leather – this suite also features Mammoth Medical Grade™ Foam Seating Technology.
Do I Need a Rise and Recline Chair or a Fireside Chair?
An electric riser recliner chair is a powerful piece of equipment suitable for people living with significant mobility issues. If a person has pressure sores then a dual motor riser recliner can provide excellent pressure relief when sitting down and standing up.
However, with excellent lumbar support, a fireside chair is more than acceptable for most people – and they are exceptionally comfortable even for people without mobility requirements. The lower expense of a fireside chair can be quite appealing, and they are also generally lighter and have a smaller footprint – so they may be a better choice.
If you are unsure about what types of mobility chairs are most suitable for your needs you can try them out yourself. Make a trip to our fantastic showroom, which is located near Lewes in the south-east of the UK, and you can test out various chairs with the assistance of our team – who will be very happy to guide you. 
Why You Need Our Mobility Chairs and Aftercare Service
We offer free home visits, demonstrations and many other benefits when you choose us. You can also benefit from free home delivery on all of our products, which is very useful for larger pieces of furniture. Our service comes with exceptional aftercare, which we deliver at an unparalleled standard.
By choosing us for your mobility chairs, or any other mobility products, you will also receive the following additional benefits:
Free call out and 24-hour support service.

Generous upgrade options.

Professional team with knowledge and experience spanning over 20 years.

Flexible monthly finance plans.
Our services will make sure you are fully set up and ready to go with your new mobility chairs. We can offer tips on effective cleaning and maintenance as well as demonstrating the full range of chair features. 
It is very simple to buy online and we are happy to guide you through the purchase journey over the phone, in person or in any other way too. We recognise that assisted seating can be a substantial investment and will advise you on the best product choices. Our team can help find a solution to suit most budgets.
Our customers leave us excellent reviews on leading independent trade sites. One very happy customer has the following to say about their experience with us:
"I cannot recommend this company highly enough! From ordering right through to delivery they have been friendly and efficient. The bed we ordered is top quality too. Ordering over the phone was easy and they were very helpful giving advice on which item would suit us best. Delivery team were very polite, tidy and careful when moving such a large piece of furniture around her house for us. So, so pleased with this service. THANK YOU!." Miss. H.
We provide a wide range of resources and community information via our blog, so feel free take a look at the latest posts.

Cost-effective and Customisable Mobility Chairs
You can get the best products at the most cost-effective prices by choosing us, and when you factor in our levels of service and aftercare you will surely never find a better provider in the UK. Our commitment to quality and customer satisfaction demonstrates the reliability of our service.
If you are venturing into assisted seating solutions for the first time or would like to upgrade an existing furniture suite we can help. You can buy online today or get in touch for further information and buy. You can rest easy knowing that our range is available for sale with free delivery and the best prices in the UK.