Electric Wheelchairs
The best range of electric wheelchairs/powerchairs at the very best prices. Our Showroom advisors at Orange Badge have been trained by all the main electric wheelchair manufacturers, enabling them to give you advice that's truly impartial and ensure you get the perfect chair for your specific requirements.
View our range of Electric Wheelchairs
Electric Wheelchairs Made Simple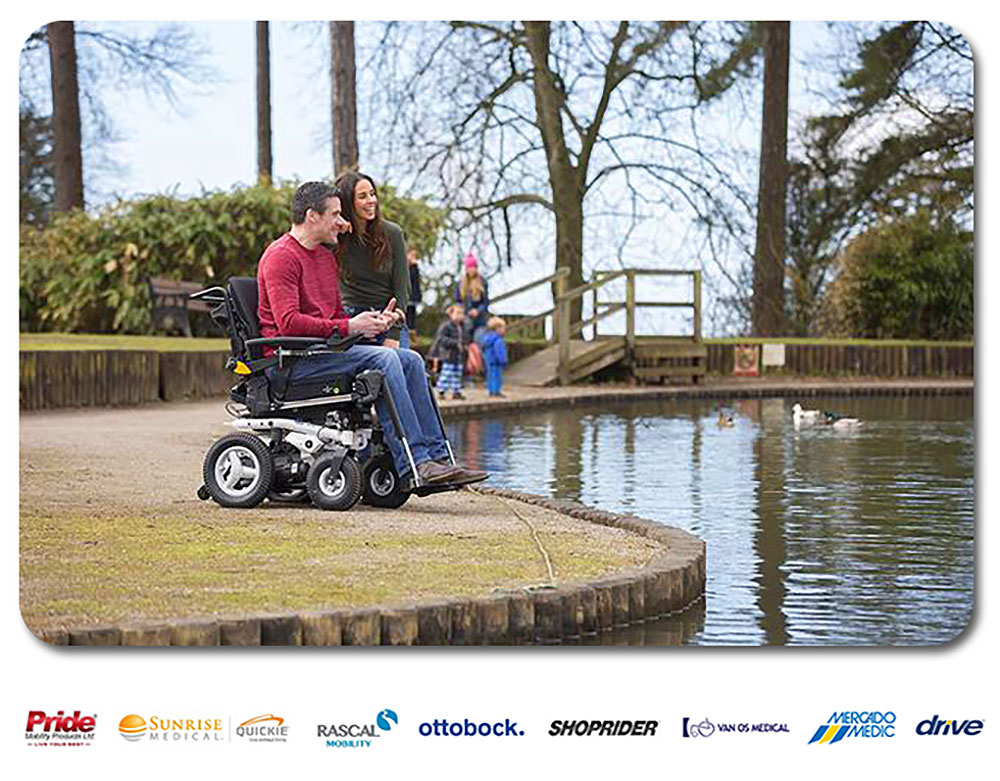 Why Choose Us for Your Electric Wheelchairs?
We offer the best electric wheelchairs in the UK, and there are great options for people of any level of mobility. The range we have for sale includes the latest small and large designs, which can increase your mobility by providing battery-powered wheelchair designs that are suitable for many indoor and outdoor settings.
Electric wheelchairs over exceptional ease of movement with a sturdy suspension system and reliable top speeds capable of covering both smooth and rough terrains. Our electric wheelchairs and power chairs are suitable for people who are unable to use manual wheelchairs.
With front-wheel drive and rear-wheel drive models available you can easily buy an electric wheelchair that is perfect for your needs. Shipping can be expensive for larger mobility equipment but, unlike other suppliers, we offer free UK delivery. 
Buy online today or get in touch if you have any additional questions.

Our Range of Electric Wheelchairs
We have an impressive selection of electric wheelchairs available to buy. All models operate on the same principle and offer power chairs that remove the need for manual wheelchair use. As an electric power wheelchair is so easy to use people of all mobility levels can use them.
Our range of electric wheelchairs includes easily folding designs, compact options with a low turning radius and dedicated outdoor electric wheelchair models. Highlights of our large range include the following:
Indoor Electric Wheelchairs
It is as simple to use an electric wheelchair indoors as it is outdoors. Indoor models can also provide a more cost-effective option, as they typically feature less powerful motors and slower top speeds.
Our indoor power chairs use fewer materials and are typically smaller than other models. Benefits of indoor chairs include the following:
Lower costs, thanks to their size and use of less heavy-duty materials.

Lightweight, with aluminium frames and lightweight indoor wheels.

A small turning radius, which helps to navigate indoor spaces more easily.
As an indoor design, these electric wheelchairs are not suitable for use in bad weather. While they may function fine in good conditions outdoors, such as on a covered balcony or patio, they are not intended for this use.
One excellent and low-cost indoor wheelchair we have for sale is the Drive Nippy Electric Wheelchair.
Outdoor Electric Wheelchairs
You can use outdoor space, go to local shops, cafes and restaurants or carry out many other daily activities by using an outdoor electric wheelchair. Outdoor wheelchairs are heavier, sturdier and have much more power than other models.
The outdoor electric wheelchairs we offer for sale have a lot of padding extra strong wheel designs. Advantages of outdoor chairs include the following:
Comfortable suspension systems, which help navigate different outdoor surfaces.

Protective features, such as leg guards and braces for extra safety.

Higher top speeds, outdoor wheelchairs can reach up to 8 miles per hour (MPH) – the legal limit for this kind of equipment.
Outdoor wheelchairs can be hard to store or transport, but there are some great options with versatile designs and ultra-small turning radiuses for use indoors or in narrow spaces. Outdoor chairs are capable of handling wet conditions.
An amazing outdoor electric wheelchair we have available to buy is the Sunrise Q700M, which features a very comfortable SEDEO® PRO seating system.
Folding Electric Wheelchairs
Portability is something that can be an issue for people using mobility equipment, but folding electric wheelchairs will help a lot. Foldable electric wheelchairs easily fit into small spaces, such as a car boot.
Our range of folding electric wheelchairs features many sturdy designs and rugged folding mechanisms. Other great features include the following:
Automatic folding, manual options are also available that work with very little effort.

Durable suspension systems, suitable for different surface types when travelling.

Lightweight frames and battery systems, which will last a long time.
Folding electric wheelchair designs are a reliable choice for people who travel frequently. They can also be stored easily when not in use and offer good performance on multiple types of terrain without being too bulky.
One fantastic example of a folding electric wheelchair you can buy from us is the MH Foldalite Pro, which weighs just 25 kilograms.
Multi-use Indoor and Outdoor Electric Wheelchairs
If you use a wheelchair to move frequently then a versatile electric design that is suitable for both indoors and outdoors is a good choice. Multi-use electric wheelchairs offer a compromise between size and functionality.
The indoor and outdoor electric wheelchairs we have for sale fluctuate in price, depending on the features you require. Key benefits include the following:
Clever wheel systems, by having two main wheels supported with two smaller wheels you make navigating both indoors and outdoors very easy.

Low turning radius, as versatility is important these chairs can fully turn within a small space.

Leg and mudguards, for extra safety and comfort – many of which are removable depending on your needs.
Ordinarily, indoor-outdoor models will be a mid-size electric wheelchair but there are some heavy and light-duty versions available too. Speeds on combination models vary but can reach up to the 8 MPH limit.
A notable example of a multi-use indoor and outdoor power chair is the Otto Juvo B4, a fine chair with excellent suspension and many customisation options.
Benefits of Using Our Service
Our exceptional prices and levels of aftercare mean that we provide amazing value in what can be a fairly significant purchase. We offer complete demonstrations for free and can assist with support for the entire lifecycle of your product.
Advantages of choosing us for your mobility equipment include the following:
Flexible pay-monthly finance plans.

24-hour customer support and helpline services.

A professional service based on 20 years of experience.
We are confident that our levels of service will exceed your expectations and we can help you through the entire purchase journey. If you are upgrading with us we offer extremely generous exchange options.
People are enthusiastic about the services we provide, which helps us generate many positive reviews on leading independent trade sites. Feel free to browse them for more information.
One happy customer has the following to say about their experience with us:
"I cannot recommend this company highly enough! From ordering right through to delivery they have been friendly and efficient. The bed we ordered is top quality too. Ordering over the phone was easy and they were very helpful giving advice on which item would suit us best. Delivery team were very polite, tidy and careful when moving such a large piece of furniture around her house for us. So, so pleased with this service. THANK YOU!" – Miss. H.
Our team members are passionate about mobility solutions and are also active members of the community, you can view our blog for a variety of resources and mobility product information.
Buy the Best Electric Wheelchairs for Sale in the UK
We have the latest new models of electric wheelchairs and constantly expand our range. You can buy online or try before you buy by visiting our excellent showroom, situated near Lewes in the south-east of the UK. Our team will be happy to help you select a model perfectly suitable for your needs.
As suppliers of small and large mobility equipment, we have the experience to deliver amazing levels of service and aftercare that is unparalleled in the industry. You can enjoy free delivery in the UK when you buy your new electric wheelchair from us, please feel free to get in touch if you have any further questions.