What Are The Best Mobility Scooter Brands?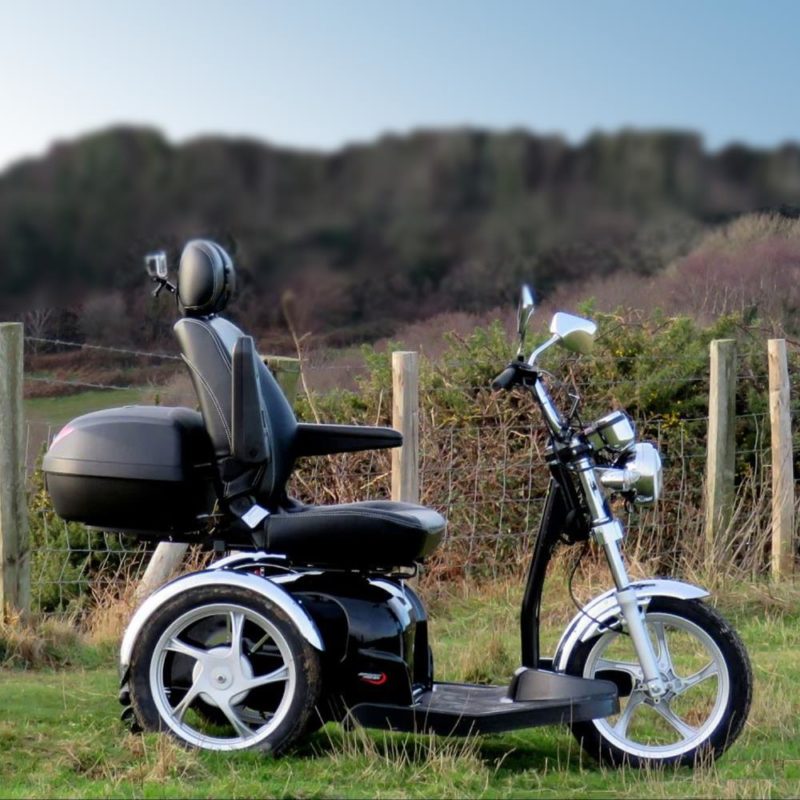 The best mobility scooter brand varies depending on the type of scooter you require. As general indicators of the best quality, we commonly look at a few key features, which will also differ in importance depending on the type. In addition to this, certain manufacturers specialise in specific types of mobility scooters – the best choice may not be immediately clear. Overall, the top brands we supply include Pride, Rascal, Drive and Sunrise scooters.
Mobility equipment does not carry the same name recognition as other sectors such as clothing, especially if you are buying your first wheeled scooter. It can be difficult to determine the best scooter brands, but we have a list of some of the most important things to look out for. 
Common features of leading brands include the following: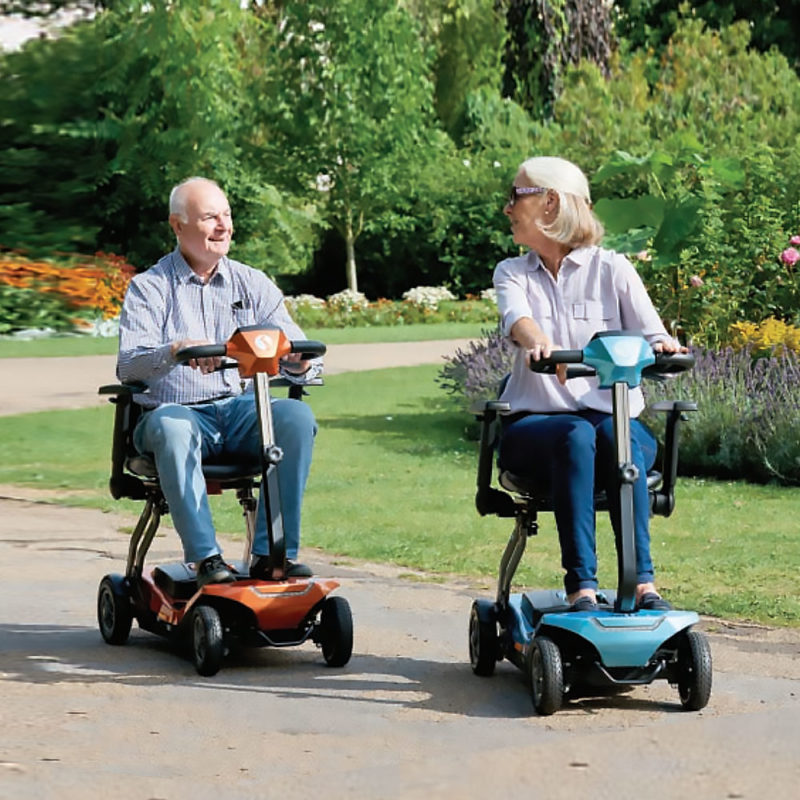 Reliable maximum speed

: There is no 'best' top speed, it all depends on your needs. However, a key sign of a good quality brand is a scooter that has a very consistent maximum speed, even on gradients or with minimal battery left.

Precise range estimates

: You might not need a long range, but a quality brand will always perform as advertised when fully charged. The miles on a single charge you can cover will vary, but the best brands use high-quality batteries to ensure your scooter will perform exactly to the level it is designed.

Lasting LED headlights

: Bright LED lights on the front and rear of your scooter are one of its most important safety features. A good brand will have lights that are well-protected from collisions and last a long time at maximum brightness, ensuring total safety and minimising the need to replace them.

Comfortable seats

: Padded seats, adjustable seat heights and tilts, customisable seat backs or swivel seat functionality are all signs of a brand that is focused on giving you the most comfortable ride possible. Chair-like seats are luxurious mobility scooter features and an important feature of leading brands.
As leading providers of the very best mobility scooters on the market, we regularly see the most reputable brands – which makes us a great option when you are unsure of what scooter is best for your needs. Here we will break down the best brands for each type of scooter, which will make the buying process easier. 
We can help you to find the best mobility scooter brands – perfectly suited to your requirements – thanks to our friendly and knowledgeable team. You will get cost-effective prices and top-notch aftercare when you choose us – simply buy online, visit our Lewes-based showroom or get in touch with us to buy a top brand today.
The Best Mobility Scooter Brands to Look Out For in 2021
Our wonderful range of mobility scooters is an important part of our mobility aids and mobility products, as they provide a great sense of liberation for our customers. The following are some of the best mobility scooter brands for different types of scooters:
---
What is the Best Brand for Travel Scooters?
Many brands create at least one travel mobility scooter as a part of their range, which will not necessarily be their flagship design. However, you can still find an excellent travel scooter from manufacturers that make different types and there is no real need for a specialist brand.
Pride, a world leader in the mobility scooter space, is a good example. They have several models available within our travel scooter collection and many other types of scooters that we sell. A notable model is the Jazzy Zero Turn Mobility Scooter, which has the following benefits:
Smallest possible turning circle

: Travel scooters can be used either indoors or outdoors, so a small radius for turning is a big plus. The Jazzy uses a proprietary 'Zero Turn' feature, which lets you easily turn the scooter on the spot.

Ultra-light LED lighting front and back

: As they require a smaller design, travel scooters often chop features out or reduce them in size, which means certain areas get less attention. However, this travel scooter keeps up with the full-sized models when it comes to having powerful lights, making it a very safe option for travel.
Pride travel scooters have a good reputation for quality overall, but another manufacturer known for quality travel scooters is TGA. You should not skimp on costs when you buy a travel scooter, but most are competitively priced in comparison to larger scooters.
---
What is the Best Brand for Folding Mobility Scooters?
When it comes to folding mobility scooters you have to be careful. An annoying catch or a sticking folding mechanism can defeat the purpose of this design. The key is finding mobility scooter brands that have the mechanical aspects of the scooter nailed down.
Drive is a well-known brand that features prominently in our folding mobility scooter range – with a good example being the Travelease Mobility Scooter. This scooter has the following benefits: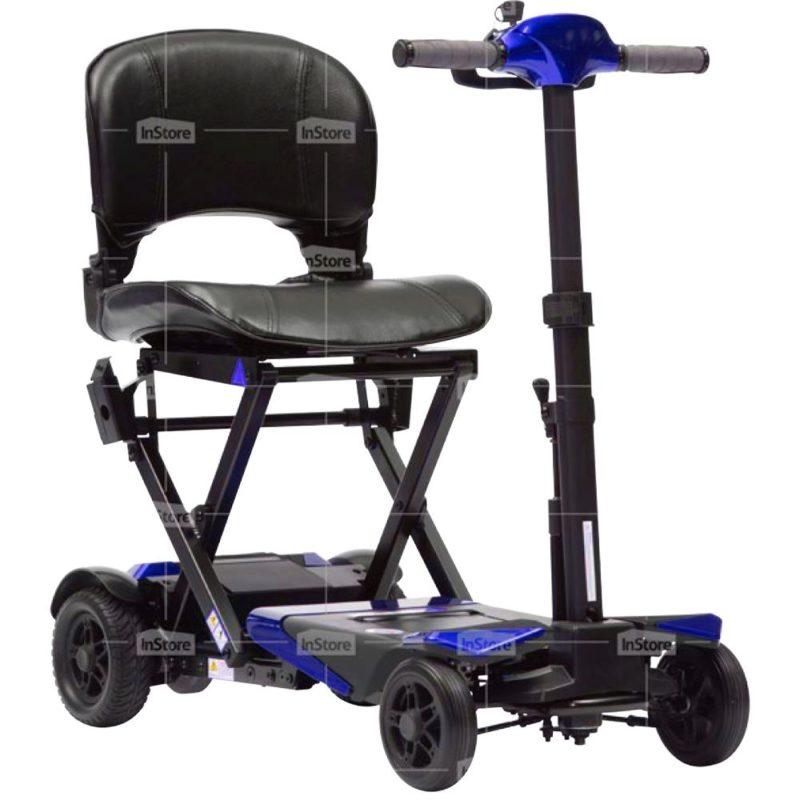 Manual folding system: A sturdy manual-folding mechanism is all that many people will need – and it avoids the annoyance of having a battery-powered mechanism not work at the wrong time.
Lightweight

: This particular folding mobility scooter comes with impressively low weight, thanks to its slim frame. As the scooter uses minimal materials, you will be able to easily store it in a small space.

Compact design

:  A great advantage of the Travelease is that it is bespoke to travel. It even looks like a suitcase when it is in the folded position! You can wheel it easily and move it with great flexibility while folded too.
You can forget about the motor and battery life with folding scooters, or at least not pay so much heed, as folding scooters are mostly used for travel and short journeys. Rascal also makes excellent travel scooters, so they are worth considering too.
---
What is the Best Brand for Lightweight Scooters?

When it comes to lightweight scooters, you are covering a range of different types. Lightweight does not necessarily mean portable, though this is often the case. The best lightweight scooter brands use materials like aluminium and stainless steel in their design.
One of the best brands for lightweight scooters is Sunrise, a company operating in Asia, Australasia, North America and throughout the EU. A particularly good model is the Sapphire 2 Mobility Scooter, which has the following benefits:
Large but lightweight

: This scooter comes with a considerable bulk, but with a very low weight. The heaviest part when disassembled is only 22.5 kg, which is 50 lbs – pretty amazing considering its size when put together.

Suitable for both indoor and outdoor use

: You can take this scooter anywhere! Flexibility and versatility is a key sign of a high-quality brand, and the Sapphire 2 happens to be exceptionally adaptable to any environment.

Disassemblable

: You can easily take this scooter apart and take it with you. All in all, it fits within a space about the size of a car boot. You can also transport this scooter on a train or other forms of public transport.
Another good brand is Drive, which is a very well-known all-around quality scooter brand. There are features of lightweight scooters that can become expensive, such as if they use metals like titanium. However, most are of a mid-range price as lightweight scooters are less expensive to produce.
---
What is the Best Brand for 4-6 MPH Mobility Scooters?
When it comes to mobility scooters that are based on speed, you need to focus on the battery and the motor. As such, brands that are good in this regard usually place their focus on precision engineering and innovative power storage technologies.
A great brand for reliable 4-6 MPH mobility scooters is Shoprider. Their Sovereign 4 Mobility Scooter is a fine example of this type, and it has the following benefits:
Simple design

: This scooter has an exceptionally simple design, which is a sign of great reliability in all conditions. This scooter will deliver robust and reliable performance in a cost-effective package.

Comfortable seat

: When travelling at a maximum speed of 6 MPH you need to have a sturdy and comfortable seat. Aside from the motor and the battery, the seat is the most important thing for this type of scooter – and this particular model delivers a well-padded seat with maximum comfort.

Bright front lights

: Another important part of travelling at speed is your visibility on the road and the visibility of the route in front of you. This scooter incorporates very bright lights – so you can reliably use this scooter at night.
A trusty piece of mobility equipment will make it easier to do a variety of tasks, and in many cases simplicity is key. While you will not be using this type of scooter on the road, brands with safety and comfort features are the best for a reliable ride.
---
What is the Best Brand of an 8 MPH Scooter?
Class 3 mobility scooters can reach the maximum speed allowed by law. Choosing an 8 MPH scooter means power is your main concern. The motor is probably the biggest consideration, but your power consumption and battery life is also very important.
A great brand for this type of scooter is Kymco, an originally Japanese company founded in 1964 that also produces motorcycles – so you know you are getting good power. A great model is the Kymco Comfy 8 Mobility Scooter, which has the following amazing features:
Ergonomic design

: The seat and body of this mobility scooter is designed with comfort in mind, something vitally important when you are travelling at speeds of up to 8 MPH.

Advanced suspension

: Another important aspect of travelling at a relatively high speed is being able to tackle the terrain. This scooter has incredible suspension, ensuring maximum comfort and safety across all types of urban terrain.

Slide and swivel seat

: As we know, seat quality is a sign of the overall quality in any given scooter design. This model has a clever slide and swivel seat that makes it simple to get in and out of the scooter and maintain total comfort while riding.
You are going to be travelling fast, so you want to be able to meet that need with a sturdy brand that is reputable for great engines. While Kymco is a solid option, Scooterpac is another good mobility scooter brand renowned for their engine power and performance.
---
What is the Best Brand of Off-Road Mobility Scooter?
There are a great many different considerations when it comes to an off-road mobility scooter brand. Notably, you want sturdy wheels and rugged suspension to tackle rough terrain.
An excellent brand for off-road scooters is Horizon, a UK brand with a reputation for innovation – formed in the 1990s. Their Aztec 2 Mobility Scooter is a particularly good model that has the following key features:
Powerful DC motor

: You will get extreme power from the motor with this model, which will ensure that you can handle all the terrain of an urban or offroad environment – even when travelling uphill.

Strong steel chassis

: No matter what speed you are going, it is important that the chassis of your scooter is robust. This stainless steel design will handle any kind of bumps and knocks and absorb every impact with ease.

Oversized battery upgrades

: You will not need to worry about the range of your scooter with this model. The battery power of this scooter is very good as is, but the option to extend it is a sign of a good brand and a reliable off-road scooter.
While you want a sense of reliability with any type of scooter – the bigger, faster and more powerful models are important to get right. Otherwise, you might find it is lacking in performance. Horizon is a specialist company focusing solely on mobility equipment, so they get a lot right in terms of quality for off-road models.
---
Buy the Best Mobility Scooter Brands with Top Quality Aftercare
We are known throughout the UK as an industry-leading supplier of a wide range of mobility equipment, including exceptional scooters. Our knowledge and expertise in finding the best mobility scooter brands ensure our customers always get the perfect mobility equipment for their needs – and it comes with top-notch aftercare.
All of the mobility scooter brands and models listed above are available to buy on our website or from our showroom, with excellent trade-in options, free delivery and demonstration – as well other fantastic ongoing benefits. 
We are confident that you will have the best buying experience with our exceptional company, whatever brand you end up choosing. Please feel free to get in touch if you have any questions.