What Are the Best Stairlift Companies in the UK?
What Are the Best Stairlift Companies in the UK?

Stairlifts can greatly help people navigate their existing homes without significant alterations. Straight, curved and outdoor stairlifts are available to buy and install in the home wherever a person requires access. However, you need to choose the best stairlifts for your needs and find reputable stairlift manufacturers.
Straight staircases can use a simple rail, as a straight stairlift does not need to navigate any turns. Other types of stairlifts, such as outdoor stairlifts, can be more complex – making installing a stairlift trickier. When there is a door at the bottom of a staircase a folding rail may be added, which may also complicate things.
When it comes to choosing the best stairlifts you will have to look through a range of companies, which can make things confusing. Here we will look at some of the best brands, which we recognise and recommend as leading suppliers of stairlifts in the UK. You can get in touch for more information or to buy.
What Are The Best Stairlifts In 2021?
There are many leading stairlift brands and here we will discuss a few of them. A lot of these popular brands are available to buy from our range of stairlifts, and we then supply and install them to our customers in the UK.
We will break down the best stairlifts by category of use:
---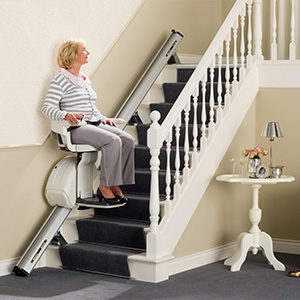 Straight Stairlifts
Straight stairlifts are simple and very unlikely to break down, meaning they typically have many years warranty and the initial cost of the stairlift is usually much lower than the more intricate curvin
g and outdoor versions. 
The following are some best stairlift brands in a straight design:
Thyssen

: One of the most recognisable brands is ThyssenKrupp AG, one of the best German brands that has a reputation for sturdiness and long-lasting stairlifts. The

Flow Straight Stairlift

is an excellent example, which is great for narrow staircases in particular.

Bruno

: Bruno is one of the most reputable brands from the USA, and is family-owned – they are known for quality and safety. The

Elite Stairlift

by Bruno offers great comfort and can handle a very high weight capacity safely, which makes it perfect for multiple users.
While the cost of the stairlift is usually lower, these types of stairlifts often have additional features, such as swivelling seats, remote controls, power swivels and other extra safety features that can influence the costs further.
---
Curved Stairlifts
Choosing curved stairlifts is a great way for you to fully adapt your home to your mobility needs. A curved design will help you to access narrow areas and staircases on higher levels, such as those leading to attics or loft spaces.
The following are some of the best stairlifts of the curved variety:
Brooks

: One of the UK's leading brands, Brooks stairlifts are a family-run company that has a reputation for reliability and comfort. The

Curved Stairlift

from Brooks has a unique Modular Curved Rail, which makes it a great choice for a speedy and simple installation.

Bruno

: With their reputation for robust design Bruno are also one of the best curved stairlift brands, as reliability in curved stairlifts is very important. The

Curved Stairlift

from Bruno has an offset seat for maximum safety when alighting at the top and bottom of stairs.
Many curved stairlifts will have a slower installation process than straight stairlifts, but they are still relatively quick to install if you are using brands with clever track designs. Expert planning and installation will reduce installation times further.
---
Outdoor Stairlifts
You can benefit from full access to a garden that has an incline, even with quite steep outdoor staircases, by selecting an outdoor stairlift. An outdoor stairlift will require a very robust design and weather-proof rails or mechanisms.
The following are some of the best brands of outdoor stairlifts:
Bruno

: The Bruno brand again wins out as one of the best brands for outdoor stairlifts, with the robust design being so important outdoors. The

Elite Curved Outdoor Stairlift

is a fantastic example of a stairlift that is capable of navigating even the most complex outdoor staircases.

Brooks

: For a simpler version of a straight outdoor stairlift Brooks are one of the better brands to buy. The Brooks

Outdoor Stairlift

is excellent for smaller staircases and has very low-maintenance DC battery packs, which makes it an excellent choice for superb reliability outdoors.
You may use an outdoor stairlift a bit less frequently. As a result, the best-rated brands will have reliable power options so that you can use the stairlift as and when necessary. Many also feature automatic recharging for extra simplicity.
---
The Best Stairlifts to Buy In 2021
We have a reputation for excellent customer service and aftercare, which makes us one of the best suppliers of stairlifts in the UK. Our position in the trade gives us the authority to recommend affordable and reliable products.
If you are buying a straight, curved or outdoor stairlift you need to select one of the reputable brands for comfort, reliability and sturdiness – so make sure you choose wisely. 
For assistance choosing a stairlift and to buy please contact us.