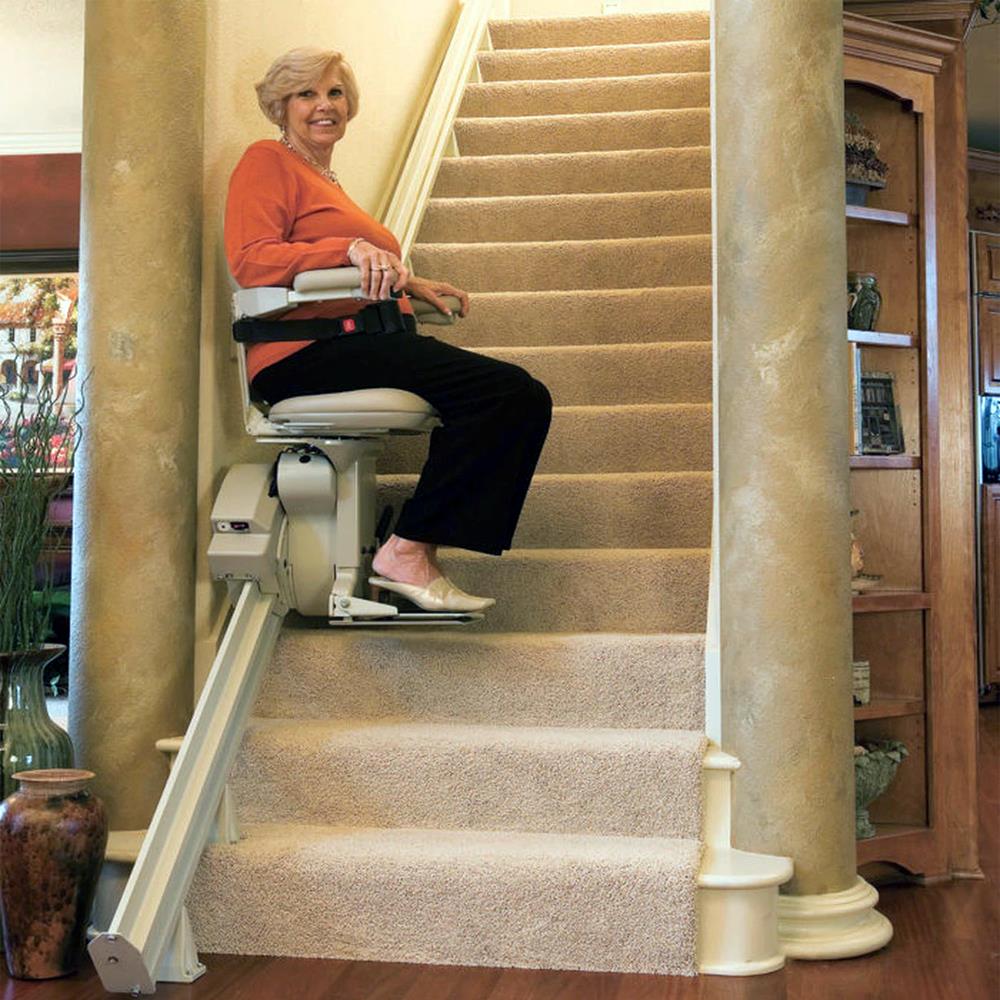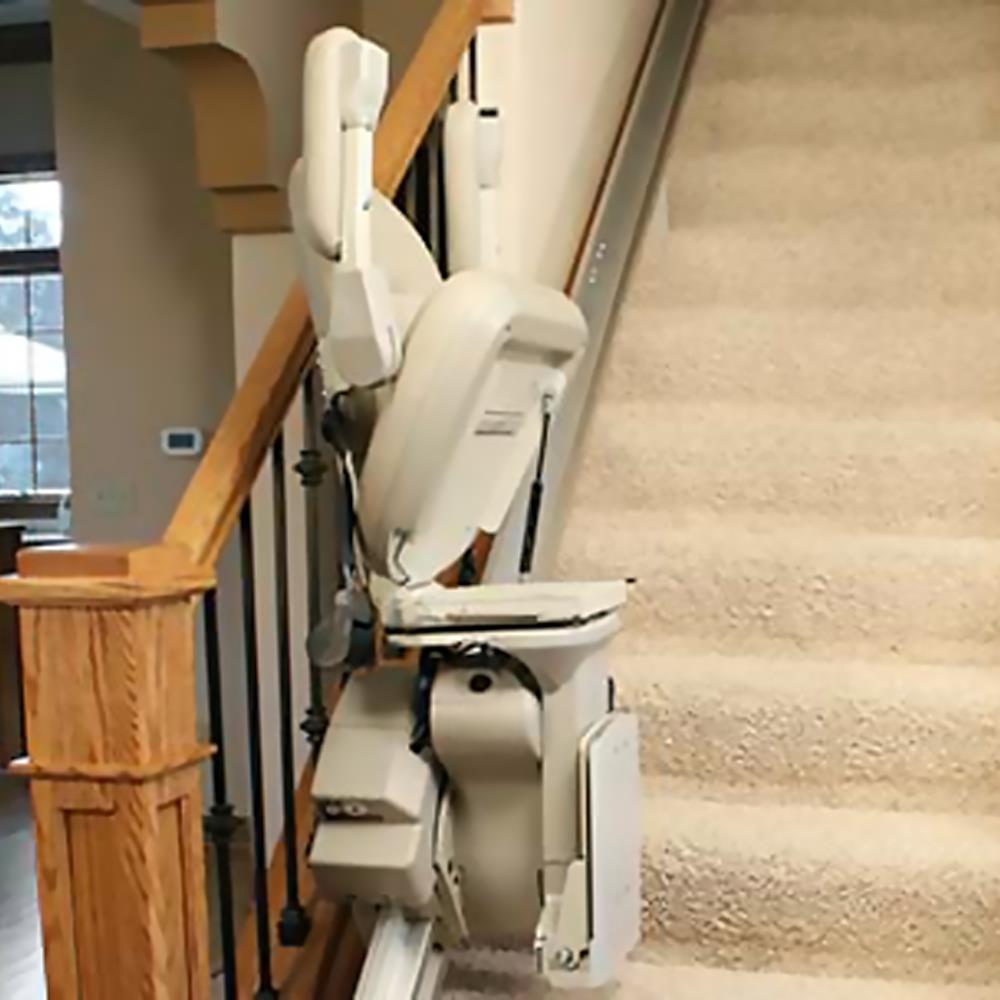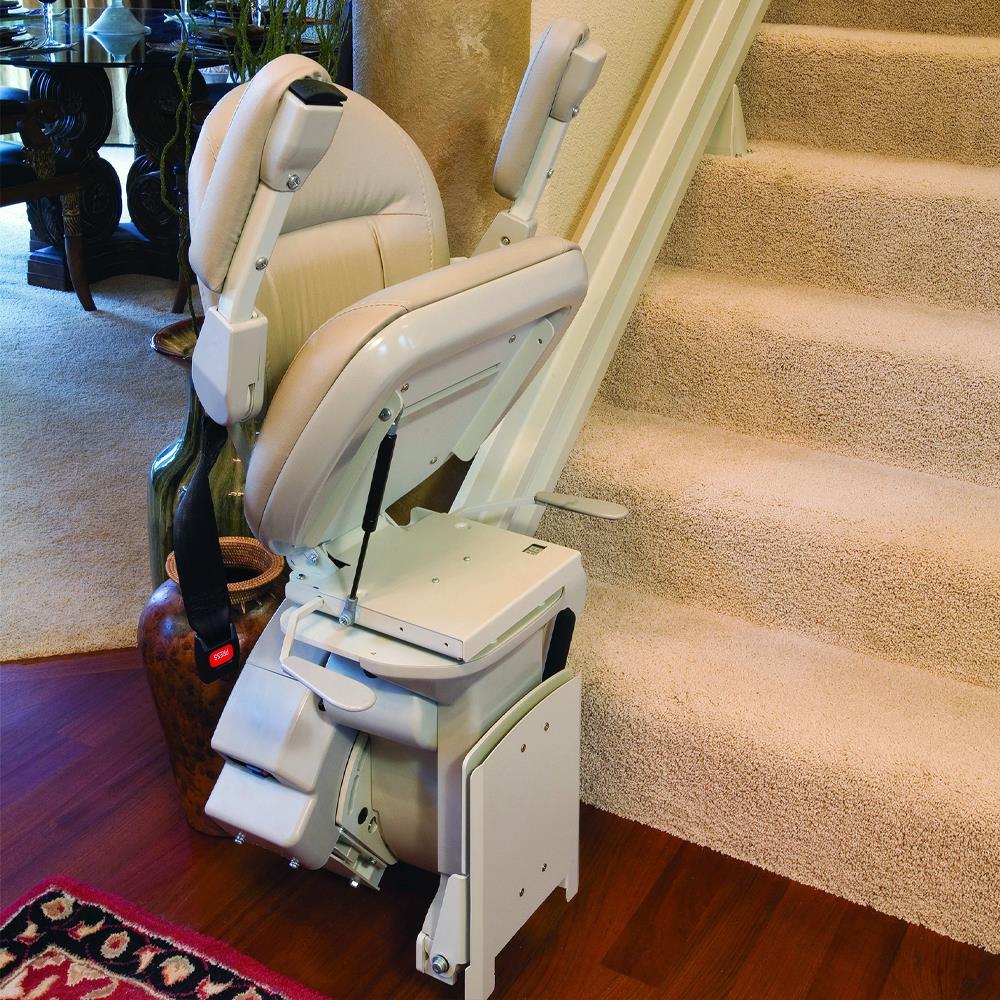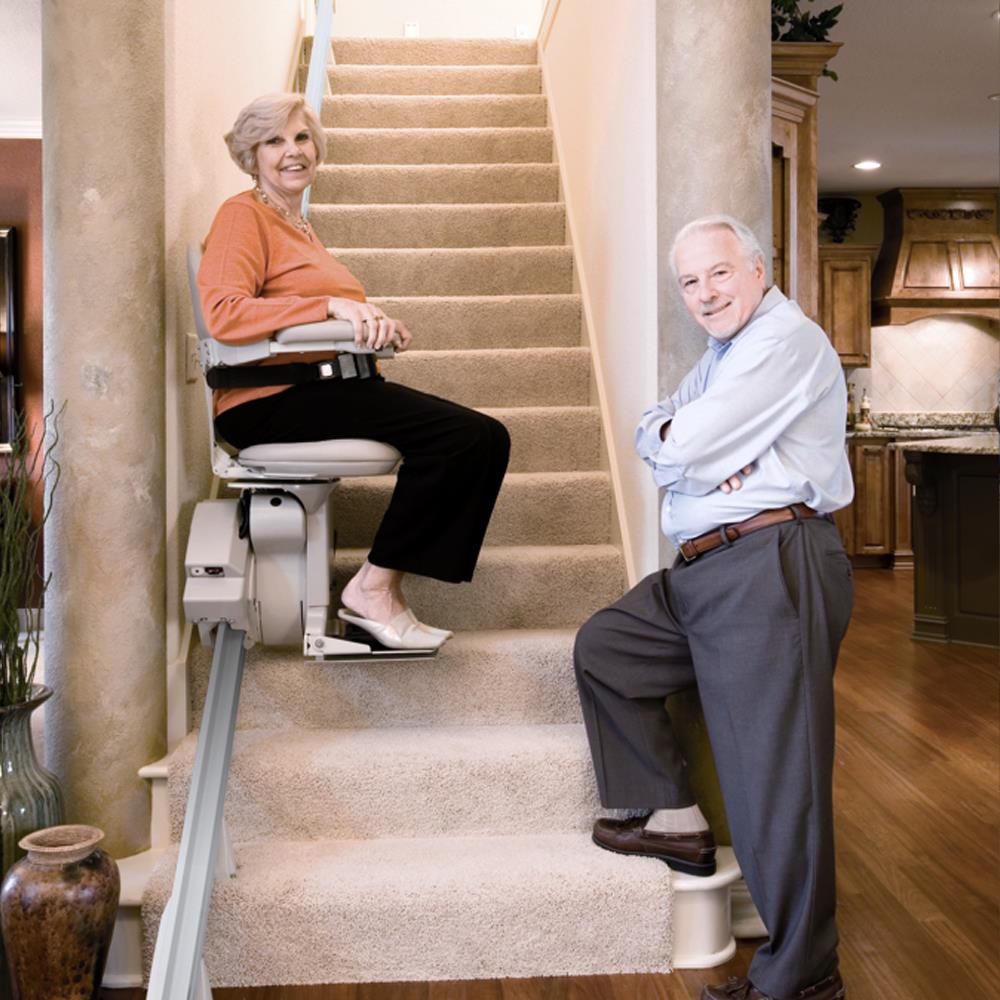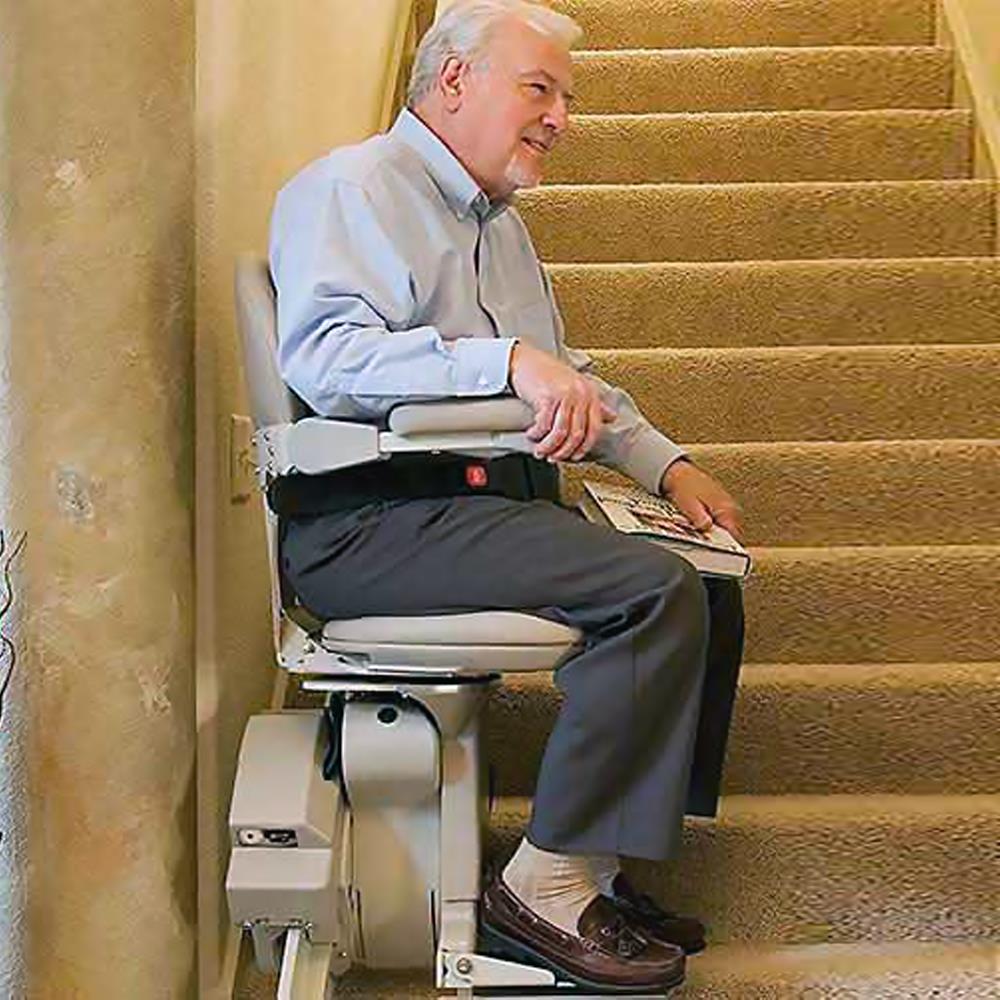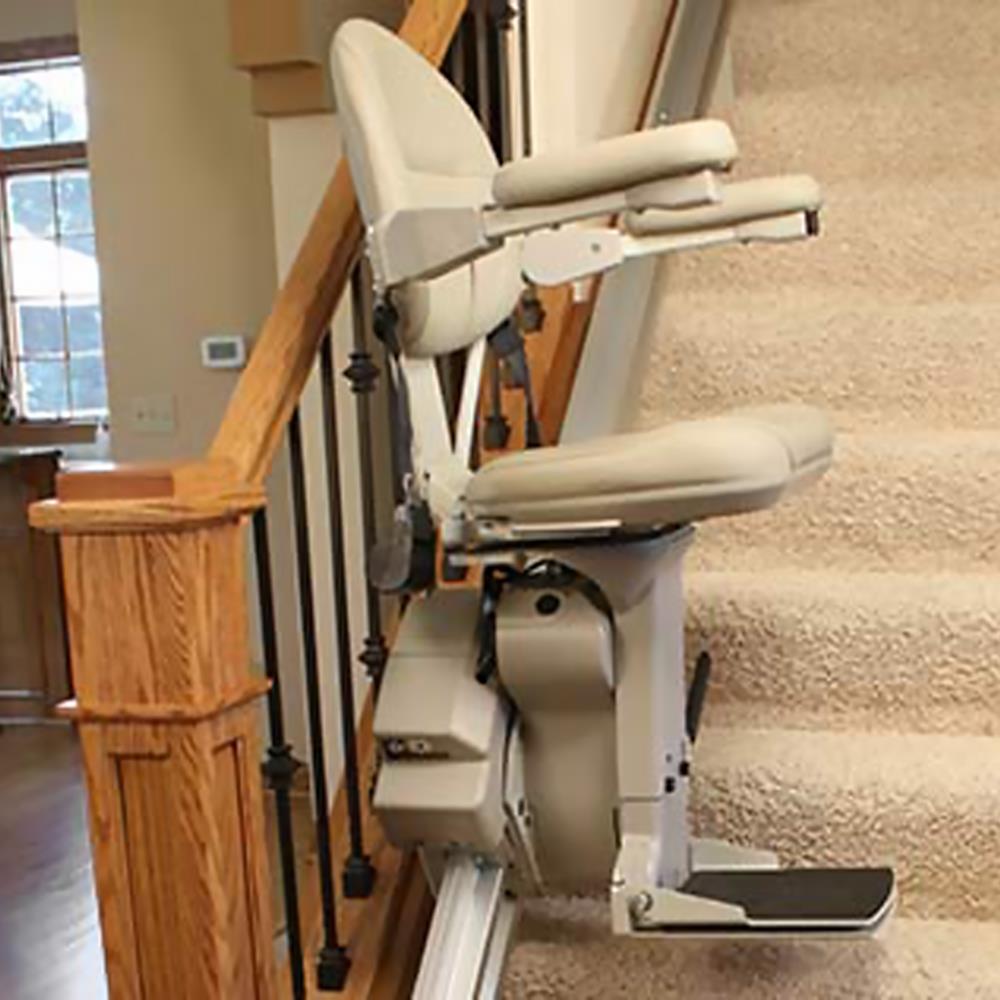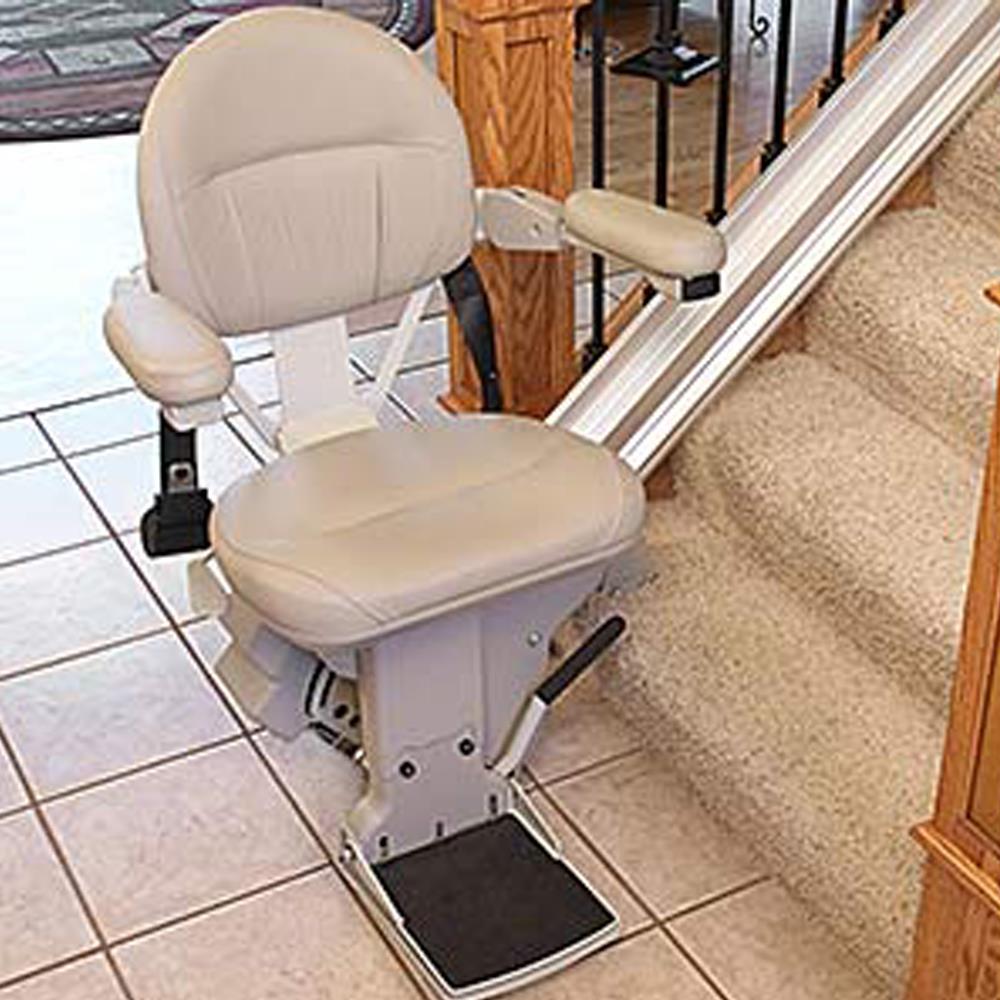 Bruno, Elite Stairlift
From £2,995.00excl. VAT
Bruno, Elite from Orange Badge on Vimeo.

Carries up to 30 stone!
Made by Bruno, the most popular stairlift brand  in the USA, the Elite lift features real 'Made in the USA' craftsmanship. This Super comfortable indoor stairlift offers years of dependable use and a variety of features to meet your individual needs.


An incredibly robust stairlift capable of carrying users of up to 30 stone (190kg), the Bruno Elite features a plush, wide and super comfortable seat that is adjustable for height. It's elegant yet robust construction features an incredibly smooth, quiet ride with soft start & stop to ensure maximum comfort.

Unlike many lifts the toothed track is hidden on the reverse of the rail for a clean appearance, and a simple arm toggle and wireless remote controls mean it's a breeze to use for anyone.

Comfortable and Robust
These aren't the best selling brand of lift in the USA for no reason! They have a number of industry-leading features as listed below:
Affixes to your stairs, not your wall
Industry leading 30 stone / 190kg weight limit
Soft start and stop system – no sudden jolts
Plush, incredibly comfortable seat
Adjustable height seat
Adjustable width arms
Easy to use toggle control
Remote control system – means no messy wiring
High torque heavy duty motor
Low voltage operation – eliminates risk of shock
Electro mechanical braking with failsafe overspeed governor
Up and working fast – delivered in days, fitted in an hour
Slimline, fold-away design.
Runs on maintenance-free rechargeable batteries. Works even in a powercut!
*This product is VAT exempt if purchased to aid with a disability or chronic illness – for further details please click here*
Extra Options Available
Sometimes a straight lift will need some adaptations to be able to be used safely and comfortably. These lifts have optional accessories and extras designed to accommodate your specific circumstances. Some of the options available include:
Powered seat swivels and footplates
Slimline automatic or manual hinged tracks to overcome obstacles
Bridging Platforms
If your staircase has a short set of 'winders' that go to the left or right at the top of your stairs, other companies will only offer a curved lift that will be considerably more expensive than a straight lift. Subject to survey we may be able to fit you a folding bridging platform that will allow a straight rail lift to work in safety while saving you a substantial amount.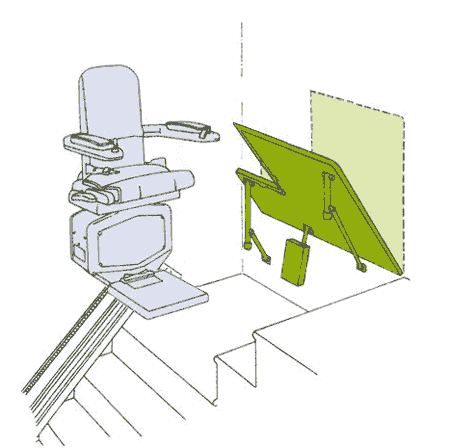 | | |
| --- | --- |
| Maximum user weight | 30 stone / 190kg |
| Minimum rail angle | Level / zero degrees |
The Bruno Elite Straight Stairlift is built to carry the largest of users and is our heavy-duty
straight stairlift
. Whether you're exceptionally tall and need a lot of legroom / seat space or you just need a high weight capacity, the Bruno Elite Straight Stairlift can deliver.
Luxury appearance, quality
Multiple options for individual needs, tastes
Exceptionally smooth, quiet ride
Continuously charges unit anywhere on rail
Designed for maximum free space on steps
Vertical rail with covered gear rack for clean appearance
Offset swivel seat; flip-up arms; folding footrest/seat
Dependable service even in power outage
Power
Two 12-volt batteries
Continuous charge strips along rail power unit wherever it stops
Specs
Standard seat pad size:
17.5 in wide x 15 in deep (445 mm x 381 mm)
Standard footrest size:
10 in long x 9 in deep (254 mm x 229 mm)
Adjustable width armrests:
15.75 in – 21.75 in (451 mm x 552 mm) between arms
Safety
Obstruction sensors
Seat belt
Offset swivel seat
Free UK Delivery*
*on orders over £100
Free Home Visits
and demonstrations
Pay Later with PayPal
in 3 interest-free payments