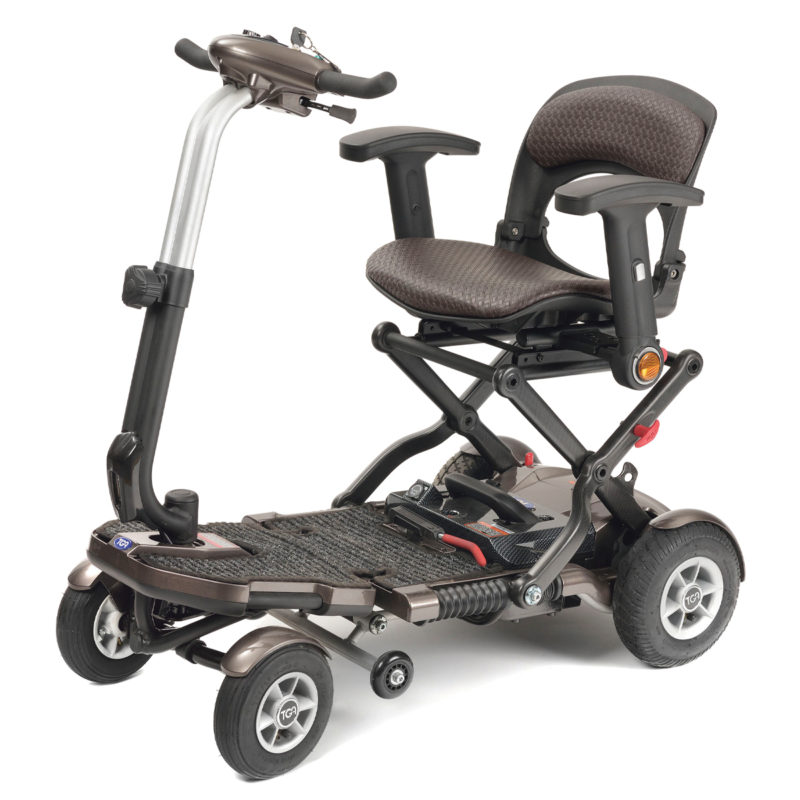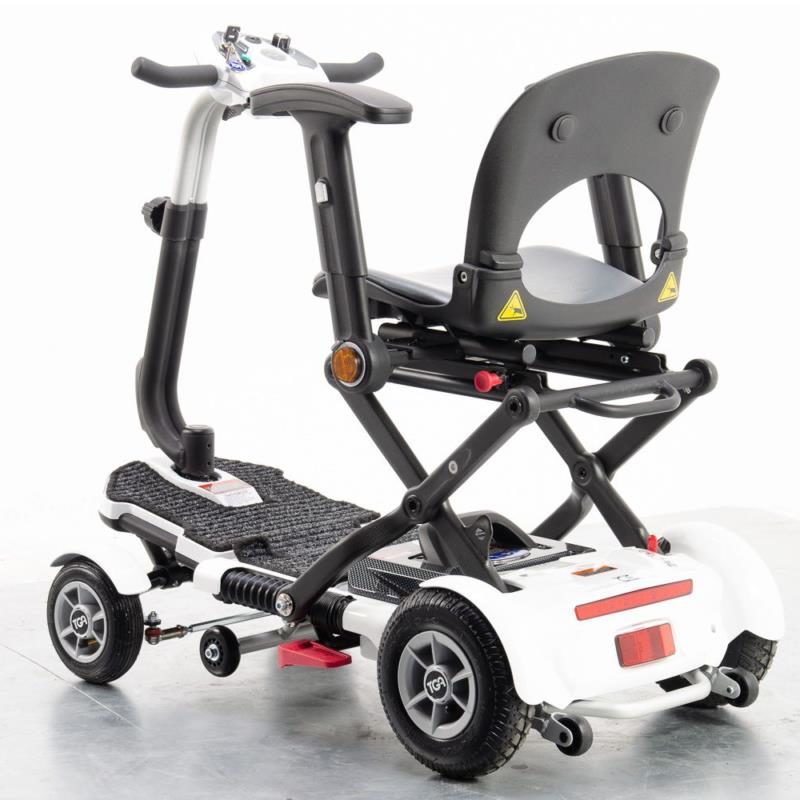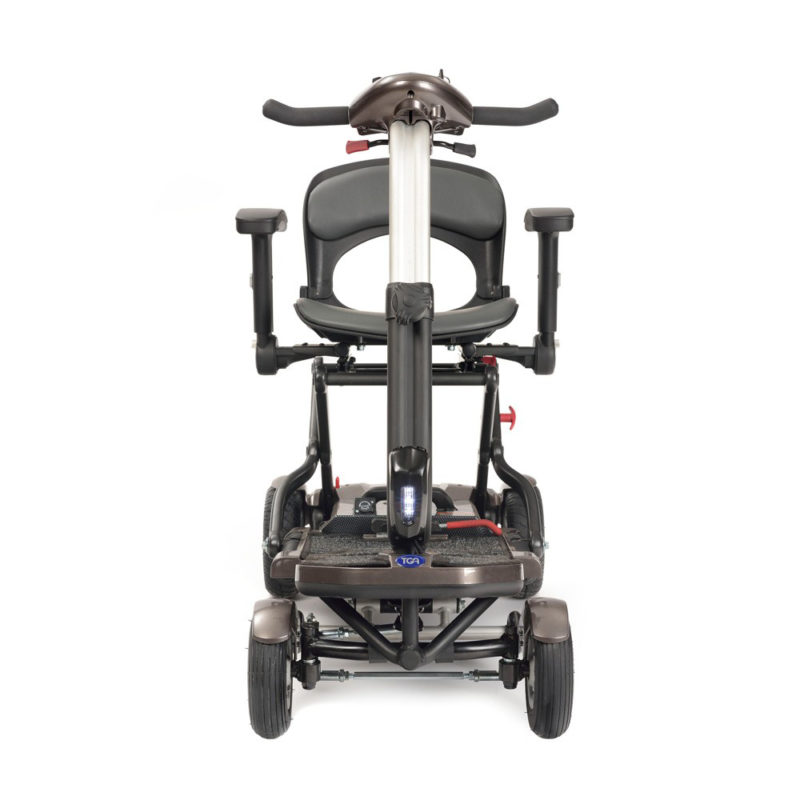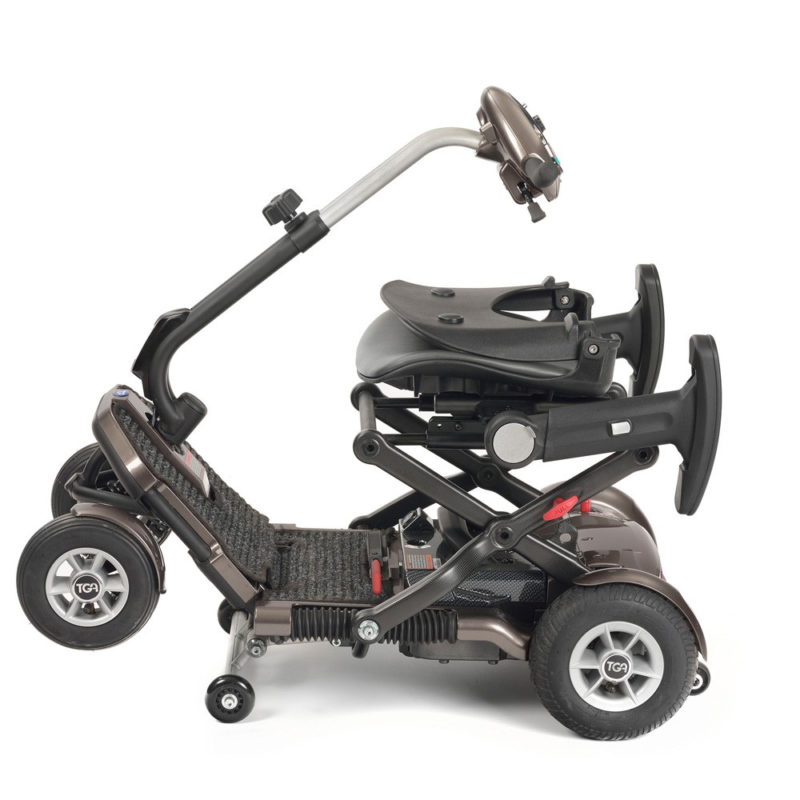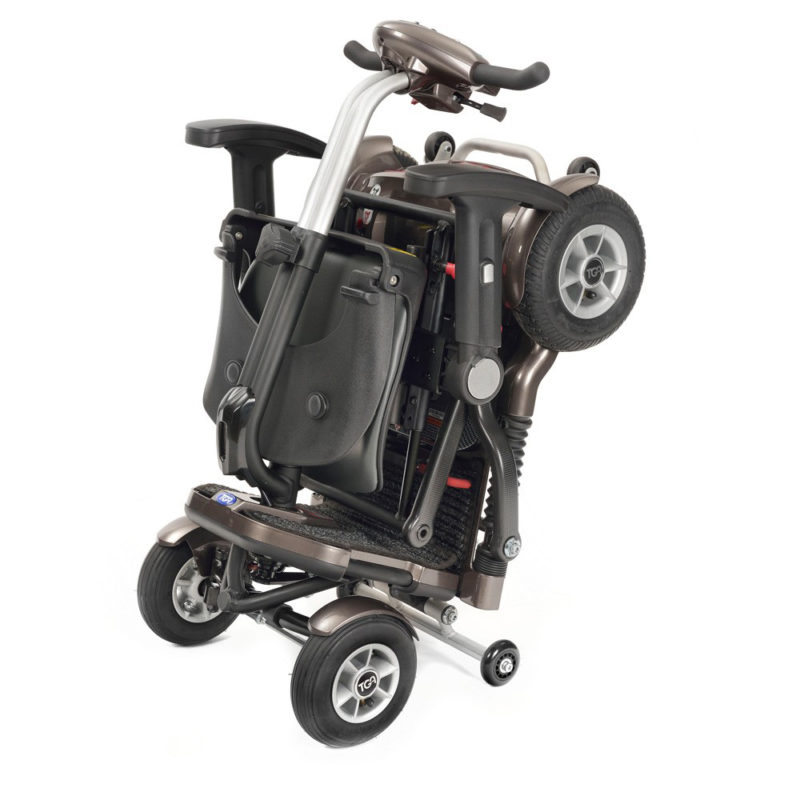 TGA, Minimo Plus 4 Mobility Scooter
excl. VAT
3 yr Motability contract payable every 4 weeks £86.04
This foldable super modern scooter features carbon fibre and aircraft-grade aluminium components. The tiller is adjustable for height and it features a unique cornering safety system. Overall an ideal scooter to just pop in the car boot and take anywhere.
No parts need to be removed for transportation or storage thanks to lightweight lithium battery technology and the easy one–handed effort to collapse the durable aluminium frame. With the pull of one lever, the Minimo folds up in seconds making it simple to store or transport.
Adjustable, foldaway armrests and an adjustable tiller provide good levels of comfort and support. A tight turning circle, good ground clearance, generous legroom, puncture proof tyres and simple fingertip controls all mean that the Minimo is not just a compact and foldable scooter, it's a practical, everyday companion.
*This product is VAT exempt if purchased to aid with a disability or chronic illness – for further details please click here*
| | |
| --- | --- |
| Length | 95cm / 37 inches |
| Width | 55cm / 20 inches |
| Maximum range | 10mp / 16km |
| Maximum speed | 4mph / 6kmh |
| Maximum user weight | 18stone / 115kg / 252lbs |
| Total weight | 30kg / 64lbs |
So what's different about  TGA Minimo, the TGA Minimo Plus and the TGA Minimo Plus 4 folding mobility scooters?
Both 'Plus' models have the same compact size and simple folding design as the award winning Minimo, Plus features normally only found on much larger scooters making them the perfect everyday companion for everyone who values their independence. The only difference between the Minimo Plus and the Minimo Plus 4 is the configuration of the wheels.
The TGA Minimo Plus has 4 wheels but the front two are positioned close together so it looks and behaves like a more agile 3 wheel scooter. The TGA Minimo Plus 4 also has 4 wheels but the front two are spaced further apart. So its configuration is the same as a normal 4 wheeled scooter giving more stability. Pneumatic tyres provide a much smoother, more comfortable ride whilst also contributing to extra range and ground clearance. The battery pack can still be lifted with one finger but a larger capacity gives greater range and durability. A more powerful control unit with up-rated electronics improves ability over more challenging terrain. Integrated high visibility LED lights seemingly round off an impressive list of extra features but the TGA Minimo Plus 4 goes further. Clever use of incredibly strong but lightweight carbon fibre means the overall weight is kept to a minimum.
A simple quick release seat means all of these extra features can be had without making the Minimo Plus any more difficult to transport or handle. Proof that you can have your cake and eat it! The same great functionality with more features, more range and more comfort, when you upgrade to the TGA Minimo Plus 4 mobility scooter this all means one thing – more independence.
Part of the award winning TGA Minimo family with extra features and even easier to manage
Standard 4 wheel configuration with wide front axel for more stability
Folds in a single simple movement
Adjustable tiller and foldable armrests as standard
Pneumatic tyres for enhanced comfort, range and ground clearance
Safety sensor to control cornering speeds
Lightweight lithium battery weighing just 6.5lbs (3kg)
Carbon fibre and aluminium frame for lightweight strength
Range with 11.5Ah battery pack approx 16km (10 miles)
User weight of up to 18 stone (115kg)
Useful Links For Scooter Users
We'd always recommend that you visit us and try a scooter before buying, or let us bring one to you for you to try. If that's not possible, or you're outside our service area, we have put together some buying guides that may help you choose the scooter that's right for you.
We've also collated some great guides and information for those that may want more in-depth information on their prospective scooters.
Free UK Delivery*
*on orders over £100
Free Home Visits
and demonstrations
Monthly Finance
Available