Our Top Portable Mobility Scooters
Lightweight, Folding and Portable

We have a range of lightweight portable mobility scooters for a range of uses, some feature suspension for use off-road and others have a three-wheeled design for maximum lightness.
TGA Maximo Plus Mobility Scooter
The TGA Maximo Plus a lightweight scooter that is fully road legal, and you can use its easy folding feature for maximum mobility.
It has the following features:
pneumatic tyres, to ensure a smooth ride

advanced suspension, that you will normally only see on larger scooters

high stability

6 MPH top speed
The simple folding mechanism is electric and the rider can control it with a foot paddle. It can easily fit into the back seats of a car or a car boot. As it is road legal, there are very visible indicators that use LED lights as well as reflectors.
A small removable battery powers the scooter, and it is possible to charge in the home.
TGA Minimo Autofold Mobility Scooter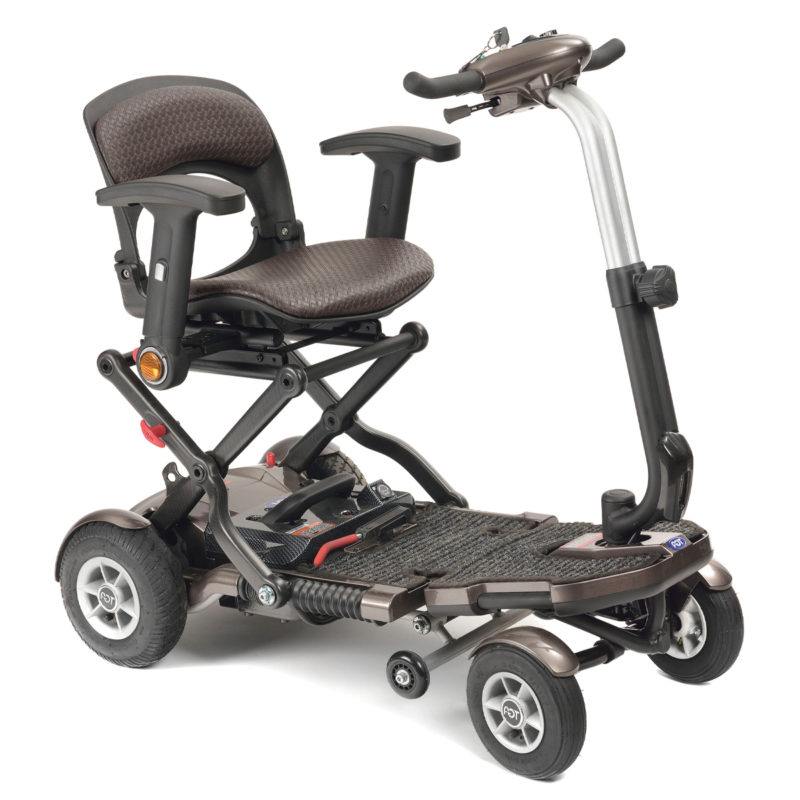 The TGA Minimo is another folding design, which uses an electric mechanism for total accessibility. You simply press a button on the handle and then put pressure on the foot pedal. It is a good option for people with back issues who do not wish to lean over.
It is the more common configuration, using four wheels, and provides the following features:
top speed of 4 MPH

great stability

small turning radius, only 900 millimetres

pneumatic tyres

range of 12.5 miles

high rider weight capacity, up to 18 stone
It is a very compact design, which makes it one of the best portable mobility scooters out there. The scooter is powered by a small lithium battery. It is a highly portable design with automatic electric fold up mechanisms.
Affordable Mobility Scooters with Great Aftercare
When you buy with us we provide a great level of aftercare. We offer a full demonstration of all of our mobility equipment. You can also come to our showroom to try new mobility scooter equipment.
We provide free home visits and will also offer generous part exchange schemes when the time comes to upgrade your scooter. Any repairs and maintenance will usually take place in your home.
Buy Your Portable Mobility Scooter Online
You can purchase your new portable mobility scooter online or from our showroom. They are affordable and simple to drive. We have many finance options to pay for your scooter over a set period and you will also receive free delivery service.
Buy today or contact us for further information. Our team are experts in mobility scooter equipment and will be glad to answer any questions or help you with your purchase.
FAQs and Useful Information
The following are some frequently asked questions and information about portable mobility scooters and the service we provide:
What is the best portable mobility scooter?
It depends on your needs. Many have electric folding mechanisms, so if you have limited ability to move you should choose a scooter with this feature. If movement is less of an issue, try a scooter with a manual folding mechanism – this will also help you reduce costs. Every scooter will still be portable and transportable in most car boots.
Is a 4-wheel scooter better than a 3-wheel scooter?
A 3-wheel scooter provides a lighter weight and a slightly different driving experience than a 4-wheel design, more similar to a bike. However, without the extra wheel, a 3-wheel scooter will be lighter.
Can a mobility scooter fit in a car?
Portable or transportable mobility scooters can fit into most car boots, or on the back seats of smaller cars. Larger scooters do not usually fit into a car, such as heavy-duty off-road scooters, as they are bigger and do not have a folding mechanism.
Can you take a fold-up mobility scooter on a plane?
Yes. Mobility equipment, such as fold-up scooters or wheelchairs, is suitable for plane travel. You will check in your scooter and it will be transported in the cargo area of the plane, a portable mobility scooter will not fit in overhead compartments as they are the size of a large suitcase.
How much are folding mobility scooters?
Prices vary, the lowest price range will be around £600-£700 for a basic folding scooter, to £2,500-£3,000 for a top of the range model with electric folding mechanisms. It is possible to purchase your scooter on finance and pay for it over time, instead of all at once.
Can anyone ride a mobility scooter?
Most mobility scooters can be used with minimal effort. Just a few simple steering movements and access to the brakes or accelerator are necessary to fully ride a scooter. Seats are stable and secure so will support most people's weight. Some people may find climbing on and off uncomfortable, but it is usually no different than sitting in a chair.
Do I need a number plate on my mobility scooter?
You do not normally require a number plate for your mobility scooter in the UK. While many scooters are road legal, they do not require the display of a number plate to legally use them. It is still a registered vehicle and you will have a registration number, but you do not display it on the scooter.
Get in touch with us if you have any further questions.