Mobility Bathrooms in Eastbourne

Orange Badge offers custom-designed mobility bathrooms in Eastbourne and throughout Sussex.  With over 20 years' experience in bathroom design, we understand how important it is to enjoy safe access to everything in your bathroom.  And, we do mean everything.  With Orange Badge, you can experience that wonderfully clean, fresh feeling every day from a lovely hot walk-in shower or bath.
Orange Badge also designs and installs height-adjusted sinks, as well as high-quality toilet solutions to preserve your dignity and privacy.  In a nutshell, if you need it, we can provide it. 
Don't let a disability or a chronic condition prevent you from living independently.  Your bathroom is your safe, private space. And, regardless of age or health, your quality of life means everything to you.  We agree. Here at Orange Badge, we want to help you remain at home – happy and secure, for as long as possible.
For your peace of mind, we offer a complete design, delivery, fitting and installation service.  Our experienced team works closely with skilled trades and craftspeople for YOUR perfect bathroom.
Why not visit us at our showrooms, just near the A27 in Lewes in East Sussex?  Just a short trip from Eastbourne, we've taken safe-space precautions and we'll adhere to all necessary social distancing rules.  Orange Badge can advise you on the very best options to suit your needs.
Alternatively, one of our specialist team will be happy to make a home visit if you prefer.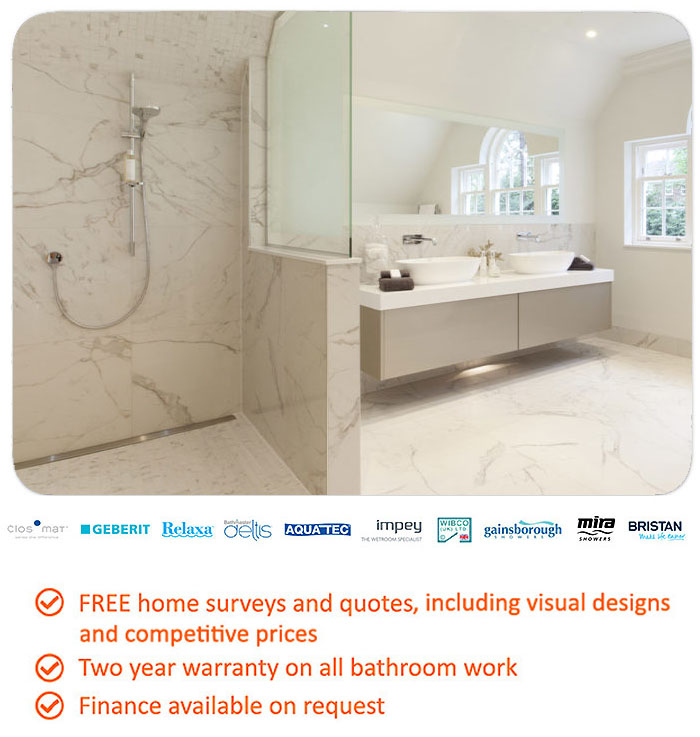 Bathroom solutions in Eastbourne
Are you finding it increasingly hard to use your bathroom?  Are you a little nervous of falling, or tripping over?  Accidents can – and do happen in the home, especially when water is involved.  Perhaps you're disabled, or just not as strong and robust as you once were.  With age comes wisdom, but also creaky bones!
It goes without saying that we all have a right to maintain the good health and wellbeing that comes with keeping ourselves clean.  And, to take it for granted as much as we can. There's no need to compromise on your life.  What's more, there's no need to worry.  Whether you live on your own, with your family or you're supported by carers, there's always an answer.
And, it lies with us.
The solution is here.  It's a modified bathroom from Orange Badge.
Are you affected by the following health issues? It's clear that any of them could prevent you from bathing independently:
Balance and coordination issues, caused by conditions such as Parkinson's, stroke or dementia
Conditions that affect muscle strength such as muscular dystrophy and fibromyalgia
Bone/joint pain and movement problems such as arthritis, rheumatism, or Osteoporosis
Heart and circulation problems, such as atrial fibrillation, or low or high blood pressure
More information on these conditions can be found on the online NHS Information Portal
Taking care of the little things – Orange Badge
It's important to realise that Orange Badge is an independently owned business.  Furthermore, that unlike most of our competitors, we're NOT tied to any particular manufacturer.
What does this mean to you?  Specifically, that we'll only recommend a particular bathroom design if it truly meets your needs. This is so important.  To put it another way, with over 20 years' experience, we know that one size does NOT fit all.  Our considered, informed approach has enabled us to become one of the most respected mobility solutions in the South.  A reputation that we're very proud of.
Also, it's good to know that most of our engineers live in and around the Sussex area.  We even have our own team of qualified plumbers to provide excellent after-sales service.



It's those extra touches that make the Orange Badge difference.

If you need a door widening or relocating to provide easy bathroom access, Orange Badge will take care of it for you.

Need hand-rails removed?  Or perhaps replaced?  Perhaps you need entirely different ones. Orange Badge is on the case.

Would you like an existing room converted to a new bathroom? Even a downstairs room? Yes – Orange Badge will take care of it for you.

We offer free next-day site surveys by an experienced surveyor.

 Installation is always fast and efficient.  And, we have our own qualified plumbing and fitting teams.

Monthly terms are available on all safe bathroom installations.

There's a 2 year warranty on all workmanship, plus any extra manufacturer's warranties.

Quick, in-house call out for any leaks or plumbing issues.

An express fitting service is available or request.

The very best aftersales care in the industry.
Aftersales service

In our opinion, the company that installs your bathroom is the one that should maintain it afterwards.
For this reason, we offer an after-sales service that's second to none. We sold it to you, we understood what you need – and it was OUR TEAM that fitted your bathroom in your home.  Therefore, we already know you, why you purchased from us, and also how best to offer the upkeep and maintenance you need. It stands to reason.  Of course, it makes good sense.
Orange Badge offers genuine and credible guarantees.  We'll look after your bathroom throughout its entire lifetime.
Not for us the "one-man band" approach, where after-sales could be passed to a faceless subcontracting business several miles away.
We are an accredited, certified, genuine local East Sussex business and with our own team of highly qualified professionals.  We're here to take care of all your accessibility bathing needs. Whenever you're in need, from our initial survey to our aftersales service, it will be our pleasure to provide you with a familiar, local face at your door.

---
Useful Related Links in Eastbourne
How to Stay Safe at Home – Helpful tips to keep yourself safer
A Guide to Staying Steady – A useful article from Public Health England