3 Wheel Mobility Scooters
Are Three Wheel Scooters the Best for Affordable, Lightweight Travel?

A mobility scooter with 3 wheels will give you a lightweight and affordable mode of travel that is reliable and convenient. Some 3 wheel scooters also fold up, which makes them good options for storing in a small space like the boot of a car.
You can buy your new 3 wheel mobility scooter online here, and our service includes full demonstrations as well as extensive aftercare and servicing. Buy online today or contact us for more information.
What are the benefits of 3 wheel scooters?
3 wheel scooters are an important part of our mobility scooter range. They offer an opportunity for older adults or people living with a disability to move and travel using clean electric energy, but with a more compact design.
Other benefits of a 3 wheel mobility scooter include:
Lightweight: As there is one less wheel on a 3 wheel scooter there are fewer components, which helps keep the weight of the scooter low. A lightweight design means scooters can be lifted and stored with ease, and as they are smaller they can easily fit into small and large spaces alike.
Affordable: We offer extensive finance options, so you can always get the scooter of your dreams, but 3 wheel scooters are generally a more affordable option in comparison to their 4 wheeled counterparts. This is again because they use fewer materials.
Powerful: A 3 wheel scooter can keep up with the best of them in terms of performance, with very high power 8 mph scooters available. They are also very robust and sturdy, with strong comfortable seats that enable an older adult or disabled person riding the scooter to enjoy safe comfort at speed.
Overall a 3 wheel mobility scooter is a good option for people who may wish to use their scooter less frequently or use it in only a few locations. It can be difficult to find a scooter that is capable of navigating off-road terrain, and sadly 3 wheel designs are not the best choice in this case.
---
Our 3 Wheel Mobility Scooters
There are some excellent 3 wheel scooters within our fantastic range. We handpick all of our products and guarantee only the best, so whichever one you choose to buy you are sure to receive top quality.
A few excellent choices for 3 wheel scooters include:
Drive Sport Rider Mobility Scooter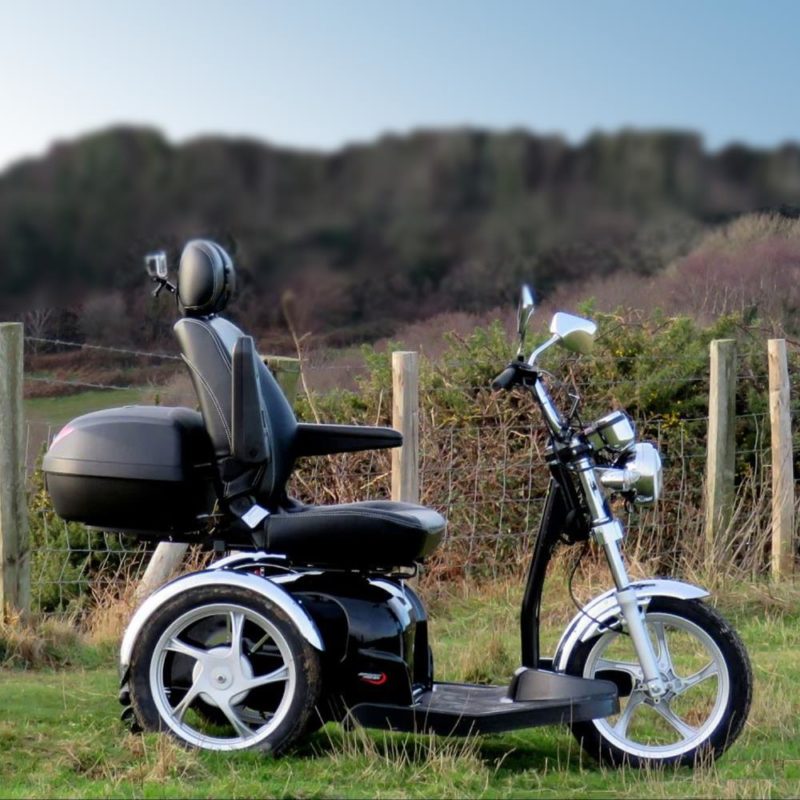 This wonderful scooter has a motorcycle or bike-trike feel to it, which is very stylish. It has the following features:
High handlebars, which are fully adjustable to the riders preference
Adjustable seat, for both tilting and sliding into a comfortable position
Backlit dials, which add to the motorcycle feel
Very big alloy wheels
Pneumatic tyres
Storage box at the rear of the scooter, which is also lockable
It is a very comfortable, high-quality scooter and has a top speed of 8 mph. The powerful suspension makes for a smooth ride at all times. It is very easy to use and provides an excellent performance that will last for many years.
---
TGA Breeze 3S Mobility Scooter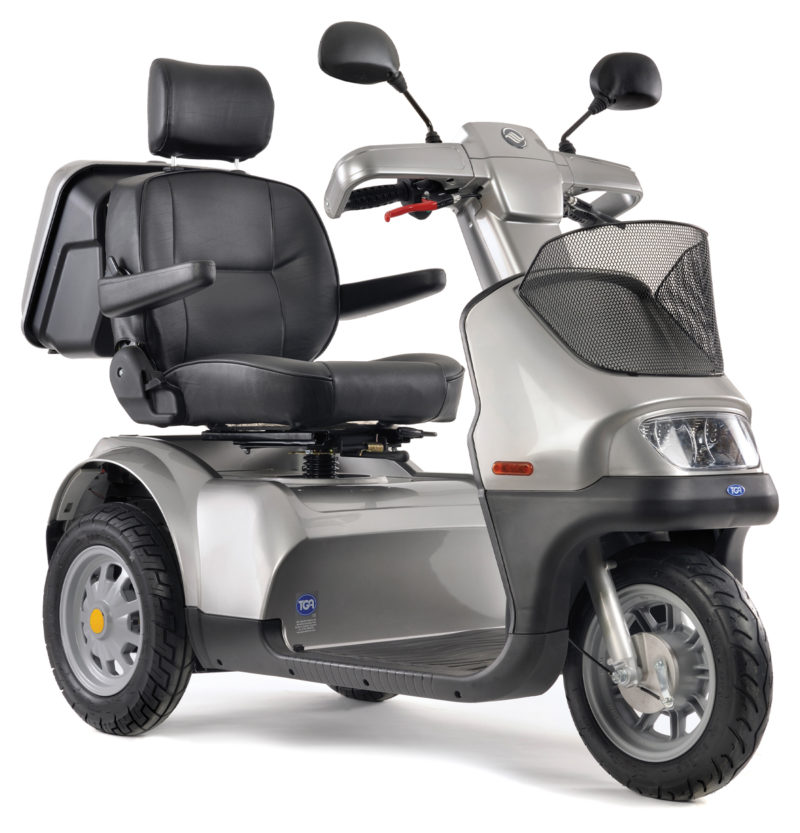 This is a brilliant scooter that has many aspects of a large scooter suitable for road use and a very tight turning area. It has the following features:
Large size and heavy-duty body
High agility and manoeuvrability
Cushiony seats with a swivel and slide movement
Sturdy pneumatic tyres with tough suspension
High ground clearance, so able to withstand small amounts of off-road
It is a good balance of high power with very safe and solid performance. It is extremely popular and has the feel of a much more portable scooter due to its high levels of agility.
---
GP, Unique 500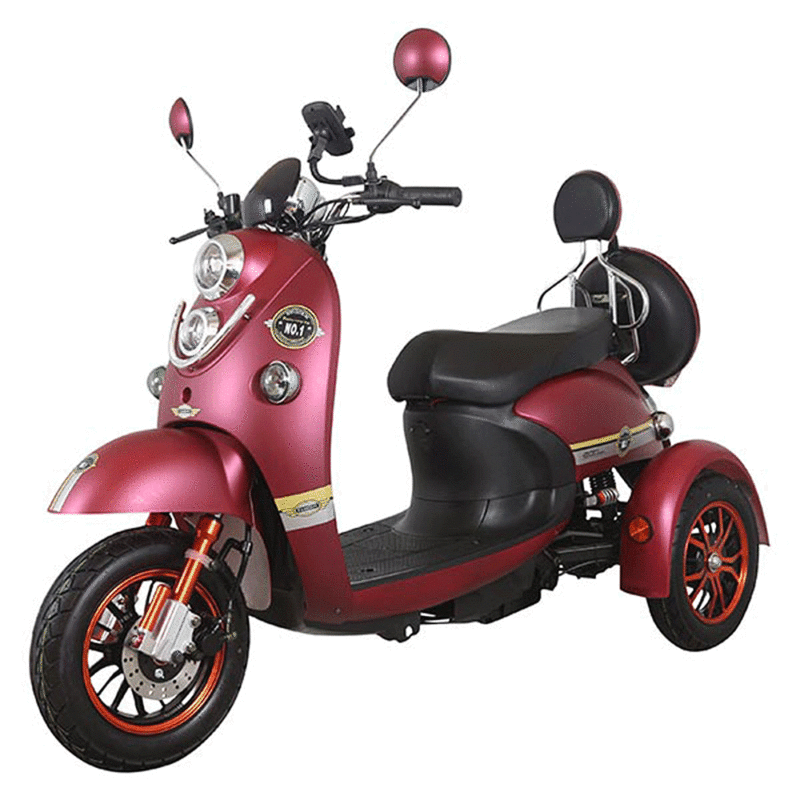 This model is a very compelling vintage design that looks more like a classic Vespa than a mobility scooter. This scooter has the following features:
Beautiful style and vintage design
500-watt motor, with option 800-watt upgrade to help navigate hills
Retro headlights
Dual hand brakes
Rearview mirrors
Soft cushiony seats
Comfortable footrest
It is a very smooth and comfortable ride that will draw the envy of many. It has an upgrade option for a heavy-duty battery too, meaning it can travel up to 45 miles on one charge.
---
Buy your 3 wheel mobility scooter online today
You can buy your new 3 wheel mobility scooter online today and we will provide free delivery. Once your scooter arrives we will provide a full set up and demonstration. You can also try out your scooter in our showroom.
We can offer finance options to pay off your scooter over time and will be happy to discuss any questions you have. Buy your scooter online today or get in touch for more information or to complete your purchase.
---
FAQs and useful information
The following are some frequently asked questions and useful information about 3 wheel mobility scooters and the service we provide:
What is the difference between a 3 wheel mobility scooter and a 4 wheel mobility scooter?
One has 3 wheels, while the other has 4 obviously, but there are differences in terms of balance and steering that make 3 wheel scooters less suitable for off-road use. Additionally, 3 wheel mobility scooters are usually a lot lighter. Because of the fewer parts and materials in a 3 wheel mobility scooter, they are also usually cheaper.
Are 3 wheel mobility scooters safe?
Yes. 3 wheel mobility scooters, and mobility scooters in general, are safe when people ride them responsibly. Faster mobility scooters will give you better speed and high speeds can increase the risk of accidents, but responsible riders should not face any issues.
I am worried about the weather, how do I protect myself while riding?
Our mobility scooters are designed to withstand the elements but do require cover in heavy rain or other extreme weather conditions. To protect the rider and scooter the weather you can choose from one of our many accessories that help with this issue, which include various ponchos, capes, covers and canopies.