How Fast Do Mobility Scooters Go on Pavements or Roads?

If you have ever passed a mobility scooter on the roads you will understand that they can go quite fast! The top speed of a mobility scooter in the UK is 8 miles per hour. Speed limiters placed on mobility scooters by the manufacturer generally prevent them from going faster than this, but a couple of other factors might affect the top speed of the scooter.
Ultimately, how fast a mobility scooter can go depends on the type you buy. We have a range of mobility scooters available to buy online or from our impressive showroom. Please feel free to get in touch with us if you have any questions.
What Types of Mobility Scooters Are There?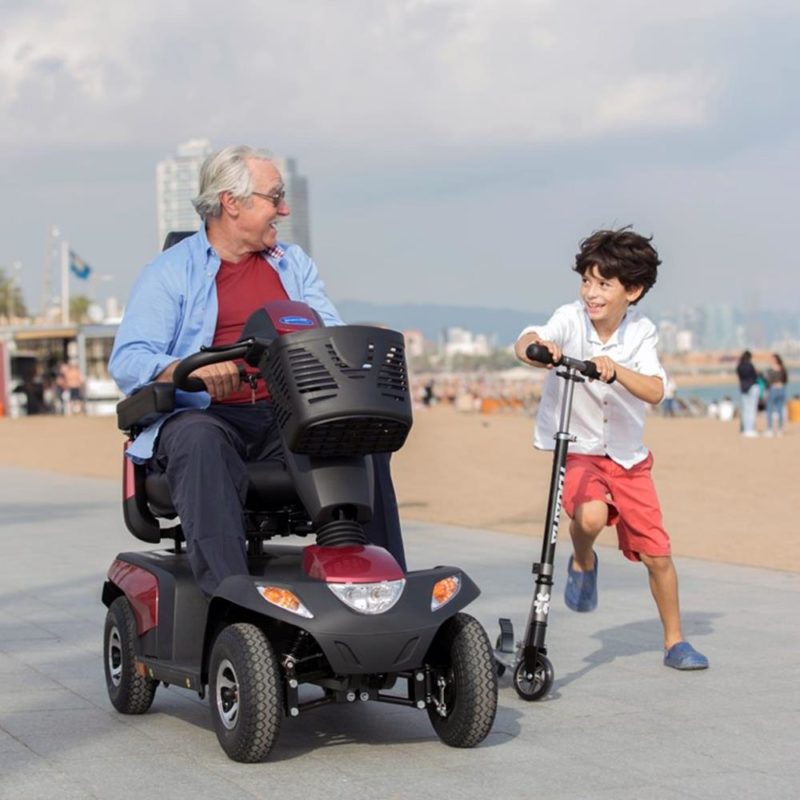 There are two main types of mobility scooter available for sale in the UK:
Class 3

: The fastest mobility scooter models are officially known as a 'Class 3 invalid carriage' by the government. This classification means that they are certified for use on the roads. These scooters are larger and sturdier, and have road-faring features such as rear view mirrors or reflectors.

Class 2

: Another type of mobility scooter is the 'Class 2 invalid carriage', which is a class of scooter that you can only drive on the pavement. Usually smaller and less powerful than class 3 carriages. You can only  use class 2 scooters on the road if there is no pavement, such as for crossing the street.
You do not have to register a class 2 invalid carriage but you must register class 3 mobility scooters with the DVLA.
No matter what class of scooter you get, all scooters have speed limiting devices to make sure the top speed is set in place. If you remove the speed limiter on any type of mobility scooter it will not be legally usable on pavements or roads.
How Are Scooters Able to Run So Fast?
Most scooters rely on a very powerful battery for their speed, acceleration and torque, which makes it simple to propel the weight of the rider. Most manufacturers make scooters with extremely high weight capacities – up to 200 kgs in many cases – so the batteries need to be very strong.
Lots of mobility scooters also come with heavy duty battery upgrades and other additions that make it easier for the scooter to do the following:
drive at a consistent speed 

extend your range while riding

traverse rough terrain, either off-road or on hills and other inclines
As road scooters are a legitimate type of vehicle as far as the DVLA is concerned, it's clear to see that they have very similar capabilities. Mobility scooters are not toys and will dwarf the capabilities of even the most powerful electric wheelchairs.
While some mobility scooters can be used indoors, they are mostly used for navigating outside the home – as such they have batteries and motors powerful enough to handle all daily activities. They also have strong wheels, tires and scooter frames, which make it safe for the rider to travel at higher speeds.
How to Pick a Mobility Scooter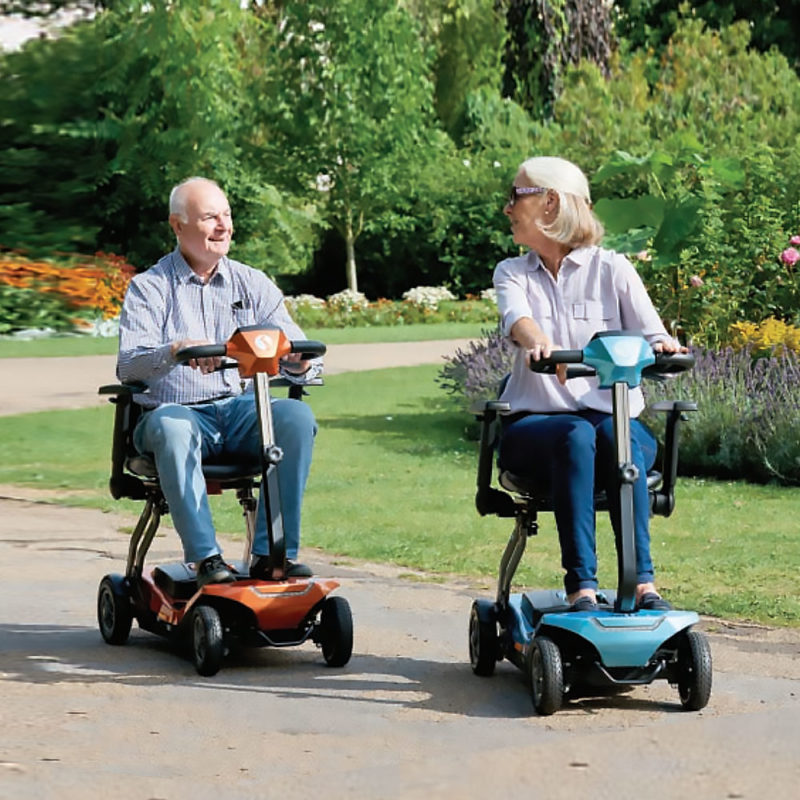 The right speed for your scooter depends on where you intend to use it. When you buy a mobility scooter you want to be sure of the reliability of the product. As a result, the most important thing is to decide between roads or pavements – to ensure you get the right scooter for your environment.
However, whether you are travelling 4-6 MPH or 8 MPH, there is some more decision-making necessary. We can help guide you in choosing the right scooter models for your needs.
If you are having trouble deciding you might find some helpful tips in our handy Buying Guide, which explains the main types of scooters and why they are useful. 
A few top tips from within the guide include the following:
4-6 MPH

: Lower speed mobility scooters are a good option if you only need to carry out basic tasks, such as shopping trips or getting to and from appointments near your home. They tend to be smaller than the faster scooters, but are still comfortable and powerful enough for intensive use.

8 MPH

: If you are travelling longer distances then an 8 MPH top speed class 3 scooter will be the better choice. Bigger batteries expand your range and the motor will capably handle much higher speeds on the roads – as well as the slower speeds required for riding on the pavement.

Off-road

: Scooters for people living in rural areas are usually equipped with off-road capabilities. If you need to travel over rough terrain like footpaths, grass, dirt or sand then you should get an off-road scooter. All off-road scooters are class 3 invalid carriages, so they go at a top speed of 8 MPH.
You will see the quality of our mobility scooters when you visit our Lewes-based showroom. This way you can try out your mobility scooter before you buy it, and get a feel for the seat type or potential accessories you might need.
If you buy online you will also get a free demonstration, upon delivery of your scooter in the comfort of your own home. Please feel free to get in touch with us if you have any questions.
---
FAQs and Useful Information
The following are some commonly asked questions and further information on the speed of mobility scooters and the services we provide:
How fast can a mobility scooter go on the roads?
Mobility scooters are legally restricted to a maximum speed of 8 MPH on the roads. Scooters that travel at speeds of 8 MPH are class 3 invalid carriages and require registration with the DVLA.
What is the average speed of a mobility scooter?
Even if your scooter is a class 3 invalid carriage and has a top speed of 8 MPH the average speed will be around 4 MPH. 4 MPH is what is considered walking speed and is the most likely speed you will be at while riding the scooter.
What is the average life of a mobility scooter battery?
The average life of a mobility scooter battery is typically around 18 to 24 months. Nonetheless, how long a scooter battery will last is a more complicated matter with a few variables. The key to a battery's life is how many times it has been charged and recharged – so with normal usage the battery will probably begin to perform worse after 24 months worth of charging cycles. With normal daily use 18 to 24 months is expected, but this will change if you only use it occasionally. There is no reason a scooter that has less regular use will experience battery issues at the same rate. If your battery starts to degrade you can easily buy a new replacement battery for your scooter, which will give it a performance boost.
When to go fast on a mobility scooter?
If the question of how fast do mobility scooters go is something you would like to prove for yourself you can travel at top speed to find out. Provided it is safe to do so, traveling fast is not an issue for your carriage and you can find going faster quite useful when heading on longer routes or navigating uncrowded roads.
What makes mobility scooters go faster?
A few things might mean that scooters run a bit faster than intended. For example, going downhill can increase the speeds of mobility scooters. You can also remove the speed limiter on a mobility scooter, but this is against the law if you are using your scooter in a public space. Heavy-duty battery upgrades also offer slightly faster and more consistent speeds. Motor servicing on an old scooter may also increase speeds slightly. A replacement battery may also increase the speed of an older scooter as batteries degrade over time, but it will not make the scooter go faster than its previously set limit.
Please feel free to browse our mobility scooters, buy online, visit our Lewes-based showroom or get in touch with us for more information.