Why Do We Do What We Do? Mobility Solutions for the 21st Century
Ben Gretzer, our Managing Director gets personal, with his take on the motivation and inspiration that lie behind Orange Badge.
When we're young we think we're invincible. We're convinced of it.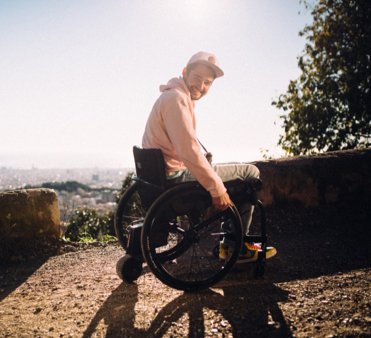 For example, a single glance at any newspaper or news website reveals young people little affected by the Coronavirus and, some would say, acting accordingly. Youth is everywhere, it seems. Leaving aside the debate associated with the spread of Covid-19, many of our headlines appear to focus on younger people.
Yet, this picture is changing and will continue to change.
An Ageing Population
Thanks to advances in science and medicine, figures from 2019 reveal that for the first time there are more people over the age of 64 than children younger than 5.
Our population is becoming top heavy. We're living longer and population ageing is set to be one of the most significant social transformations of the 21st century. Why? Because with age comes wisdom and yet sadly, often (but not always) the fact that life can get more complicated.
As we get older, tasks and activities that were once simple and enjoyable become a bit tricky. Perhaps uncomfortable and awkward. Dangerous, even. Even "easy" things like going from one room to another without a second's thought, having a shower, going upstairs to bed, getting in and out of a chair start to become more meaningful, and not in a good way.
What's Our "Why?"
Let's step back to 1996, when Orange Badge was founded.
We wanted to set up a business to make a genuine difference to the wellbeing and to the quality of life for our customers. That is, a multi-product company with everything under one roof.
Our aim was, and still is to be a supplier of mobility products to make people's lives easier and safer, as well as one that can empower our vulnerable, disabled or elderly citizens to lead the lives they deserve. As Managing Director, I firmly believe that I lead a team that genuinely understands our customers' needs. Why? Because, if I may say so, they're excellent listeners. Cliché time: they're nice people, and they really do go the extra mile. A job worth doing is worth doing well, we think!
We now have THE best quality and the widest selection of beds, stairlifts, bathroom solutions, mobility scooters, wheelchairs, access ramps and walking aids in the whole of the South East – all here at our Covid-secure showrooms in Lewes, and also available for home order.
Orange Badge's customers are loyal and discerning. We'd like to thank you for your business. And, of course, to welcome those who haven't bought from us yet. Do call us on 03442 16 16 16 if you'd like to know how we can help.
Here's What We're About:
We want you to stay in your home for as long as possible
Here at Orange Badge we're human beings first, and a mobility solutions business second. With us, it's personal.
What's your main concern? Without a doubt, staying in your own home is often the driving force that lies behind your engagement with us. You feel strongly about this, and I concur completely.
Along with retaining good mental health, staying mobile in and outside of your property is key.
Moreover, in our experience, a fall at home could lead to a hospital visit and, with Covid-19 still stalking the population in our wards, this is to be avoided. What's more, such an accident can prompt a mental and physical decline. We want you to be super-safe in your own domain. Falling over is painful, shocking and can be serious. So, if you're thinking about a stairlift, an access ramp, a riser-recliner chair, a wheelchair – anything, in fact, that could reinforce your physical security, you're on the right page.
We want you (or your parents) to live with dignity
Let's not beat about the bush here. Using your bathroom and toilet in private is surely one of our natural rights as adults. We often talk to worried sons and daughters about this; we hear that relying on others is appreciated, but that independence is preferred – thank you very much.
Well, of course. Talk to us about our bespoke bathroom solutions. There's everything from a walk-in shower or bath, bath lifters, automatic wash and dry toilets – even sinks that are adjusted to wheelchair height. Genius. All designed specifically for YOUR bathroom. These bathrooms look amazing too; ultra-chic and finished beautifully. Orange Badge can install everything to the highest standards.
We want to expand your world

Is your world shrinking? If you have mobility problems, getting out and about can be challenging. "Popping out" may not seem worth it. Or, even possible. Suddenly, you realise that your four walls are all that you saw today. And, the day before. Hmmm…and tomorrow.
Our team understands in detail how mobility scooters and electric wheelchairs work, so now could be a good time to think about one. Importantly, they understand what they can do for you and how much difference getting mobile can make to your life. Our range is outstanding, actually. Without being too precious:
In our opinion, fresh air, interacting with other human beings and seeing a "different perspective" is pretty much essential for your mental health – your physical wellbeing, too.
If you need medication, a few things from the shops, or just fancy a little out-and-about time, you should be able to be in control if your own life, without depending too much on others. We feel strongly about this, as you can tell.
So, that's why WE do what we do. Here at Orange Badge, we'd love to hear from you. Why do YOU buy from us? What new products have you heard about, that we could look into for you? Why not tell us about the difference we've made to your life, or to someone else?
We're looking forward to hearing from you. Keep well.
Ben Gretzer
Managing Director – Orange Badge