What is a Zimmer Frame?
Many people will come to us and ask, 'what is a Zimmer frame?' The question is clouded with confusion for many people, thanks in part to advertising and the effects of genericized trademarks. A Zimmer frame is a type of walking frame from the Zimmer Biomet brand. However, it is a generic term that many people use to describe types of frames made by other brands – especially in the UK.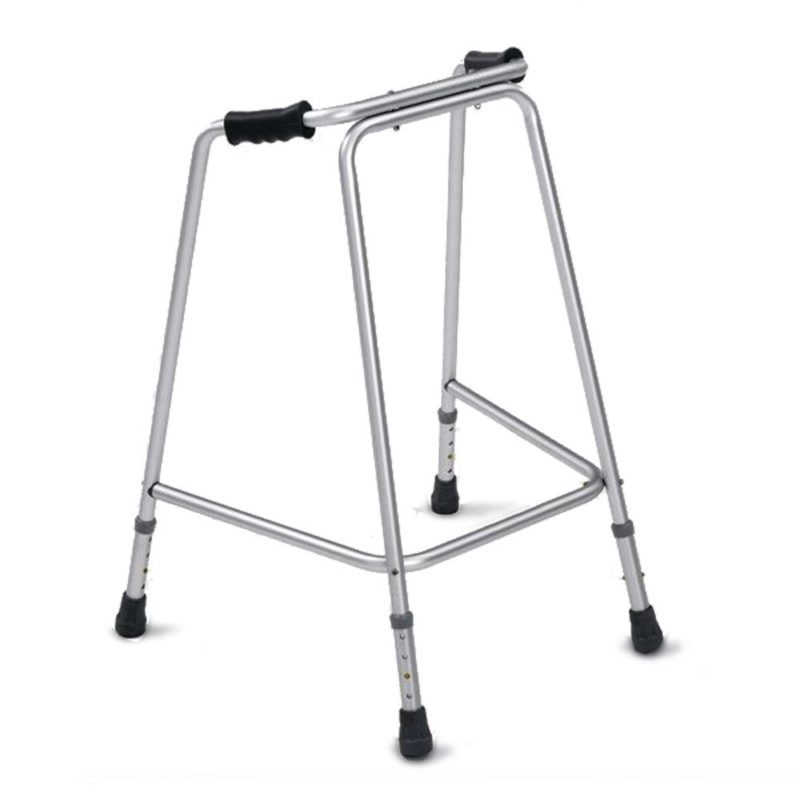 We sell some of the best zimmer frames to all areas of the mainland UK with free delivery on all orders over £100. You will see our impressive range available to buy online and when you visit our Lewes-based showroom.
Please feel free to get in touch with us if you have any questions about our world-class mobility products or services.
What Are the Different Types of Zimmer Frame?
There are several types of frames available, the best option of which will depend on your individual needs – so you must choose wisely. At Orange Badge we work very closely with our customers to find the best Zimmer frames and many other walking aids, which makes the process of choosing much easier.
The main types of Zimmer frames or walkers available on the market include the following:
Zimmer frames with wheels: By choosing a wheeled version for your frame you remove the need to lift the front legs, which is useful for people with arthritic hands who find it difficult to pick things up. Wheeled walkers are height adjustable, so a Zimmer frame with wheels can still offer the right body weight support for people of different sizes.
Folding Zimmer frames: If you select a folding Zimmer frame this is the ideal choice for travel in a private vehicle or on public transport, as the folding frame collapses into an ultra-narrow space so is exceptionally easy to store. Folding Zimmer frames are ideal for occasional use and in small spaces.
Lightweight Zimmer frames: If you are using your Zimmer frame manually then a lightweight design is essential. Lightweight types of frames are usually made from sturdy materials such as stainless steel or even titanium. Lightweight Zimmer frames are simple to lift and are also excellent for inside use.
A similar walking aid product is a rollator. Walkers and rollators operate using the same principles as a Zimmer frame, but with 4 wheels. The difference between Zimmer frames and rollators is that Zimmer frames are available without wheels. Some people choose to use a Zimmer frame indoors and a rollator for outside.
Using a Zimmer frame as a part of your mobility solution will give you a very simple and effective outcome, so they are often the first port of call for people getting used to using mobility equipment. Finding a quality Zimmer frame that lasts and does not cost too much can be a challenge, so make sure you select a reliable provider.
What is a Zimmer Frame Used For?
A Zimmer frame is a walking aid that helps you to move freely and supports your body weight while walking. You may use a Zimmer frame in almost any situation, from walking around the house to going to a shop, you can even take them to social events and on other recreational activities.
People who use Zimmer frames and other walking aids include the following:
Older adults: As older adults often live with limited mobility caused by various age-related issues, Zimmer frames are highly useful and are a simple piece of mobility equipment that can significantly boost a person's quality of life.
People living with disabilities: People with mobility issues are often living with a disability that makes walking difficult or uncomfortable. Zimmer frames help people living with various conditions to navigate their daily lives much more easily.
People recovering from injuries: Sports injuries, falls and many other accidents can mean you face a lengthy rehabilitation period to regain mobility. Zimmer frames can help a person recover and relearn how to walk.
Zimmer frames have easy-grip handles to ensure there is enough support and may be used in conjunction with other mobility aids, such as a walking stick or a mobility scooter. Some frames have extra trays, for placing meals and other items in close reach while sitting. People who drive may also put their Zimmer frame in a car boot.
What is a Zimmer Frame? Asked and Answered
There you have some more information on Zimmer frames and the different types available. Zimmer frames are simply wheeled walking frames from the Zimmer Biomet company, but many people use the term interchangeably when talking about other types of walkers.
Zimmer frames are available with wheeled designs or simply rubber ferrules, which makes them ideal as a flexible mobility solution for a wide range of mobility requirements and budgets. Please feel free to get in touch with us if you have any questions about our excellent services or the products we provide.
FAQs and Useful Information
The following are some common questions about Zimmer frames and the services that we provide:
Why is It Called a Zimmer Frame?
In the UK, the term 'Zimmer frame' has been used when describing many types of brands and manufacturers of walking frames – not just those from the Zimmer Biomet company. While this can be confusing and annoying, it is simply a genericized trademark – such as Aspirin or Sellotape. As a result, many people refer to their walking frame as a 'Zimmer', even though this might not be quite correct.
How Do Zimmer Frames Work?
Zimmer frames and other types of walking frames use the same simple principle, providing firm and stable support for a person to lean upon while walking. To do this a light frame is positioned at approximately waist height, which can be safely leaned upon, picked up, rolled or moved by the user. Zimmer frames and walkers are also available in child sizes, as well as sizes designed for people living with obesity.
What is a Zimmer Frame with Wheels Called?
A Zimmer frame with wheels is still usually simply referred to as a Zimmer frame, even though it is a wheeled version. Many people call walking frames with three wheels 'tri-walkers' and walking frames with four-wheels 'rollators'. The terms are generally used somewhat interchangeably but the proper term that applies to all of these mobility aids is a 'walker' or 'walking frame'.
Please feel free to get in touch with us if you have any questions about our services or the Zimmer frames and walkers that we supply.