Stairlifts in East Grinstead

Stairlift Installations in East Grinstead
Orange Badge is truly local to East Grinstead, unlike many companies who market themselves as local. We are based in Lewes, East Sussex, just down the A26 and have stairlift engineers located and operating within the East Grinstead region 24/7.
We provide Straight

,

Curved

and

Outdoor lifts and offer a variety of new and refurbished stairlifts from different suppliers so we can ensure you get free professional, unbiased and truthful advice from an experienced assessor.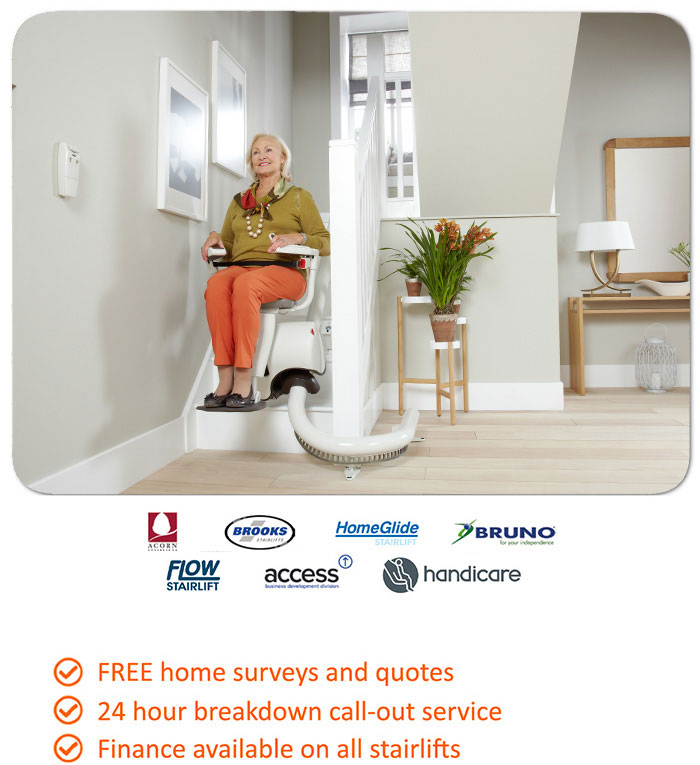 Stairlift solutions for all
When we get older, sometimes we may start to suffer from mobility impairment and as such climbing stairs can become a challenge. A stairlift could be the perfect solution and choice to help tackle your stair-climbing problems and can help improve your safety greatly. Issues that a stairlift can help with include:
Balance and coordination issues, caused by conditions such as Parkinson's, Stroke and Dementia
Conditions that affect muscle strength such as Muscular Dystrophy and Fibromyalgia
Bone/joint pain and movement problems such as Arthritis, Rheumatism and Osteoporosis
Heart and circulation problems, such as Atrial Fibrillation, Low/High Blood Pressure
More information on these conditions can be found on the online NHS Information Portal


Taking care of the little things – Orange Badge
In East Grinstead we have been fitting stair lifts for over 20 years. Unlike many of our competitors we are not attached to a single manufacturer. This allows us to give our customers honest and impartial advice on the best option for their specific circumstances. Once your lift has been installed, we offer lifetime support from our own team of professionally qualified engineers, many of whom are located in and around East Grinstead and the larger West Sussex area.



In order to give you the perfect installation, we will always go the extra mile and provide those extra touches that make all the difference.

If you need a radiator moved to make room for your new stairlift, Orange Badge will take care of it for you.

If you need hand-rails removed, replaced or entirely different ones installed, Orange Badge will take care of it for you.

If there isn't a convenient power supply for your new lift, whether indoors or out, Orange Badge will take care of it for you.

We offer free next day site surveys by an experienced surveyor.

Always a fast installation by our own qualified technicians.

Monthly Terms are available on all stairlifts.

3 year warranty on many models.

Standard and Premium extended warranties are available on all stairlifts.

24 hour callout on any breakdowns.

An express fitting service is available or request.

The very best aftersales care in the industry.
Aftersales service

When buying a stairlift, it is very critical that the company that supplies and installs your lift is the same company that ensures the care of your lift during its lifetime.
Most companies that distribute and fit stairlifts in the East Grinstead vicinity simply sell the lift and then pass your detailed information on to a large national distributor such as Stannah or Acorn. This may mean that your lift is ultimately installed by a big, national company based several hours away. Not only could that impact your personal level of support & call-out times negatively, should your lift experience any complications, but it could bind you into expensive contracts for product services that could cost you thousands over a period of years.

We are an authentic, knowledgeable, reputable local company to East Grinstead and we do things differently. Our own fully trained staff will take care of everything. We guarantee continuity of care and a trusted, familiar, local face at your door whenever you need us, from the initial survey right through to aftersales operation.

---
Useful Related Links in East Grinstead
How to Reduce the Risk of a Fall  – Local advice from West Sussex NHS
How to Stay Safe at Home – A great booklet with helpful tips to keep yourself safer at home
Fall Prevention Service – For fall prevention training & services in & around East Grinstead