8 Amazing Benefits of Wheelchair Door Threshold Ramps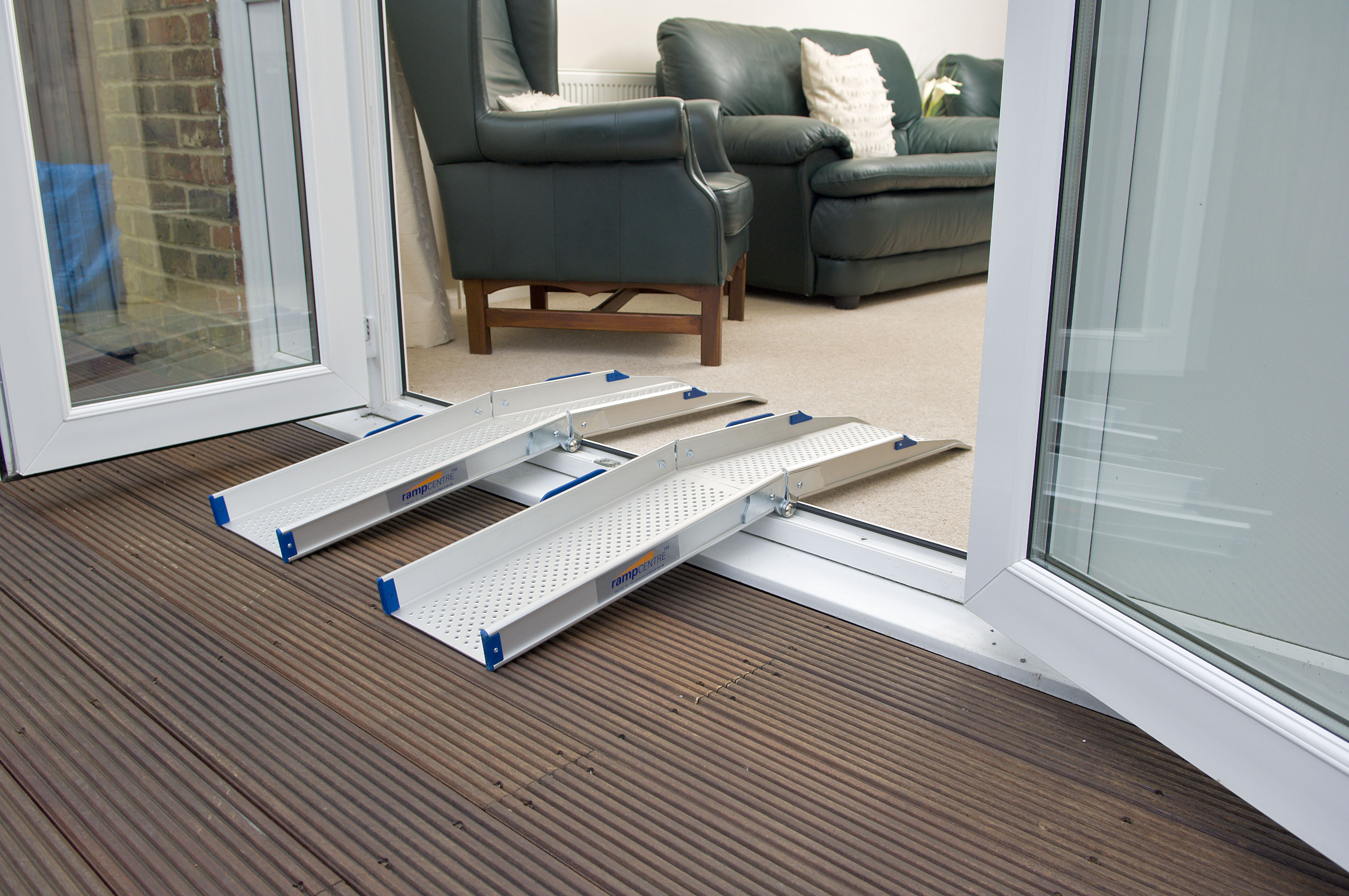 Simply bridging a door threshold can make it much simpler and safer to navigate in the home. A small rubber threshold bridge ramp can help you to easily move wheelchairs, walking sticks and scooters across door thresholds of many sizes – including those on balconies, patios and other outdoor spaces.
Access ramps have some excellent benefits and other desirable features aside from helping you to improve your mobility. Further benefits and advantages of floor threshold ramps that you might not have thought of include the following:
Cost-effective: Thanks in part to their great simplicity and use of minimal materials, which are durable but also very low cost, you can get a new threshold ramp without spending very much. The price point of most ramp designs makes them a great choice if you are just thinking of buying one.

Anti-slip: With wheelchair ramps designed specifically to be non-slip, threshold bridging devices will ensure that you have enough grip should you walk over the threshold without a walking aid. This is great for peace of mind and ideal for multiple occupants, such as in a nursing environment.

Sturdy and reliable: Although simple and rather low tech, a quality threshold ramp is a super dependable bridging option – and so there is rarely any need for maintenance or repair. Door threshold ramps can also be a good long-term mobility solution, as they will stand the test of time.

Adjustable: Mobility scooters, wheelchairs and other types of mobility aids might require a different ramp profile for maximum comfort. An adjustable threshold ramp can ensure complete safety for users of all devices, as it will give you the right balance and grip you need to cross a door threshold.

Easy-to-clean: By selecting a durable aluminium threshold ramp you will get an easy to clean and hygienic option. Many threshold ramps also come with a handy removable mat or other covering, which can make the task of cleaning very simple and thorough. Rubber ramps are also very easy-clean.

VAT exempt: By buying a threshold ramp, and many other mobility aids, you will enjoy the benefit of VAT relief. Products that we sell to bridge floor thresholds also come with some excellent finance options, so you get a reliable, high-quality product that is manageable for people of any budget.

All-weather: You can rely on the long-lasting nature of polished aluminium and rubber ramps, which are suitable for all-weather and perfect for the main entrance of a home – ideal when you are returning home from running errands and need reliable support for getting in safely in the rain.

Outdoor and indoor access: You can easily use a ramp in any room, such as in problem spaces like a kitchen or bathroom. Ramps suit most doors and are multifunctional, so there is a potential for custom access to each space. Ramps also work well with other solutions, such as stairlifts.
When you invest in a mobility solution, whether by using a simple rubber ramp, a wheelchair or a mobility scooter, you want to have a reliable, high-quality product. We will now look at some high-quality examples of various types of ramps.
---
What Threshold Ramps Are the Best?
As we see, there are several different designs of threshold ramps to choose from. Please take a look at some of the other fine threshold ramps we have available in our impressive range, which will all make for excellent product choices:
Doorline Bridges

: This is a fantastic example of a versatile bridging ramp – it can fit almost any threshold with ease. Whether you have a small threshold for an outdoor porch or a large patio door – this threshold ramp will fit the bill. Highly practical and available in convenient heights of 2, 4, 8 and 10 cm.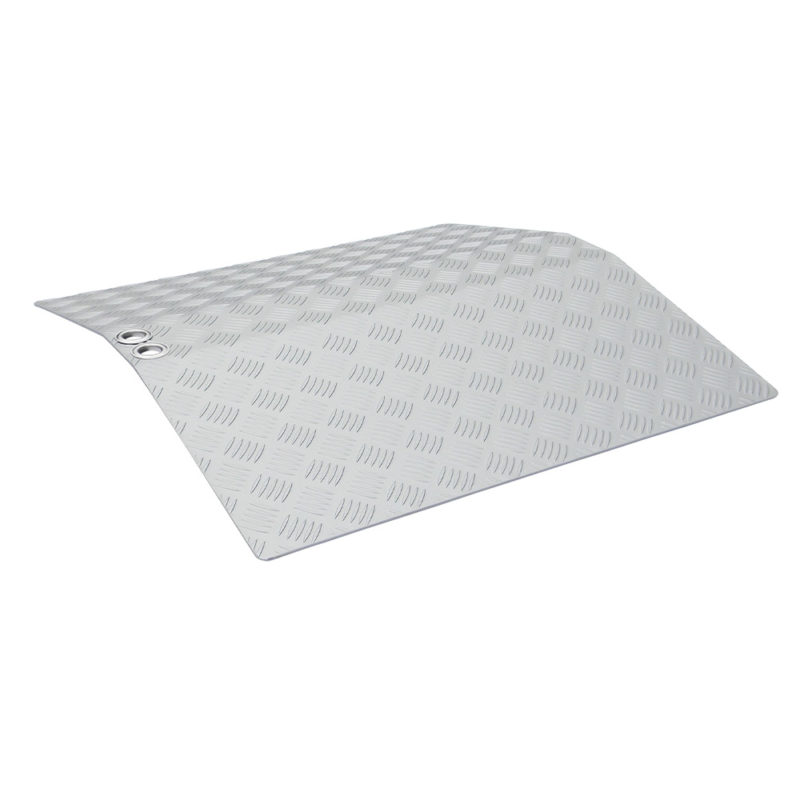 Butterfly Folding Threshold Ramps

: This is a great option for flexibility, as it has two convenient heights in one package. No need to continually switch ramps, and with the benefit that it is extremely portable – so it is the ideal option for when you need access around the house but also to travel with.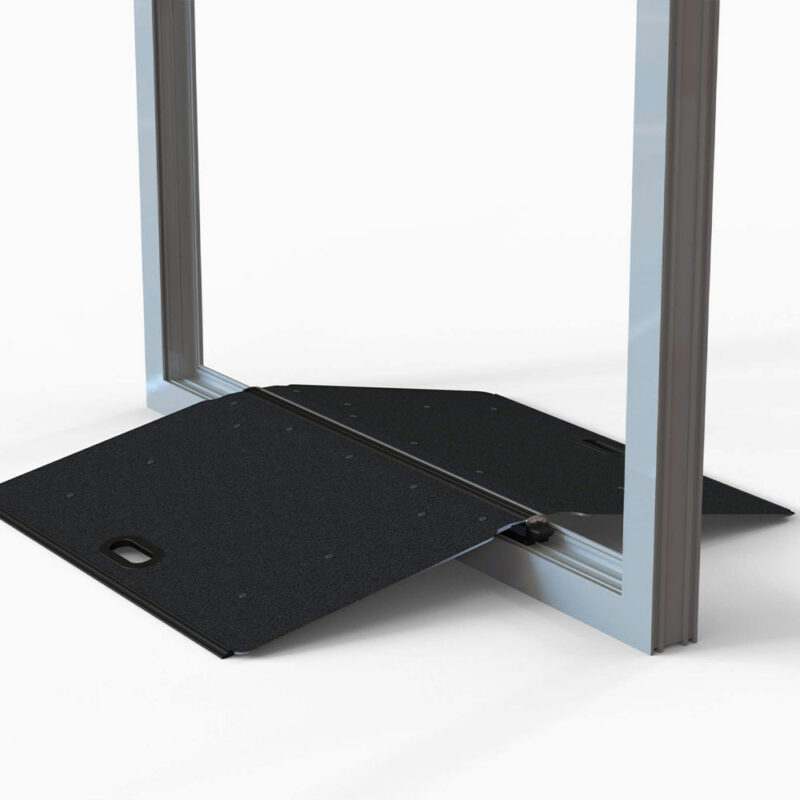 Doorline Neat Edge Rubber Ramps

: Sometimes you just need a solid, thick and non-slip piece of quality rubber to help you grip the surface with your feet, ride a wheelchair over a slightly too high threshold or use any other type of mobility aid. The Neat Edge does this perfectly, available in 5 sizes.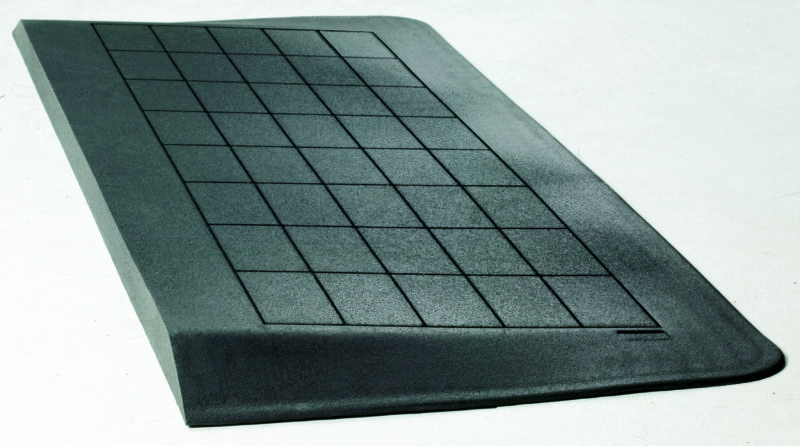 You will see more from our fantastic selection of door threshold ramps when you buy online or visit our showroom. We have a wide selection of products and can help you to find the precise mobility solutions for your needs when you visit us.
---
Simple, Practical Door Threshold Ramps for Better Mobility
Whether you have a wheelchair that struggles to get over a door threshold and could use a ramp, a walker that could benefit from the extra grip of a rubber mat or simply want a portable bridging device to help you walk more confidently – threshold ramps can be of a great benefit. They are simple but have a big impact.
We have an amazing array of mobility solutions, from threshold ramps to full bathroom installations – so we are well-placed to explain the benefits and give examples of some of the best models. When you buy with us you will get top aftercare. Please feel free to get in touch with us if you have any questions.

---
FAQs and Useful Information
The following are some common questions and useful information on door threshold ramps and the services we provide:
What is a ramped threshold?
A threshold ramp replaces the existing angular threshold with a smooth ramp or lipped design, which makes it easier for a person to cross the threshold – whether by using a wheelchair, mobility scooter, walking aid or simply when walking unassisted. Threshold ramps make it safer for people living with mobility requirements to carry out their daily activities within the comfort of their own homes. Some ramps are built into the design of a building, whereas others are additions.
How much does a threshold ramp cost?
A threshold ramp is usually a very cheap mobility solution, due to its simplicity. Many mobility solutions have a lot of moving parts or have motors, such as when using a wheelchair or a mobility scooter, so can come with a significant expense – whereas threshold ramps deliver an outstanding boost to your quality of life at a fraction of the cost. A sturdy threshold ramp capable of handling any type of mobility device costs just around £100, and there are even cheaper, simpler models to try out if you are thinking about buying a threshold ramp too.
Do you offer free delivery?
Yes. We offer a free delivery option for all orders over £100, provided that we are only shipping to the UK mainland. You also get a whole host of other benefits from our aftercare, including free installation and demonstration of all our equipment. We can also remove any old equipment you might have – as well as offer many generous upgrade options.
Please feel free to get in touch with us if you have any questions about a product or to buy a new threshold ramp today.