The Ultimate Guide to Choosing a Stairlift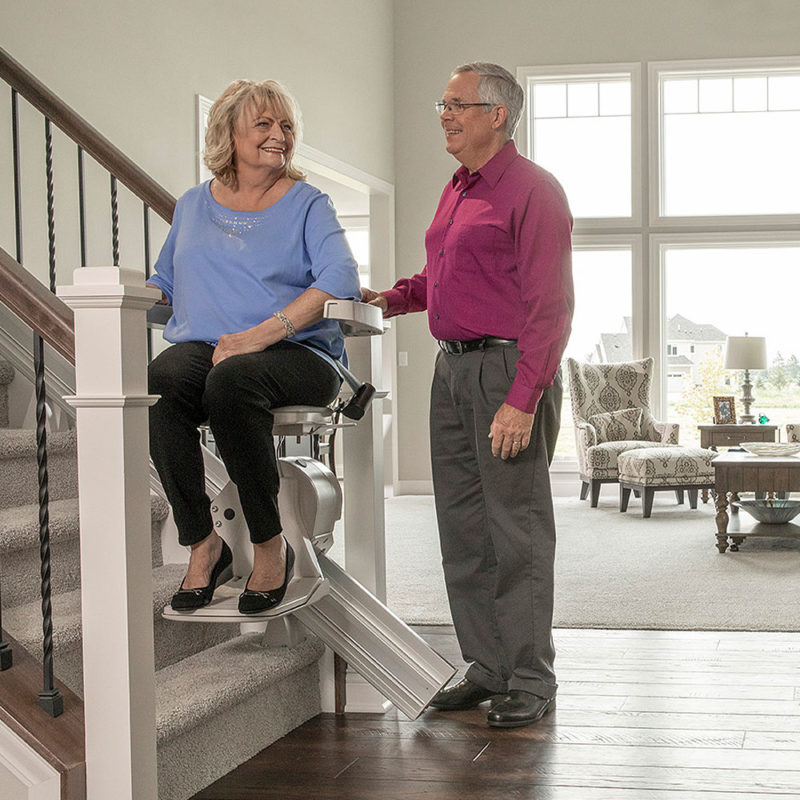 Trouble getting up and down the stairs? A stairlift could make ALL the difference. Orange Badge is here to help. How to choose this must-have mobility product
Can you "access all areas" in your home? Are you up and down the stairs all day, or just occasionally. Or now, when you come to think of it – not really at all? Perhaps you've thought about navigating the stairs today, but then thought better of it.
It's uncomfortable. With your rheumatoid arthritis it's a bit painful. And, potentially not even worth the risk if you live on your own and you're not as steady on your feet as you used to be. Upon reflection, you don't really venture upstairs so much these days. This is not good.
There is a solution, however.
A stairlift.
It's no exaggeration to say that a stairlift could revolutionise your life. Literally. You may not even realise how much. That is, until you start using one. There you are…gliding up and down your stairs with ease. What's more, modern technology has made them quicker and easier to install than in previous years, and super-easy to use. And, did you know that nearly all contemporary stairlift models secure to your stairs' treads? So, there's little or no damage to the wall.
Your stairlift will be:
Safe – there's a start and stop button and a sensor that halts the stairlift if it notices obstacles on the stairs
Efficient and quiet – you power it with a light, re-chargeable battery and there's a remote control
Comfortable – adjust your seat to swivel on and off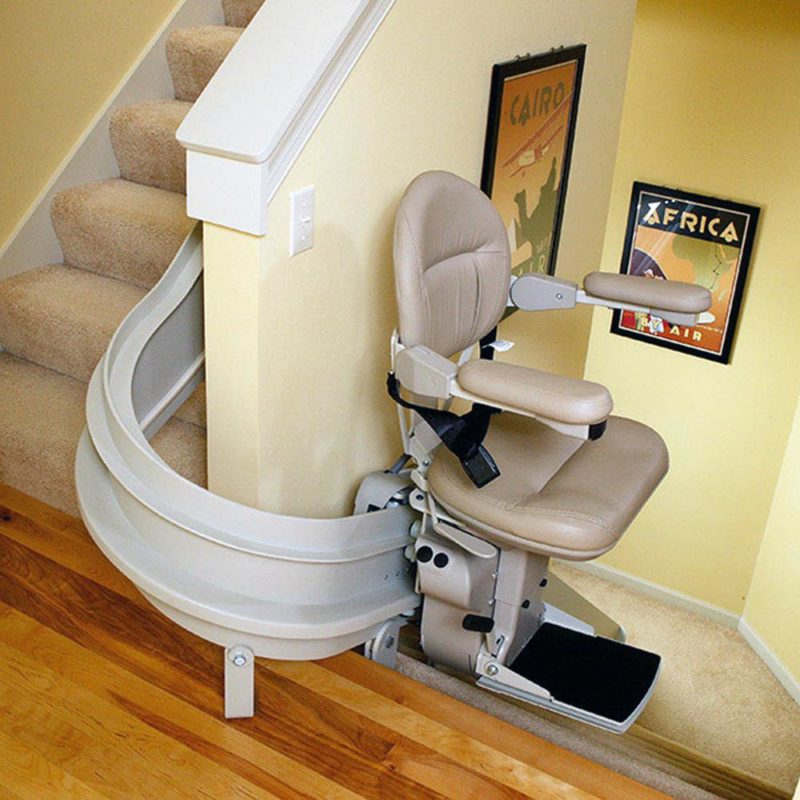 Here at Orange Badge, our range of stairlifts is exceptionally popular – our best-selling type of product, in fact. Why? Because with our advice and expertise, plus prompt installation, our customers can start using them straight away. Equally, they can reclaim the rest of their homes within, well, seconds actually.
We love to hear so many positive comments from our not-quite-so-steady-on-their-feet customers.
Also, there's something else worth mentioning, although it may be a blunt assertion: explicitly, purchasing a stairlift is substantially cheaper than care home fees, or moving to a one-storey property. Although it may sound extraordinary, the presence (or not) of a stairlift could be a significant factor in helping you decide on this important issue.
How to Choose Your Stairlift
Since their invention in 1920 by one C. C. Crispen, stairlift technology has come a long way. If you're considering purchasing one of these wonderful products for yourself, or for someone with limited mobility products, it's worth considering the following:
What does your staircase look like?
An obvious question, but a good one to start with. Do you have:
1. A Straight Staircase
Great. Most, if not all stairlifts can be installed easily for straight staircases, often in less than an hour – and, for extra good news, they're extremely affordable. Explained simply, they go up and down in a straight line! Check out our Brooks, Bruno Elan and HomeGlide Extra models. These robust models are built to last and could be just what you need.
2. Or, a Staircase that Curves at the Top?
With a site survey, you could benefit from a left or right-direction bridging platform to help you step out onto the landing in safety.
3. A Curved Staircase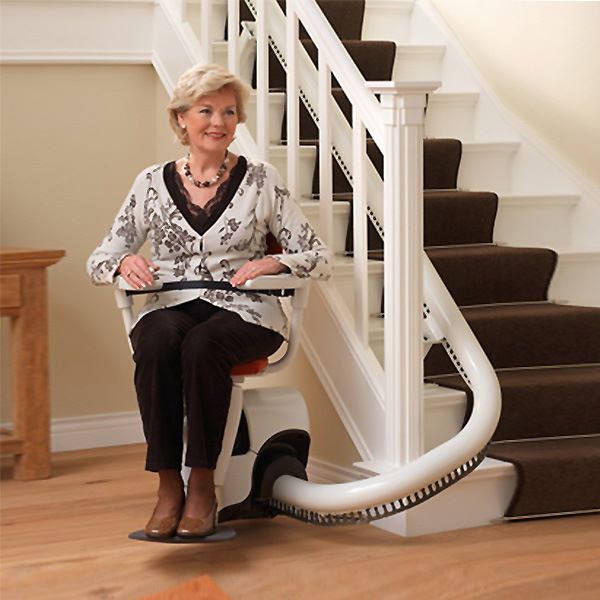 Our Access Flow 2A stairlift leads the charge here, but we also have our heavy-duty Bruno, ideal for weights up to 30 stone.
As the name suggests, curved stairlifts go around corners. These types of stairlifts are superbly versatile, but on the whole, you'll need to consider a bigger budget for one of these. They're custom-built to your staircase and require individual design and build. But…not always. Our up-to-the-minute Brooks 80 model is modular, that is, it comes in separate parts and doesn't require special construction.
4. A Narrow Staircase
A Victorian or Edwardian property is a joy to live in. Large rooms, high ceilings, loads of original features if you're lucky. But oh my, the stairs!
The very latest mechanical progress meets tradition in period properties. A stairlift for a narrow, winding staircase will need to be fitted quite close to the top and bottom of your stairs to allow other people to use it. Again, you're looking at a higher budget here, so it's worth consulting us before you make your decision.
Step forward Orange Badge's Access Flow 2A . This is an exceptional stairlift with incredible, smooth 21st Century technology to take it round the narrowest of corners with ease.
5. An Outdoor Staircase
Outdoor stairlifts will help you get down (or up) to your garden, should it be separated by steps from your property. We get a lot of rain in the UK. Sometimes, our weather is extreme, so it goes without saying that a stairlift for external use needs to be weatherproof and robust. Have a quick look at our Brooks Outdoor Stairlifts and Bruno Elite Outdoor Stairlifts for more information.
Help at Home – The Easy Way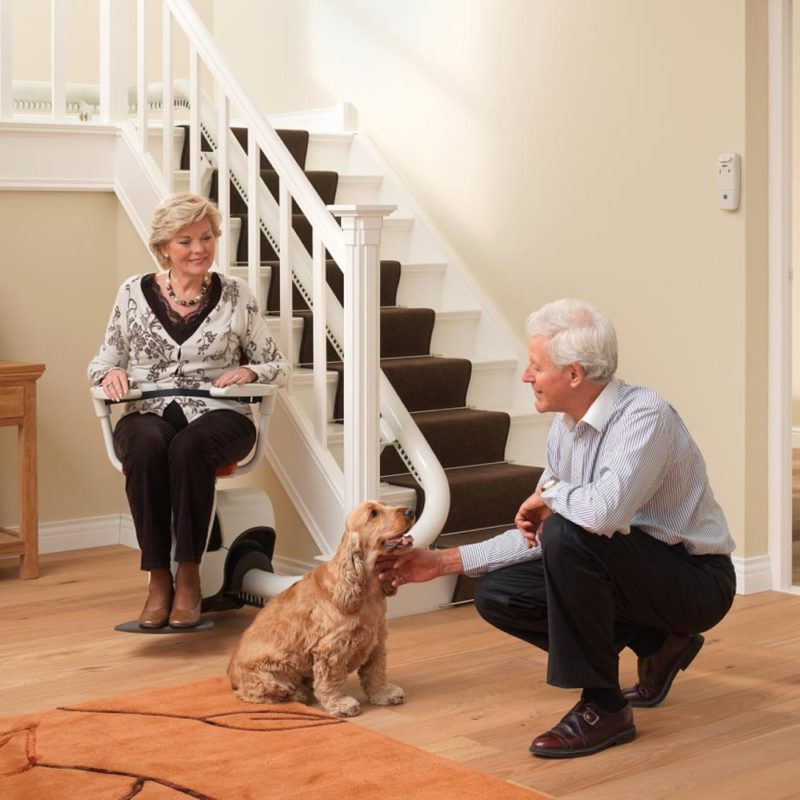 In our experience as mobility experts, the health and wellbeing benefits that come with a stairlift are truly amazing.
You may be worried about your balance and of the risk of falling over on the stairs. Perhaps you have joint pain that stops you moving freely. On a personal level, you may be concerned about your spouse. Helping a loved one to negotiate stairs can be tiring – and, we think, not completely safe. Imagine then, the freedom to pop upstairs whenever you like. And down again. It's a comforting picture, isn't it?
This is a major life-enhancing purchase and you want to make the right decision. We'd always recommend that you consult your GP or Occupational Therapist as a first port of call.
Then, why not call the experts here at Orange Badge on 03442 16 16 16? We have the expertise you need, and we offer Covid-secure home visits to advise on your best options.