What Are the Benefits of Electric Mobility Scooters?
Electric Mobility Scooters
The electric mobility scooters we stock are of the highest quality on the market. When you require a new scooter you will be looking for a durable, reliable and long-lasting vehicle that will get you where you need to go in comfort and safety. We have over 20 years of experience helping people find that perfect scooter.
We offer you a free demonstration of all our products and can offer extensive aftercare services for our scooters. You can also buy your scooter on finance, to pay for it over time.
You can buy online or visit our showroom and browse our range. We offer free UK delivery. Get in touch with us for more information.

Whether you are considering a new purchase for your first mobility scooter or are looking to replace or upgrade the main benefits are:
Clean electric power

: Your mobility scooter draws its power from a rechargeable electric battery. This is not only cheaper than an alternative form of power, but it is also renewable and environmentally friendly.

Easy-access scooter chairs

: The scooter chair, or 'captains seat', on an electric mobility scooter is comfortable and able to support your weight, you can sit down and get up from your chair as easily as a regular chair.

Fast motors

: We have a range of

4-6 MPH

mobility scooters and also

8 MPH

scooters, many of these are road legal. The speed available in some designs makes longer trips simple and easy.

Flexible options

: You can choose from a range of

accessories

including baskets and weather coverings when you buy your scooter. You can tailor your scooter to suit your needs and environment.
No matter what level of mobility you have there are options suitable for most people. You can choose designs with different types of handle bar for easy access to controls and there are also folding designs that are highly portable, with most able to fit into a car boot.
Buying Electric Mobility Scooters With Us

We provide the very best products and focus on quality and reliability in every type of mobility equipment we select. We guarantee a high level of quality in every aspect of our service and can find personal solutions that suit your needs.
Buying your mobility scooter with us gives you the following advantages:
We have a service department that has a 24-hour call out. You will get dedicated repair service for your mobility equipment.

An easy to access showroom, where you can browse our range try out equipment 6 days per week

Many buying options, including via online, email or post. You can also buy directly from the showroom.

We offer free demonstrations and can install any accessories, you also get free delivery and we can remove old equipment.

Generous part exchange or upgrade options, when you want to change your scooter.

Demonstrations and site surveys of your home, assessing your mobility needs and providing potential options.

Expert staff in the showroom who will cater to your requirements and recommend appropriate mobility equipment.

Lifelong aftercare for your electric mobility scooter.

Our staff can provide products through the Motability scheme and with flexible financing options.
We have over 20 years of experience, we always provide a friendly and accommodating service by tailoring your mobility solutions and finding the best equipment for you.
Electric Mobility Scooter Sales With Free Delivery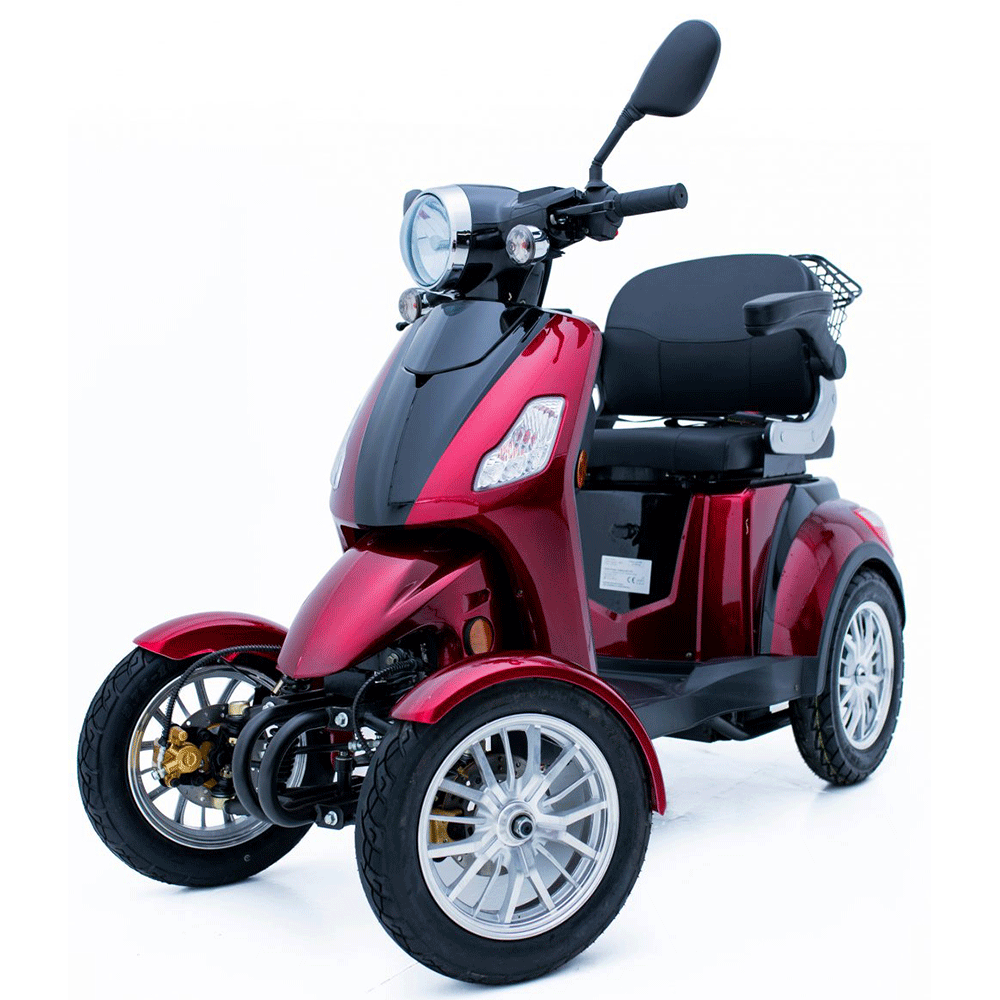 Overall, our emphasis is on quality and the electric mobility scooter you purchase will suit your needs. Our scooter range is long-lasting and can commonly help older adults and people who are disabled, and our aftercare services make us a wise choice.
Visit our showroom to try out an electric mobility scooter in person or buy online. Feel free to contact us for more information.
FAQs and Useful Details
The following are some frequently asked questions about electric mobility scooters and the service we provide:
What is the best electric mobility scooter?
Different people have different requirements, so the best mobility scooter is the one that best suits your needs. If you still drive, or you have friends and family who do, you may wish to have a portable mobility scooter – that will fit into a car boot. Alternatively, if space is no concern and you will be using your scooter to navigate very rough terrain, a heavy-duty off-road mobility scooter is better.
How can I get a free mobility scooter in the UK?
You can use government payments for your scooter. If you receive a mobility allowance you can make use of the Motability scheme to arrange an all-inclusive lease for your electric mobility scooter. The scheme allows you to have a simple and easy plan that automatically takes payments directly from the allowance. For more information please visit the Motability website.
How much does it cost to run a mobility scooter?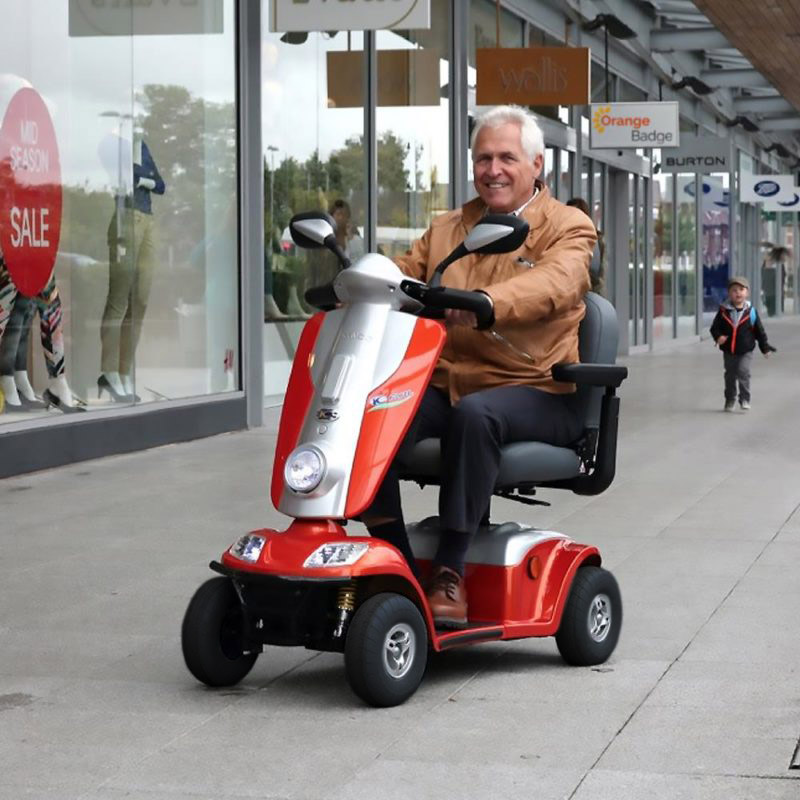 Barely anything. The batteries in the scooter will usually make use of lithium-ion technology, which charge very quickly without using huge amounts of power. An overnight charge is likely to cost pennies.
What can go wrong with a mobility scooter?
While a durable electric mobility scooter can withstand consistent use, faults can occur over time. Common problems include issues with the tyres, which can occur when riding the scooter on unsuitable surfaces. Other issues include batteries, which may wear out over time. Problems with electrical components within the scooter may also be a problem, but this is less of an issue with a well-built scooter.
Is a 4-wheel scooter better than a 3-wheel scooter?
Not necessarily. 3-wheel scooters provide a lighter option for scooter users, this means 3-wheel designs are easier to transport. 4-wheeled designs offer a sturdier, more durable riding experience and are appropriate for difficult terrain.
Do you need insurance for a mobility scooter?
No, there is no legal requirement to have insurance for an electric mobility scooter. However, it can be a wise choice in case of accidents or theft.
How long will a mobility scooter last?
There are a variety of factors that will affect how long an electric mobility scooter will last. These include:
manufacturing-quality

level of use

conditions of storage

accidents

wear and tear
Careful users who ride their scooter less frequently and store it appropriately may find their scooter lasts for a very long time, however on average a lifecycle for a mobility scooter with regular use is approximately 3 years.
Can mobility scooters go uphill?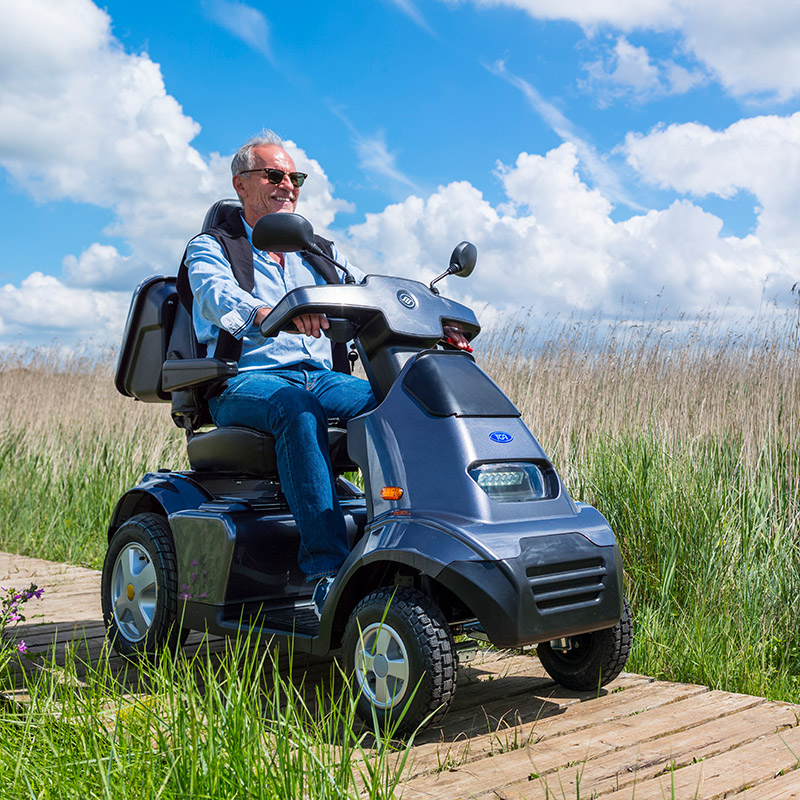 Most scooters are capable of navigating small and medium-sized gradients quite capably. However, very steep streets will mean the scooter will require a lot of power to carry the weight of the rider up the hill. This can drain the battery and potentially wear it out over time.
Will rain ruin a mobility scooter?
Rain can damage mobility scooters, particularly if it is heavy. There is a range of protectors and covers available that are useful accessories. Some scooters also have built-in coverings that can protect the scooter and rider from rain.
Are all mobility scooter batteries the same?
No. Some scooter batteries are more powerful than others, this is why some scooters are faster. Bigger and more powerful scooters have better battery performance, but they will slowly lose their ability to charge at the same rate.
Contact us today for more information.