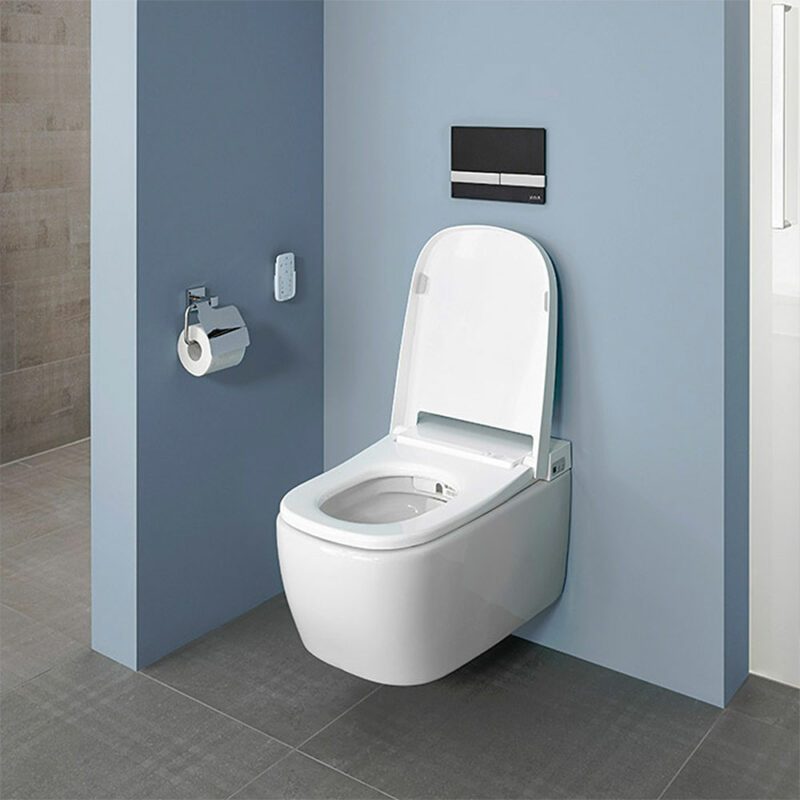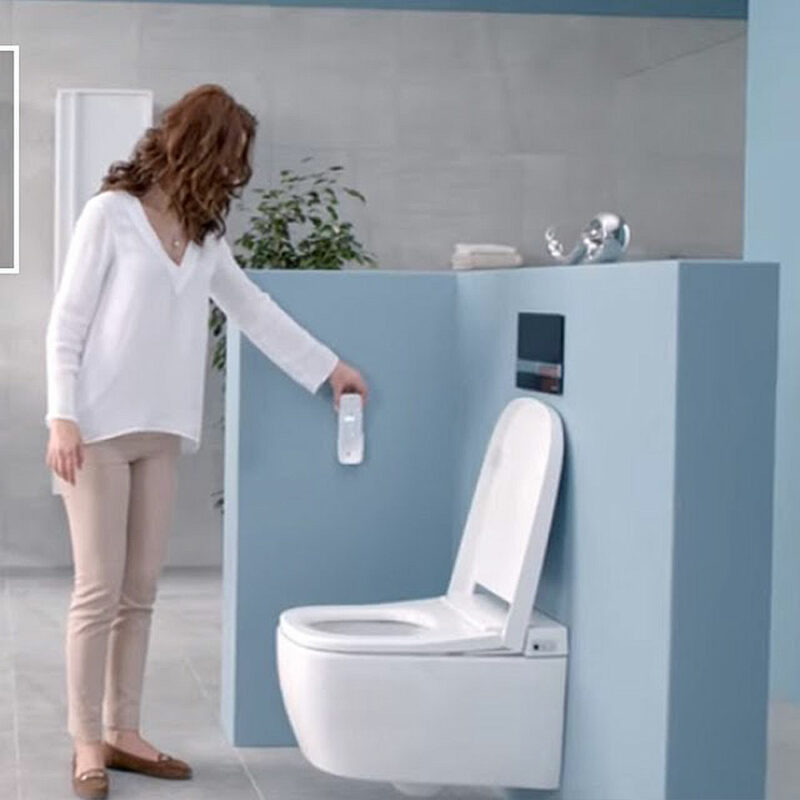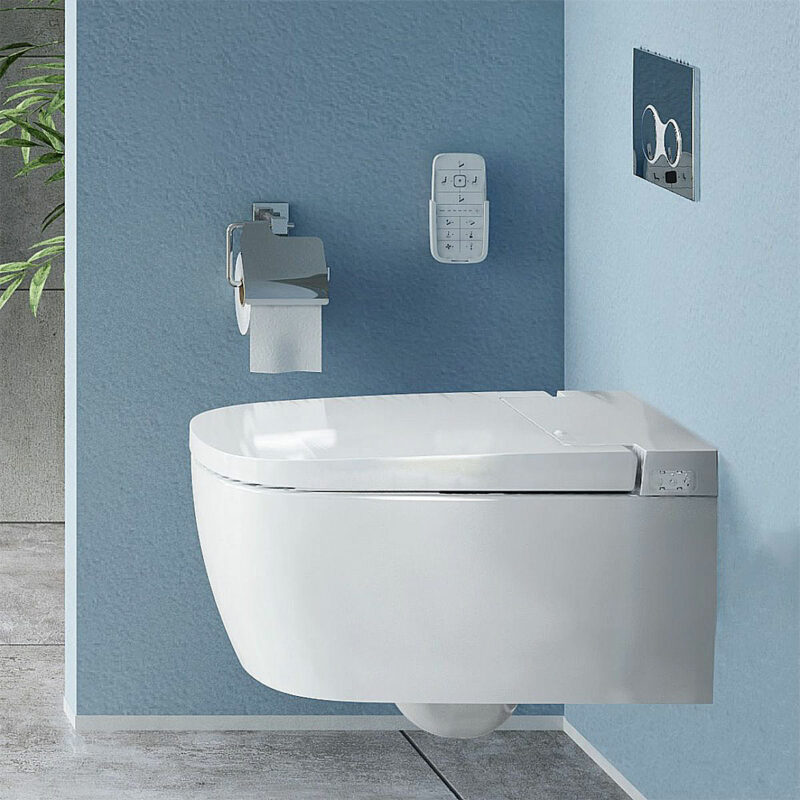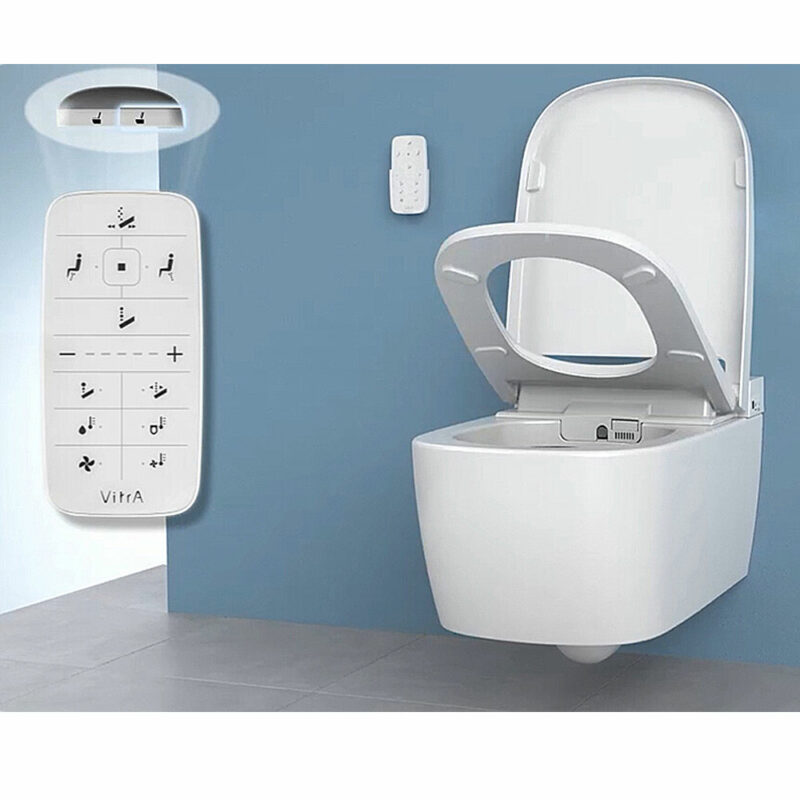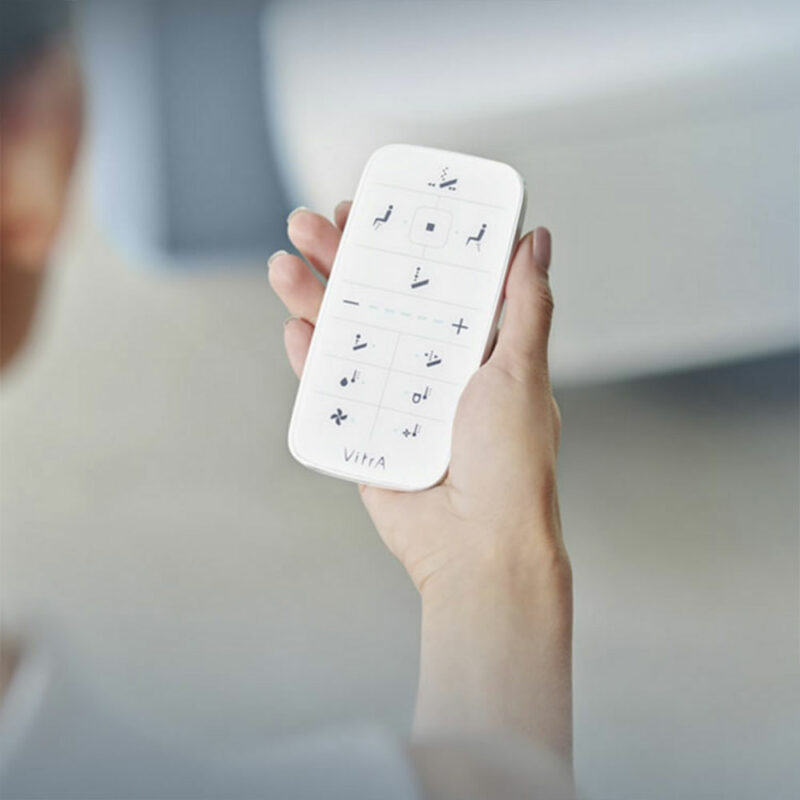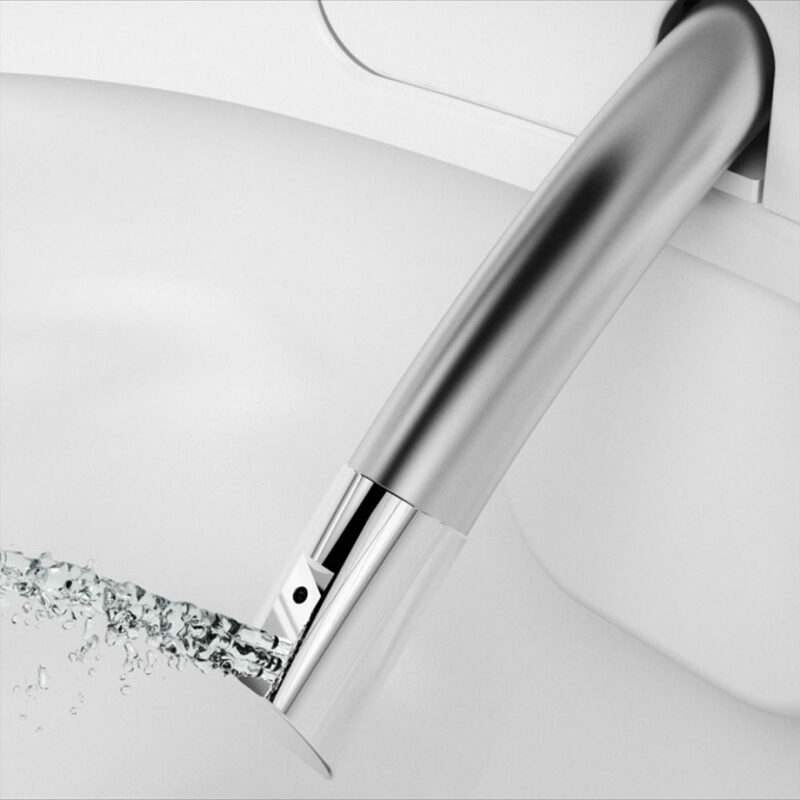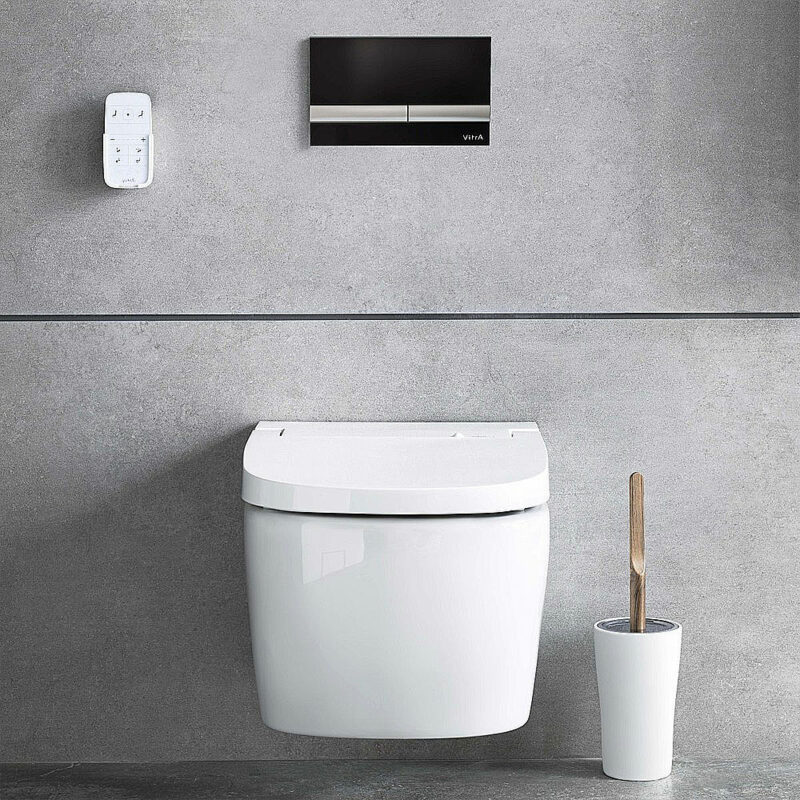 VitrA, V-Care Comfort
From £1,750.00excl. VAT
The VitrA V-Care Comfort is a superb intelligent shower toilet from leading bathroom brand VitrA Bathrooms. The WC is wall-mounted and has a rimless toilet bowl for added hygiene and easy cleaning, adjustable jet spray and soft closing heated seat, with remote control.
The adjustable spray can be alternated between a front or rear wash, and the nozzle position can also be altered. Other controls include the strength of spray and water temperature. The heated toilet seat can also be controlled with an increase or decrease selectable from the included remote control.
In addition to the ultra-hygienic rimless toilet bowl, the nozzle is also extremely clean as it is made from stainless steel and has a self-cleaning function, washing itself before and after each use. The design is minimal and chic, developed by German design studio NOA in collaboration with VitrA the outline is smooth and modern with no dust traps, enhancing any bathroom interior.
It is imperative that this product is correctly installed and commissioned – we can do this all for you subject to a free survey and quotation. No responsibility can be taken for incorrect fitting by others that leads to damage or safety issues.
| | |
| --- | --- |
| Maximum User Weight | 47 stone / 300kg |
VitrA V-care Comfort shower toilet – Product info
Product Information:
Item number:5674B403-6124
Series:V-care
Designer:NOA Design Group
Specifications:
VitrA V-care Comfort Shower Toilet
Shower Functions
extendable spray arm with adjustable nozzle for cleaning the anal and vaginal area,  can be set to 5 positions
oscillating spray, automatic, adjustable forwards and reverse motion
pulsating massage spray can be connected
spray intensity can be set to 5 different levels
constant warm water
temperature of shower water can be adjusted
water temperature: adjustable from 30-42 °C,  can be set to 5 different levels
dryer with adjustable temperature
dryer temperature: adjustable from 15-37 °C, can be set to 5 different level
Hygiene
automatic pre-rinsing and post rinsing of spray nozzle with fresh water
spray nozzle can be easily removed for cleaning
especially easy to clean due to the dirt-repellent ceramic surface (VitrAclean)
rimless for less hidden areas for deposits & contamination
innovative water flow for perfect flushing results (VitrAflush 2.0 also known as RIM-EX™)
flush volume: 3 litres with the smaller button, 6 litres with larger button
Seat & Lid
quick reacting and energy-saving heated seat, temperature  adjustable in 5 steps
seat temperature: adjustment range 30-42 °C, adjustable in 5 steps
toilet lid opens and closes automatically on request and without contact – for hygienic use
soft close system prevents loud slamming
toilet seat and lid can be removed with simple steps for cleaning
Further Highlights
thanks to the sensor, the toilet seat will automatically open when approached and close when leaving
automatic, silent odour extraction (with durable carbon filter)
simple operation via control panel or remote control
Technical Data
water connection: concealed on the left behind the ceramic toilet
power supply: concealed on the right behind the ceramic toilet
Note:
Comments:
electrical connection required.
electrical fittings comply with German standards.
Material & Colour:
Material:sanitary ceramic/thermoplastic
Colour:white
Coating:with VitrAclean
Dimensions:
Length (cm):60
Width (cm):38
Technical Details:
Interior shape:Washdown Toilets
Installation:Wall-Mounted
Outlet:horizontal
Suitable:for Concealed Cistern
Features:
Flushing rim:without Flushing Rim
Equipment:with toilet seat
Functions:with Dryer, with Air Ventilator, with Sanitary Shower, with Seat Heating
Delivery:
Contains:
toilet, toilet seat, remote control
WRAS Approved: WRAS Approval No 1604334
Free UK Delivery*
*on orders over £100
Free Home Visits
and demonstrations
Monthly Finance
Available