Modern, Safe & Easily Accessible Disabled Showers
Taking a shower is something you can struggle with if you have limited mobility, as it requires standing and balance. However, a disabled shower installation can provide an accessible enclosure in your shower room that has an unobtrusive appearance, and is usable by people of all levels of mobility. We are the best solution for low-cost, effective disabled shower installations for older adults and people with limited mobility, as we use the highest quality products and provide unrivalled aftercare.
The level of hygiene that a shower offers is much higher than that of a bath, so it is a desirable choice – but making it comfortable and safe to use is also an important consideration. We provide level access designs that can allow wheelchair users or those with other mobility aids to easily use a shower and also offer low threshold showers that many people can use comfortably.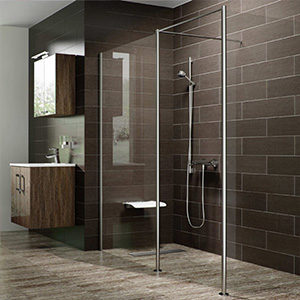 Adding a disabled shower to your home can enhance your feelings of independence and freedom, while still enabling a safe experience that will provide all the cleanliness of a standard shower. Our specialist team research and select the finest mobility products and can offer bespoke solutions for your needs. To plan and install your new disabled shower please get in touch for a quote.
Disabled Shower Room Designs With Accessibility in Mind
We offer a range of mobility bathroom products to enable people to continue bathing in comfort at home. Depending on your needs there are multiple options for disabled showers, mainly level access showers and low threshold showers.
The advantage of a level access shower is that it provides a slip-resistant shower that is completely flush to the floor, meaning you can bring in a walking aid or wheelchair, while still keeping water safely within the enclosure. A low threshold shower tray will do similar, but with a very slim step – both are excellent options.
Having a disabled shower in your home can increase the value of your property, and many are practically indiscernible from a standard shower unit. Advantages of these disabled showers, which can fit many dimensions in your bathroom include the following:
Benefits of Level Access Disabled Showers
A level access shower looks almost like a luxurious hotel shower enclosure, with obstruction-free access and clean lines. They are easy to plan within your existing shower design. Advantages include the following:
Superb safety: There is no safer disabled shower cubicle than the level access shower, meaning people with very limited mobility can use the shower comfortably.
Bespoke sizes: As there is no pre-formed shower tray involved the enclosure can fit the exact dimensions that you require and can match the space and shape of your current shower perfectly.
Easy planning: A level access shower can fit in almost any space, so there is no need to worry if you live on a high floor or have a particularly small shower room. We have installed showers in penthouses and low floors too.
We are confident that our planning and installation capabilities will surpass your expectations, and the level access shower cubicles we provide are safe while adding a sense of modern luxury.
Benefits of Low-Threshold Showers
Choosing a low-threshold shower still means you will need to step into the cubicle, but only at a low height. If you have enough mobility to step up to an inch or so, a low-threshold disabled shower is useful. Benefits include the following:
Low costs: With pre-formed basins, there is less need for planning, and many can match the dimensions of your existing shower. This helps keep costs down, while still safely providing accessible bathing.
Simple installation: Pre-made enclosures and shower pods are very simple to install, and can fit in almost any setting. The reliable and fast installation process means that you can fit or refit your shower with ease.
Stylish designs: Just because a shower is easy to access does not mean you have to compromise on design, there are many modern options available that also take your mobility into account.
A low threshold shower will provide a safe bathing environment with a little bit more the feel of a standard shower. However, they still add value to your property and their affordability and subtlety is a key part of the appeal.
Why Choose Us for Mobility Shower Installation?
Our industry-leading services make use of the best products on the market, resulting in exceptional design and build quality in all of our disabled shower installations. We guarantee a high-functioning result that stands the test of time and consistent use.
We also give our customers a high level of aftercare, with repair or maintenance options that make use of our knowledgeable team and surpass the aftercare of any competitors. You can view our positive reviews for more detail on what customers have to say about choosing us.
One very happy customer has the following to say:
"My parents had a new bathroom fitted and it has helped them massively. The team were so polite and reliable. Will definitely be contacting them again. They are incredible". – Abbie W.
High-Quality Showers at Cost-Effective Prices
We can plan and install your disabled shower cubicle in an existing bathroom, dedicated shower room or converted area in your home with the most reliable results. Safe and comfortable additions, such as shower seats and grab rails or thermostatic temperature controls, are also available depending on your needs.
Our team provides an exceptional level of aftercare and offers free home visits and demonstrations. Your disabled shower may also qualify for a VAT exemption, and we will be happy to advise you in this regard. To get started on your new disabled shower installation please get in touch with us for a free quote.