Stairlifts in Tunbridge Wells

Stairlifts in Tunbridge Wells
Orange Badge has 23 years' experience in the stairlifts sector. You could say that what we don't know about stairlifts isn't worth knowing. And, unlike many of our competitors, we are genuinely local to Tunbridge Wells. Our head office and our fully equipped 8,000 ft showroom is in Lewes, just off the A27. We're easy to find, and there's plenty of free parking. Why not come and see us? The team will be delighted to demonstrate our stairlifts for you to see how much easier they could make your life.
Also, we have stairlift engineers who work within the area of Tunbridge Wells, 24/7. Handy if you need an emergency call-out. 
We sell
Straight
,
Curved
and
Outdoor
lifts and provide a range of new and refurbished
stairlifts
from a range of different suppliers, and you can be confident of the best advice from one of our professional and
unbiased
surveyors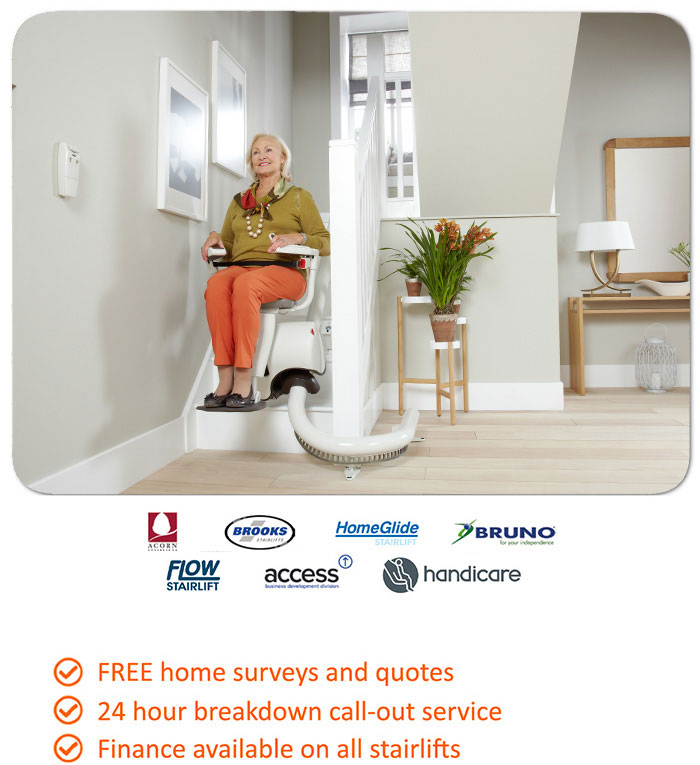 Stairlifts in Tunbridge Wells – Solutions for Everyone, at Every Age 
Old age comes to us all. With our Golden Years comes wisdom, and more time to ourselves.
But, as the years go by, we may start experiencing mobility problems, and our world starts to shrink a little.
Perhaps you're starting to find that the stairs are a struggle. Or, you're nervous that they MAY do, in the fullness of time. As a result, you're living downstairs more and more. Maybe you've "moved" upstairs. In our view, there's no need to do that. Your quality of life is essential. Equally, you may be recovering from an accident, or from illness and you're finding that getting around is harder than it should be.
The solution could be a stairlift from Orange Badge Mobility Services. Let's look at reducing, and even removing the stairs problem altogether – an ideal answer to a knotty, everyday problem. Some of the issues that a stairlift can help support include:
Balance and coordination issues, caused by conditions such as Parkinson's, a stroke or dementia
Conditions that affect muscle strength such as muscular dystrophy and fibromyalgia
Bone/joint pain and movement problems such as arthritis, rheumatism and osteoporosis
Heart and circulation problems, such as atrial fibrillation, low or high blood pressure
More information on these conditions can be found on the online NHS Information Portal


Taking care of the details – courtesy of Orange Badge
We've installed stairlifts in the Tunbridge Wells area for more than 23 years. We're a family-run business, and unlike our competitors, we're independent. This means that we're not obliged to sell a certain range of brands. The team here at Orange Badge will always offer honest impartial advice so that you can make a fully informed decision. 
After we've installed your lift, we don't just walk away. You deserve to be looked after. Therefore, we provide lifetime support from our own team of professionally qualified engineers, many of whom are located in and around Tunbridge Wells.



Here at Orange Badge, we're all about going above and beyond. Those little touches can make all the difference in the general scheme of things.

Do you need a radiator moved, in order to make the perfect space for your new stairlift? No problem, we can do this for you. And, it will work perfectly.

If you need handrails removed, replaced or entirely different ones installed, Orange Badge will take care of it for you.

You'll need a nearby power supply. If there isn't a convenient one, one of our qualified electricians will install it for you.

We'll jump to it! We offer free next-day site surveys by an experienced surveyor.

Installation is prompt. With a straight stairlift, it could take as little as two hours. 

Spread the cost of your stairlift with 3 payments via Paypal. 

We offer a 3-year warranty on many models.

Standard and Premium extended warranties are available on all stairlifts.

24-hour callout on any breakdowns. And, as we said – we're local to Tunbridge Wells.

An express fitting service is available on request.

The very best aftersales care in the industry.
Aftersales service

Buying a stairlift? Wouldn't it be great if the firm that measures up for you, offers you a quote AND installs it, also looks after it for you? In fact, you may think that this happens automatically. But beware – this isn't always the case.
Orange Badge will ALWAYS offer continuity of care.
In contrast, you may find that most businesses that install stairlifts in Tunbridge Wells sell your data to larger national suppliers, who could lock you into expensive longer-term contracts – for YEARS to come. Plus, they're not personally invested in you, as we would be.
We do everything differently. Firstly, we're genuinely local to Tunbridge Wells, and our professionally qualified engineers will be on hand to take care of things for you. We'll offer you a guarantee of high-quality treatment, and a warm, familiar and local face at your door any time that you need us.
And yes – that's RIGHT from the initial survey, through to our aftersales service.

---
Useful Related Links in Tunbridge Wells
How to Reduce the Risk of a Fall  – Local advice from Kent NHS.
How to Stay Safe at Home – A great booklet with helpful tips to keep yourself safer at home.
A Guide to Staying Steady – A useful article about falls & outcomes in Kent.
Fall Prevention Service – For fall prevention training & services in & around Tunbridge Wells.