Stairlifts in Kent

Stairlifts in Kent
Orange Badge is genuinely local to Kent. We don't just say we are.
Our head office is a short drive away in Lewes, East Sussex and we have 24/7 stairlift engineers that live within the borders of Kent. Why not come and see us? We're easy to find – just off the A27, and there's loads of free parking. Or, shall we come to you?
Orange Badge sells, delivers and installs the WIDEST and BEST-QUALITY range of
Straight
,
Curved
and
Outdoor
lifts throughout Kent, and the South East. Whether you're after a brand-new model or a re-conditioned stairlift, we're at your service. As a family-run business, we offer friendly and service; traditional values that are all about integrity and professionalism. And, we're independent, so all the advice and guidance we offer is genuine and impartial. Importantly, we're not tied to any supplier, and will only recommend the perfect stairlift solution for your needs. That is, the one that will make the most difference in your life.
Orange Badge has over 23 years' experience in the mobility sector. To be honest, we've lost count of the stairlifts that we've installed in and around Kent, but it must be in the thousands by now. We offer unbeatable value for money, often at 50% off RRP.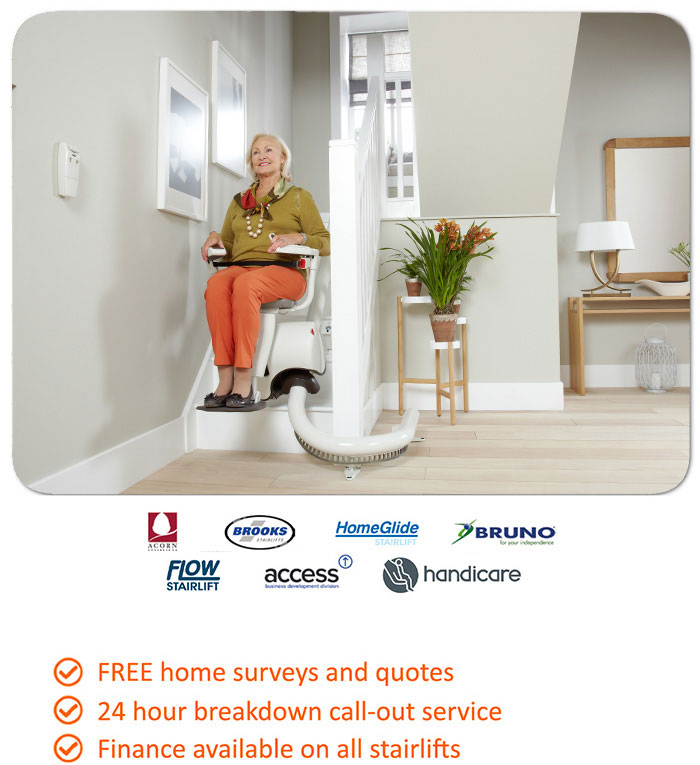 Stairlift solutions for all
Infirmity, or the advancing years can start to affect how we tackle the stairs. Or, more to the point, how we don't tackle them. You may find that your staircase is, quite literally, a mountain to climb. It's awkward, uncomfortable and you may think that going upstairs and downstairs is just too much of a risk. However, there is a solution: a stairlift from Orange Badge. It could be a perfect choice, and could vastly improve your safety and wellbeing.  When does a stairlift seem like the best solution?
Some of the issues a stairlift can help with include:
Balance and coordination issues, for example, dementia, Parkinson's or a stroke
Issues that affect your muscle strength, such as fibromyalgia, and muscular dystrophy
Problems such as arthritis, rheumatism and osteoporosis
Heart and circulation problems, such as atrial fibrillation, or low/high blood pressure
More information on these conditions can be found on the online NHS Information Portal


Taking care of you, and your needs at home – Orange Badge
With over 23 years' experience in fitting stairlifts in Kent, we'd like to think that truly understand the needs of our customers. And, about mobility in general.
Unlike many of our competitors, we are genuinely independent. As we're not tied to any particular manufacturer – in fact, no manufacturers at all, we can offer you authentic and unbiased advice regarding the stairlift product that will best suit your health condition and/or your life circumstances.
Our service doesn't end with the installation of your stairlift. We also provide excellent, lifelong support while you remain one of our customers. This includes unbeatable service terms, and flexible 24/7 call-out availability, should you need us in a hurry. Equally, several of our in-house engineers are based in and around the Kent area, for a swift and prompt arrival at your door.



If you need a radiator moved to make room for your new stairlift, Orange Badge will take care of it for you.

Orange Badge will be happy to remove your handrails, to replace them or to install entirely different ones.

Your stairlift will need a convenient power supply. If there isn't one, don't worry. Whether indoors or out,  Orange Badge will take care of it for you.

We're prompt and keen to help: we offer FREE next-day, at-home site surveys by an experienced surveyor.

Installation can be completed in as little as two hours for some of our more straightforward models. 

Pay in three equal installments with Paypal. 

3 year warranty on many models. 

Standard and Premium extended warranties are available on all stairlifts.

24 hour callout on any breakdowns.

Super-speedy: an express fitting service is available on request.

The very best aftersales care in the industry.
Aftersales service

In order to give you the perfect installation, we think that the company that installs your stairlift should be the one to look after it – and you. Don't you agree? But, you may think: don't all stairlift companies do this? Well, it may surprise you to learn that the answer is: no, not always.
Many companies in the industry that fit stairlifts in Kent simply pass your details to large national manufacturers.  Should you take out a contract with one of these businesses, not only are you likely to receive an inferior level of service, you could also get tied into an expensive contract for years to come.
We do it differently; we're a genuine, professional, bona-fide company local to Kent and our own fully trained staff take care of it all. From initial survey right through to aftersales service, we ensure continuity of care and a friendly, familiar, local face at your door whenever you need us.

---
Useful Related Links in Kent
How to Reduce the Risk of a Fall  – Local advice from Kent NHS.
How to Stay Safe at Home – A great booklet with helpful tips to keep yourself safer at home.
A Guide to Staying Steady – A useful article about falls & outcomes in Kent.
Fall Prevention Service – For fall prevention training & services in & around Kent.