What to Know Before Buying an eFOLDI Scooter

An eFOLDI scooter is one of the lightest and most compact scooters you will ever experience. As a result, they are a brand of choice for people looking for the ability to easily transport their scooter and conveniently store it in a small space – as well as navigate narrow areas with ease.
Key points of the eFOLDI scooter brand include the following:
Lightweight

: The entire eFOLDI range is renowned for being extremely light and easy to carry. With a clever multi-award-winning design and lightweight materials, eFOLDI claims to be the lightest scooter in the world.

Powerful battery

: An eFOLDI scooter travels at a range of 14 miles on a single charge, so it is incredibly powerful for its small size. By using lithium iON batteries, this scooter can pack a big punch in a very small package.

Durable and comfortable

: eFOLDI's range uses a proprietary 4-point suspension system, which gives you a safe riding experience – even with such a compact design. The smooth suspension offers a comfy ride too.
When you visit our huge Lewes-based showroom to buy an eFOLDI scooter with us you will get a free no-obligation demonstration. You will also get your eFOLDI scooter with free delivery, and we will happily provide a full demonstration upon receipt. Please feel free to get in touch with us if you have any further questions.
---
What Do the Reviews Say About eFOLDI?
It can be difficult to determine the quality and reliability of mobility equipment. However, consistent reviews are a clear sign of quality. According to the leading independent review site Trustpilot, eFOLDI has a 'Great' rating – with an average score of 3.9 stars out of 5.
Customer ratings are excellent, but some of eFOLDI's testimonials come from highly reputable people, such as entrepreneur Sir Richard Branson. Branson's testimonial is short, but he says the following:
"eFOLDi is a folding magic, fantastic invention! Simply brilliant!"
– Sir Richard Branson
You can search for further reviews on individual sites such as Amazon, but the consensus is very positive. With such high-value reviews and testimonials, it is safe to say that eFOLDI is considered a leading brand in the mobility equipment space.
You can check out all of the testimonials available on the official eFOLDI site.
---
What is the History of eFOLDI Scooters?
As a family-run company, the eFOLDI brand has a charming history. In 2012, after her father experienced a fall, Sumi Wang set out to change the industry with a fresh design – leaving her job in technology at Queen Mary College, University of London.
The process of development began in 2013, with various prototypes and experiments – catching the eye of Richard Branson, who provided the initial seed funding for the company after eFOLD won British Invention of the Year in 2016.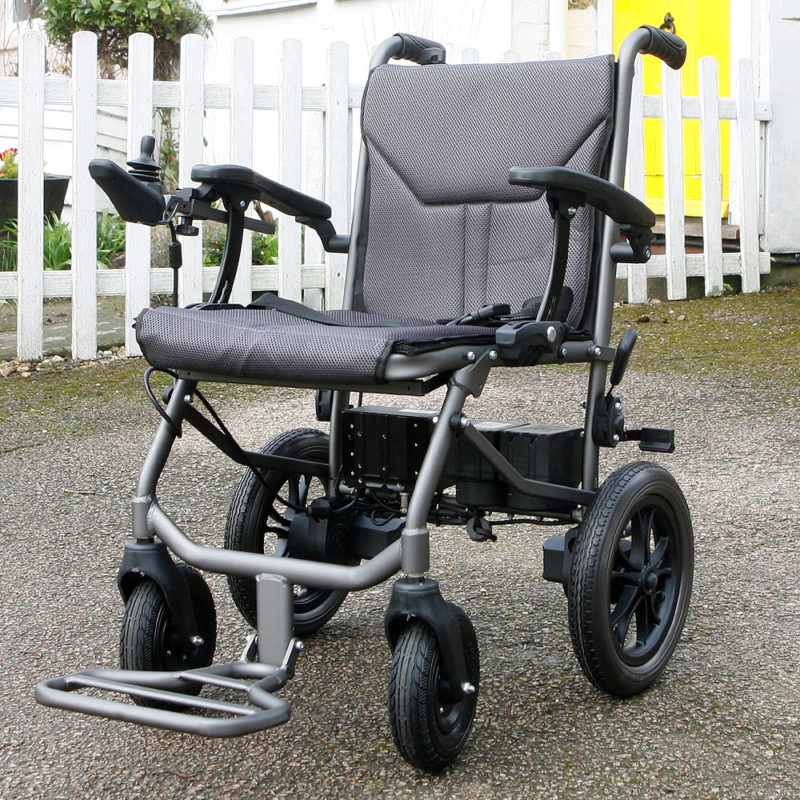 eFOLDI is today a highly reputable brand and a key manufacturer in the mobility scooter space, which is why we offer their lightweight and versatile products. It is a Dyson-esque company with a flair for innovation. Their flagship design is the multi-award winning eFOLDi MK 1.5 Scooter, but there are several other models.
Other notable products they produce include the popular Powerchair, which has more of a traditional wheelchair design. A super lightweight eFOLDI Lite model is also available, for even more compact mobility.
---
FAQs
The following are some commonly asked questions and further details about the eFOLDI scooter brand:
Can I Travel with My eFOLDI Scooter?
YES! eFOLDI scooters are ideal for travelling, as well as using public transport. Whether you are taking it on a trip in the car, on a flight, on local public transport, on cruises, when you arrive at your destination or anywhere else – eFOLDI scooters are an ideal travel companion for people with mobility requirements.
Are There Any Accessories Available with the eFOLDI Scooter?
Yes. Although it is one of the most lightweight electric scooters available in the UK there are plenty of accessories for sale. Spare batteries, chargers and handlebar storage cases are an excellent addition to an eFOLDI scooter. You can also get accessories such as grip extensions, waterproof cushions and ponchos – all designed to mesh perfectly with the eFOLDI scooter's compact design.
Buy an eFOLDI Scooter with Orange Badge
We provide a wide range of quality mobility equipment with excellent prices and amazing value. As a winner of the British invention of the year in 2016, eFOLDI can provide an ideal folding mobility scooter if you are looking for an ultra-lite scooter with a far-reach battery. We can help you make the right choice in buying one.
Buying an eFOLDI scooter is a fairly significant purchase, which is why we offer flexible monthly finance options. Our stellar reputation in the mobility equipment trade is linked to our top-quality aftercare, as we offer exceptional support that is unparalleled in the industry. 
You can buy your eFOLDI scooter online today, visit our showroom or get in touch with us if you have any further questions.